Making Transit Intelligence Easy: Integrating Transit's Rate-My-Ride with Mosaiq Insights
Few apps get passengers (and the Snapper team) as excited as Transit. That's why we're joining forces to blend objective network performance reporting with the real passenger experience.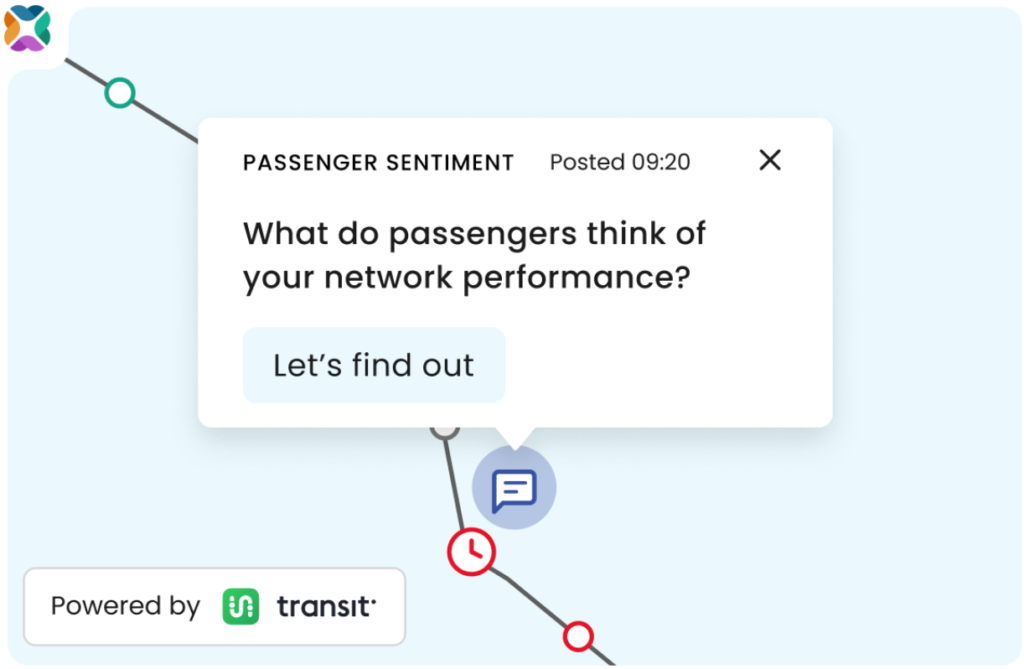 For those not already climbing the leaderboard on their daily commute, here's what you need to know: Transit is our favourite real-time urban travel companion. Transit's passenger-facing app helps users plan journeys and track their buses. By launching GO mode, users provide crowdsourced vehicle location data. This augments real-time information provided by operators to give other passengers more reliable travel updates. They can also send important feedback to their local transit authority at critical moments during their trip, providing details on aspects like stop safety and vehicle cleanliness.
We're inspired by Transit's efforts to work with transit agencies and passengers around the world to increase transparency and improve transit networks together. The Transit app is fun, user-friendly, and full of excellent direct feedback from passengers. We knew Transit would be a brilliant complement to Mosaiq Insights.
Objective Network Performance Meets Honest Passenger Sentiment: Analysing Transit Rate-My-Ride Data in Mosaiq Insights
We are delighted to announce that we have integrated Transit's Rate-My-Ride data into Mosaiq Insights!
With Rate-My-Ride, partner transit authorities have the ability to ask context-specific questions during their riders' journeys, garnering actionable feedback so that they can improve the rider experience on the ground throughout their network. Now, those agencies can see Rate-My-Ride feedback in Mosaiq Insights, where it's presented in an easily digestible format that agencies can act on swiftly.
When Transit app users give feedback about their journey, we match it to the same journey in Mosaiq Insights. Next time you investigate a trip that didn't quite go to plan, you can understand where passengers feel it the most and take steps to prevent future riders from having the same experience.
Mosaiq Insights can now help network planners and schedulers understand how well their networks perform and reveal what passengers say about their journeys. This all opens the door to seeing your network from the passengers' perspective: everything from stops that need some maintenance, to whether they noticed the bus was late at all. Prioritise where you focus your team's attention based on honest passenger feedback about what matters to them most.
We'll be adding more features as we build on this already beautiful relationship, so take a look at how it all works:
Dive Into Stop-by-Stop Analysis To Give Every Passenger the Beyoncé Experience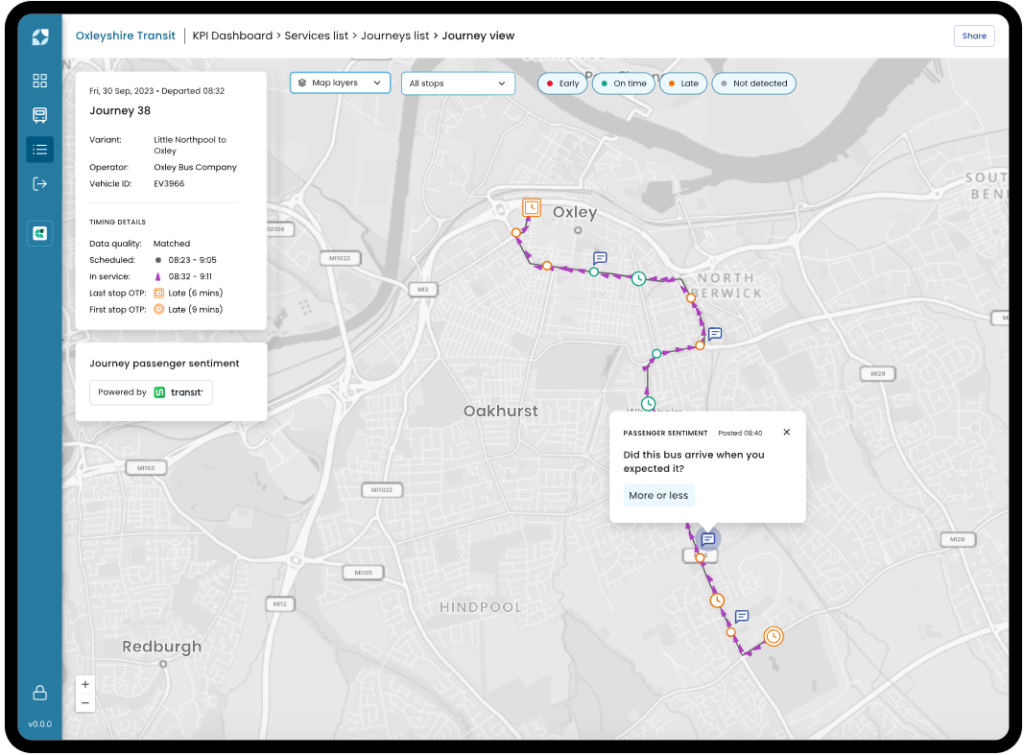 Mosaiq Insights will show you exactly what happened: where your vehicles were running on time and where they were a bit early.
Transit Rate-My-Ride feedback will show how passengers felt: maybe the bus arrived right on time, but it felt late for the passenger. Are your transfer times the best they can be?
Let Your Passengers Be Your Eyes on the Ground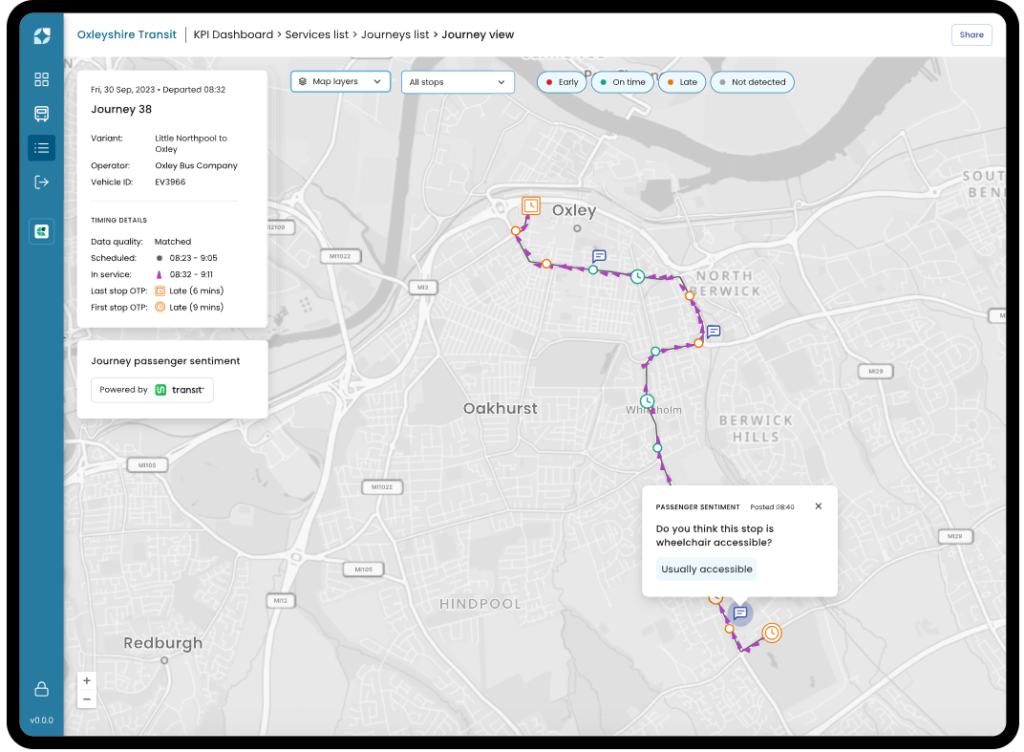 © Snapper Services
Learn where to make your network more inclusive with crowdsourced stop accessibility information. Or, crowdsource information about the safety and cleanliness of your stops to ensure riders are comfortable while they wait for their ride.
Compare On-Time Performance and Passenger Sentiment at a Glance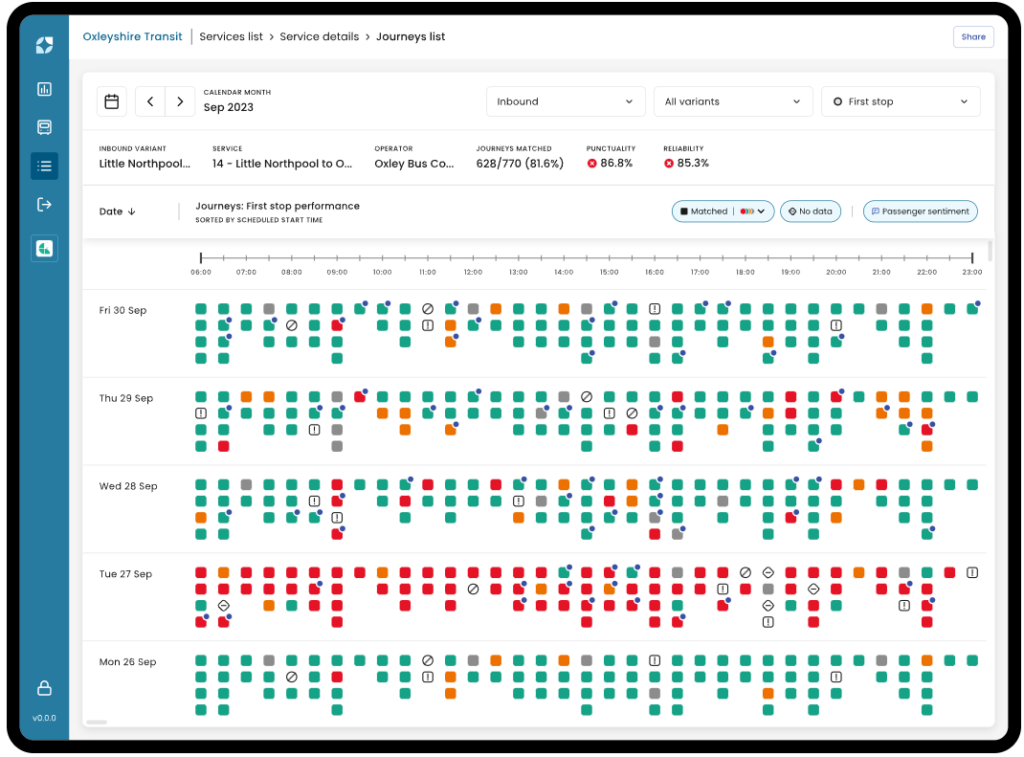 © Snapper Services
It's easy to see which journeys have Rate-My-Ride feedback with our beautiful new Journeys List. Mosaiq Insights guides users to journeys with Rate-My-Ride feedback with a notification dot. Look for the journeys that passengers say need the most support, then dig into the details of their feedback to fine-tune the passenger experience.
This article was originally published by Snapper Services.