Translink has unveiled its new fully-electric Foyle Metro bus fleet that will operate in Derry~Londonderry, Ireland.
The 38-vehicle fleet, consisting of single-decker and double-decker buses was displayed at a preview event at Guildhall Square in Derry.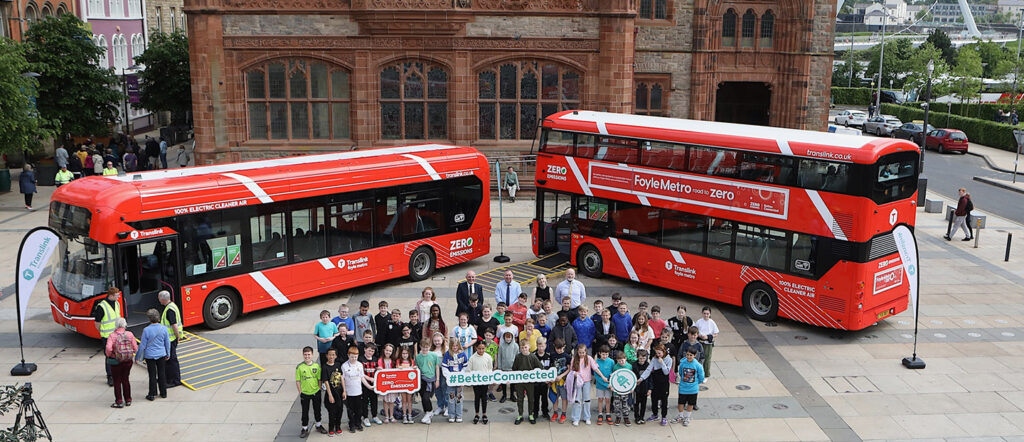 These vehicles will start passenger operations later this year, making Derry~Londonderry one of the first cities in the UK and Ireland to run a fully zero-direct-emission urban bus service.
This follows the town of Athlone, Ireland's transition to a fully-electric fleet, as well as Stagecoach's launch of the UK's first all-electric city bus fleet in Inverness, Scotland.
"Transport has a significant role to play in tackling the climate crisis. This project supports Translink's vision to reduce greenhouse gas emissions by 50% by 2030 and operate a zero emissions fleet across Northern Ireland by 2040 – all of which is vital for tackling the climate emergency and driving change for a better quality of life for future generations."
The GB Kite Electroliner BEV and the StreetDeck Electroliner BEV electric buses have been produced by Northern Ireland-based manufacturer, Wrightbus.
Work is also now underway to install 22 electric vehicle chargers in the Pennyburn Garage. This infrastructure will enable 44 buses to be charged sequentially overnight and will also accommodate an additional 19 bus charging stations in the future.
"We are delighted to be supporting Translink in the drive to transform transport in Northern Ireland and help build a more sustainable future.
"Our electric buses - the GB Kite Electroliner BEV and the StreetDeck Electroliner BEV - are manufactured and assembled at our Ballymena factory, which means support for jobs in Northern Ireland, and wider across the UK through our domestic supply chain."