Knoxville Area Transit (KAT) Chooses Heliox's 180kW Flex Charger to Power New Fleet of Electric Buses
The City will power 18 buses using Heliox's Flex Charge technology; charge buses based on route demand
Heliox, a market leader in fast, electric vehicle (EV) charging systems, has announced that Knoxville Area Transit (KAT) has selected Heliox's 180kW chargers to support the City's first electric bus fleet. Ten of the 12 have arrived to-date, the rest are due before the end of the year. An additional 6 vehicles are expected to arrive next year, bringing the total to 18.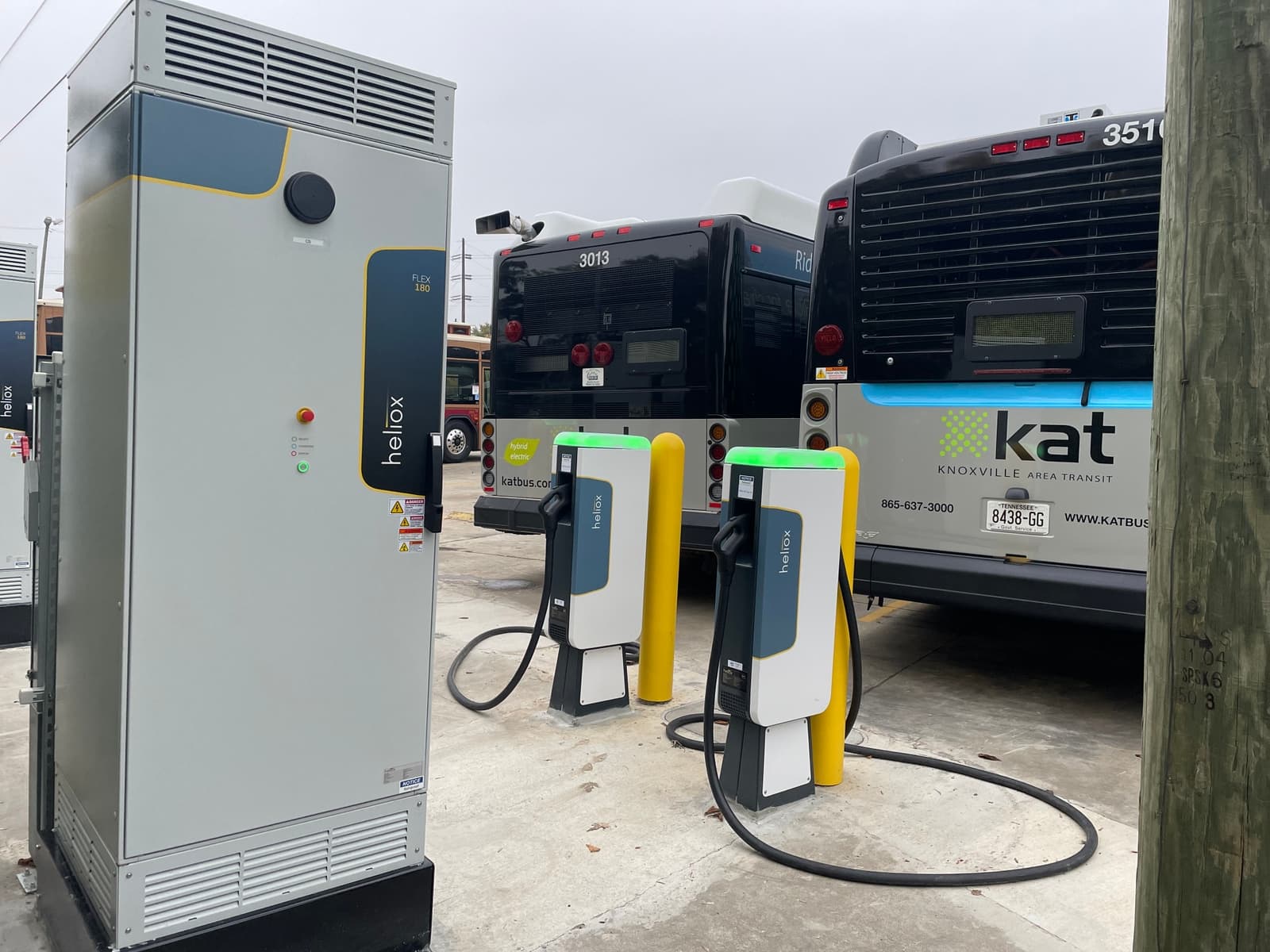 Isaac Thorne, Director of Transit, said:
"Heliox's charging technology will be critical to the success of KAT's role in reducing the City's reliance on carbon and diesel and helping to make Knoxville cleaner and more sustainable. Heliox has proven to be a great partner, helping to ensure that our buses are powered and that our community can get to where they need to go."
Knoxville Area Transit is using Heliox's Flex 180 kW chargers to charge this new fleet.  Designed for high-powered depots and overnight charging across multiple vehicles, Flex Charge will enable KAT to charge up to 3 buses (currently being used by KAT for two at a time), in parallel, per charger. The approach provides better value for transit operators by allowing them to design a charging infrastructure and expand it over time, as the fleet grows. Heliox's 180kW Flex charger also allows for charging decisions to be made on a bus's route demand and daily run schedule, and provides the most charge to the buses with the longest routes.
David Aspinwall, President, Heliox North America, said:
"Up-front costs are one of the biggest challenges for cities who want to make the transition from diesel buses to electric. With Flex Charge, Knoxville Area Transit has the flexibility to lower initial costs and scale their energy needs as they add new buses, cutting the friction related to making the vital switch."
E-buses using Heliox's 180kW Flex Charger can run up to 12-14 hours in city transit with a full charge. The Flex Charge 180kW can serve any bus interface from pantograph to plug or a mix of the two.
Heliox will be working closely with New Flyer of America Inc. whose buses have been selected by KAT, which delivers around 3 million passenger trips per year. Knoxville is the third largest city in Tennessee and is among the ten fastest growing cities in America.
This article was originally published by Heliox Energy.