Transport for London (TfL) and Riverlinx have confirmed that tunnelling work is now underway on the Silvertown Tunnel.
TfL says it hopes this road tunnel, which drivers will have to pay a toll for, will also improve cross-river public transport.
When it opens in 2025, the 1.4-kilometre Silvertown Tunnel will link Newham to the Greenwich Peninsula and provide additional bus links across the Thames.
The tunnel will include dedicated bus lanes and an enforced fare for private vehicles. Even though the new tunnel will also provide a convenient driving link across the Thames, TfL hopes the toll might dissuade some drivers from using it and switch to public transport instead.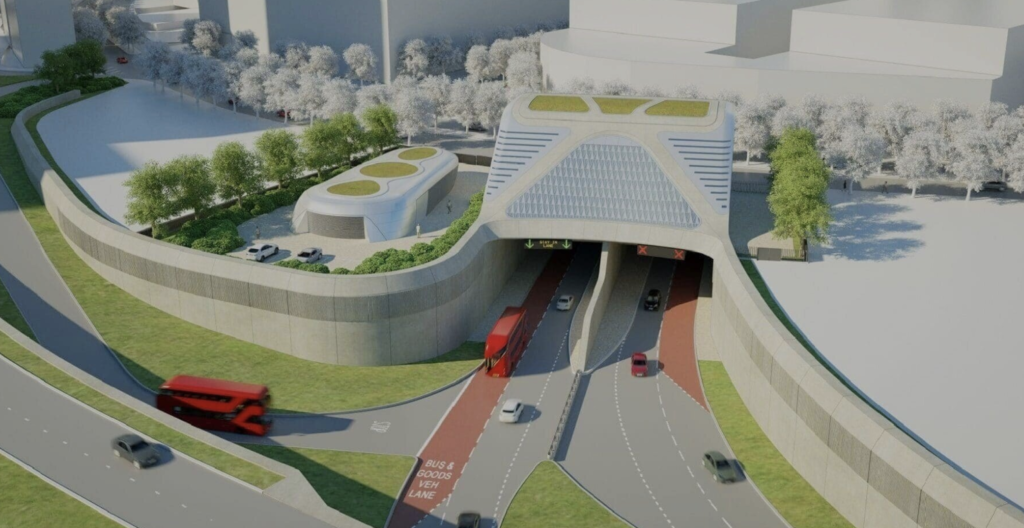 The Silvertown Tunnel's two bores will be created using a 82 metre-long tunnel boring machine (TBM) with a 11.91-metre cutter face.
The TMB has been named 'Jill' in honour of Jill Viner, the first female bus driver in London.
Now launched, Jill will progress under the river, boring around 10 metres every day. It will then head back to Newham to complete the second tunnel.
Construction on the project began in 2020 to prepare for the start of tunnelling. This work included the delivery of the launch chamber for the TBM, the construction of a conveyor system to remove excavated materials, and repairs to the river wall.
Throughout the project, nearly 600,000 tonnes of material will be excavated and removed from site via barges along the river to a former landfill site in Essex as part of a restoration scheme.
"The start of tunnelling is a huge step forward for this project and we are committed to working hard to ensure that it is delivered with minimal impact to Londoners.
"As well as reducing congestion and providing better cross-river bus opportunities, the new tunnel will also help deliver a wide range of local improvements, including dedicated walking and cycling infrastructure and new landscaping. We are working actively on these designs and we hope we can share these with local residents and stakeholders shortly, ahead of starting work on them within the next year."
Once the Silvertown Tunnel is open, TfL will run at least 20 zero-emission buses per hour through the Blackwall and Silvertown Tunnels at peak times.
TfL anticipates that this number could increase to 37 buses per hour as new developments are completed over the next decade.