NFI Group has unveiled its new battery-electric high-floor commuter coach – the D45 CRT CHARGE – through its subsidiary, Motor Coach Industries (MCI).
The D45 CRT CHARGE has been designed as a zero exhaust emission version of the D45 Commuter Rapid Transit (CRT) series, by integrating the CHARGE propulsion from NFI's urban transit buses.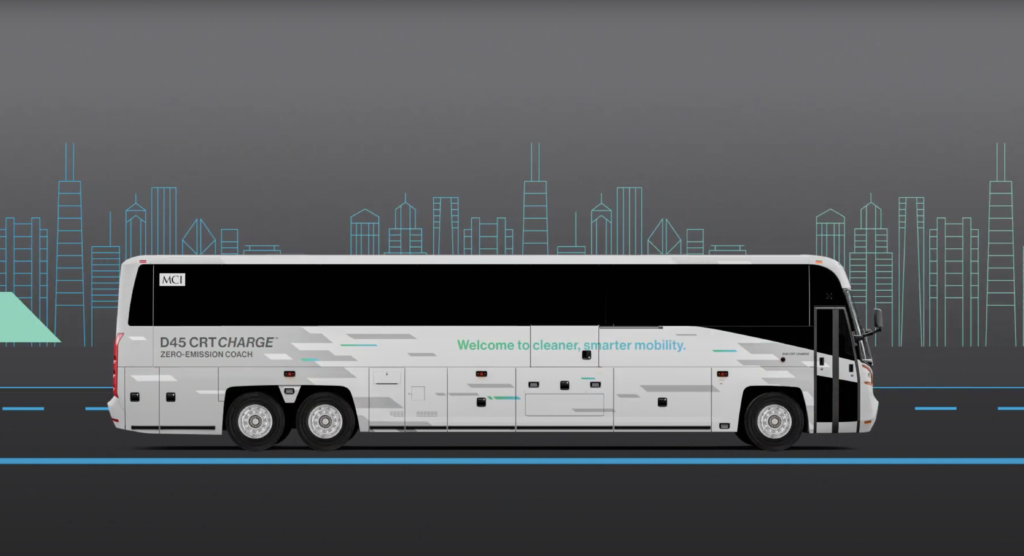 "The D45 CRT CHARGE marks the eighth unique zero-emission bus NFI has introduced in the past two years. Our market-leading electric vehicle portfolio continues to expand, demonstrating NFI's undeniable leadership in the electrification of mass mobility. With electric drive components, MCI's smooth-riding suspension, and real-time smart analytics on board, this fully accessible coach delivers an outstanding combination of performance and sustainability benefits to transit operators."
The D45 CRT CHARGE features a high-torque electric drive system that delivers up to 90% energy recovery. It is designed to efficiently travel long-distances at highway speeds in North America and is thus equipped with long-range batteries that can travel over 225 miles on a single charge.
The plug-in battery charging system can fully power the coach in less than 4 hours using the same charging equipment that supports all of NFI's heavy-duty electric vehicles.
The D45 CRT CHARGE is also equipped with NFI Connect, a telematics solution that provides real-time information of an entire fleet to improve bus uptime and lower operating costs.
"MCI continues to support North America's operators in transitioning to 100% zero-emission coach fleets, ultimately advancing their climate change action plans for a more sustainable future. The D45 CRT CHARGE will avoid the equivalent of approximately 80 metric tons of greenhouse gas emissions annually, delivering immediate emission reduction for more sustainable and healthier communities across North America."
To provide workforce development on D45 CRT CHARGE technologies, MCI will host a free virtual training session on 8 December 2022, through NFI's Vehicle Innovation Center.
The long-range D45 CRT CHARGE electric commuter coach joins MCI's existing electric coach series, which includes the D45 CRT LE CHARGE and the J4500 CHARGE.