Poland: Poznań's public transport operator MPK Poznań has purchased 25 hydrogen buses from Solaris Bus & Coach.
The original tender was for 15 vehicles, but the operator exercised its option to extend the order by an additional ten vehicles. Solaris Bus & Coach will deliver these vehicles in the second half of 2023. This is the largest order Solaris has received for its Urbino hydrogen buses.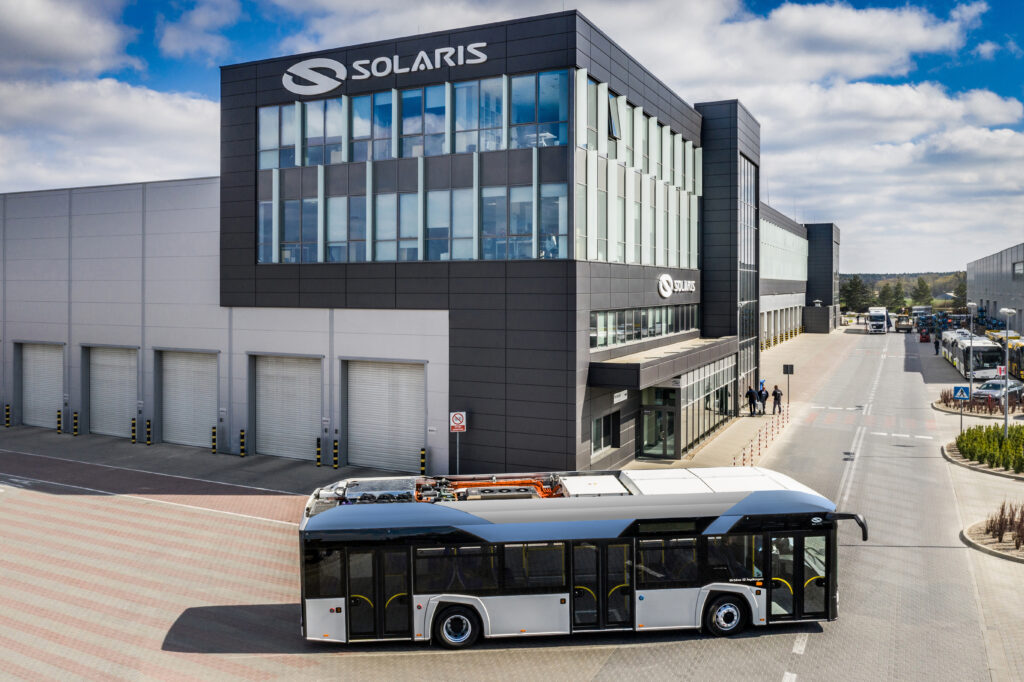 The buses are funded in part by the National Fund for Environmental Protection and Water Management's Green Public Transport programme.
MPK Poznań already owns 58 electric Solaris buses – which is roughly 20 percent of its fleet. The hydrogen buses will be Urbino 12 vehicles.
"Poznań is investing in clean technologies, in innovation and in the future. This huge order puts the carrier among the most modern public transport operators in Europe, those that are focused first and foremost on clean air in cities and improving the quality of life for the next generation of their residents. The hydrogen Urbino 12 hydrogen emits only water vapour. Soon, the advantages and comfort of travelling by hydrogen Solaris will be available to Poznań residents."
Mayor of Poznań, Jacek Jaśkowiak, said this was "another important step on the path to climate neutrality".
"purchase brings us closer to meeting e-mobility standards imposed on us. We need 30% of our fleet to be zero-emission by 2028. Now zero-emission vehicles make up 18% of our fleet but after the delivery of the hydrogen buses in question, this number will rise to about 25%, as alongside the supply of zero-emission vehicles, those meeting the lowest emission standards are decommissioned."
The 70kW fuel cell on the Urbino 12 hydrogen bus converts hydrogen into electricity. The hydrogen tanks are located on the vehicle roof. The conversion from hydrogen to electricity produces only water and heat as by-products, which makes the buses locally emission free. Each bus can cover at least 350km on a full tank. Refuelling takes about ten minutes, depending on the infrastructure.
In total, each bus will have five hydrogen tanks with a combined capacity of 1,560 litres. The buses will also be equipped with a 'relatively small' Solaris High Power traction battery to provide support to the fuel cell when electricity demand exceeds what the fuel cell alone can deliver. The drive unit will be a central electric motor.
Each bus will come with 31 seats, of which 10 will have greater accessibility (meaning without any additional steps). The buses will also be fitted with USB charging ports.
For refuelling, the buses will use a hydrogen refuelling station located at a petrol station on Warszawska Street in Poznań.