Transport for London (TfL) has published detailed maps for its future Superloop network, which will consist of limited-stop express bus routes that circle the entire capital.
The new maps show the network's proposed stops and demonstrate how it would connect to additional transport links, town centres and hospitals.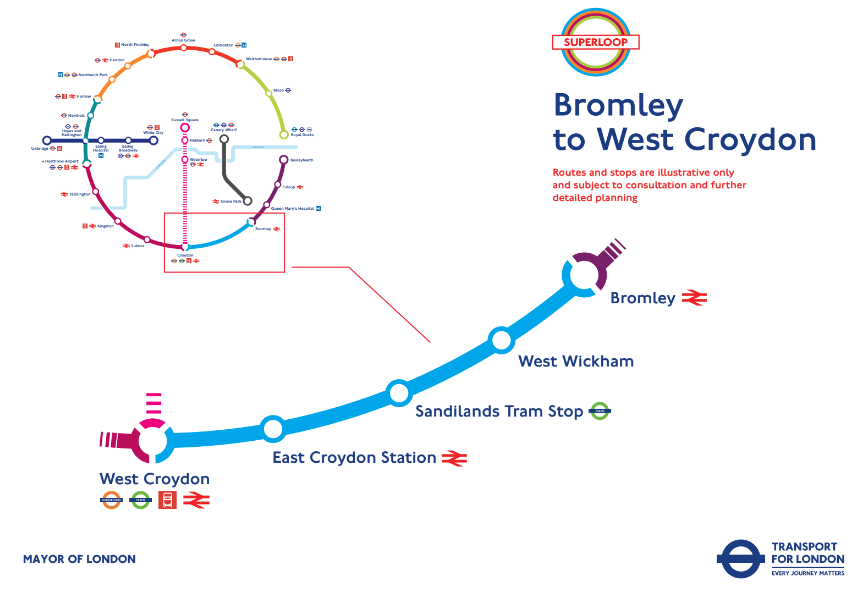 The potential future Superloop bus routes in outer London include:
X183 (Harrow to Finchley)
X34 (Finchley to Walthamstow)
X119 (Croydon to Bromley)
X269 (Bexleyheath to Bromley)
X123 (Walthamstow to Royal Docks)
This plan could add over four million additional kilometres to London's bus network as part of the Mayor of London's commitment to improving bus services in outer London.
These improvements aim to strengthen and improve public transport options in line with the London-wide ULEZ expansion.
"The Superloop is an exciting development for Outer London. It will bring faster, more frequent journeys to the places people most need to go, real integration with stations and other transport, cleaner air and a greener future for all.
"Buses are the most affordable, accessible, and available form of public transport in London and offer the main sustainable alternative to cars for journeys that can't easily be walked or cycled. The Superloop, which will be complemented by further enhancements across London, will improve TfL's already extensive and attractive bus network in outer London."
TfL has now launched the first Superloop consultation for the X183 route between Harrow and North Finchley, allowing Londoners to have their say on the proposals.
The route would see the X183 run alongside part of the existing route 183 between Harrow and Hendon and part of route 125 between Hendon and North Finchley.
It would run every 12 minutes from Monday to Saturday and every 15 minutes during evenings and Sundays.
The route would also allow customers to connect to 38 other bus routes in the area, as well as seven rail lines.
"The Superloop is part of my plans to improve public transport in outer London. These new routes will substantially improve access to transport services, town centres and hospitals in outer London, and help build a better, greener London for everyone.
"I'm so excited to be kicking off the Superloop journey with our new detailed maps. Londoners can see for themselves where the buses will be stopping and how the Superloop could benefit them.
"I'm also pleased to be launching the first Superloop consultation today with the new X183 route from Harrow to North Finchley. I encourage everyone in the local area to get involved and have their say."