Alongside purchasing new vehicles and power drives, the electrification of bus fleets requires significant investment in the necessary charging infrastructure and electricity supply to power them.
Charging infrastructure is often considered in two primary formats: en-route charging and depot charging.
When deciding which infrastructure to invest in, each transit agency must consider its specific operational needs and determine how it can overcome the challenges of scaling the infrastructure to eventually serve an entire fleet.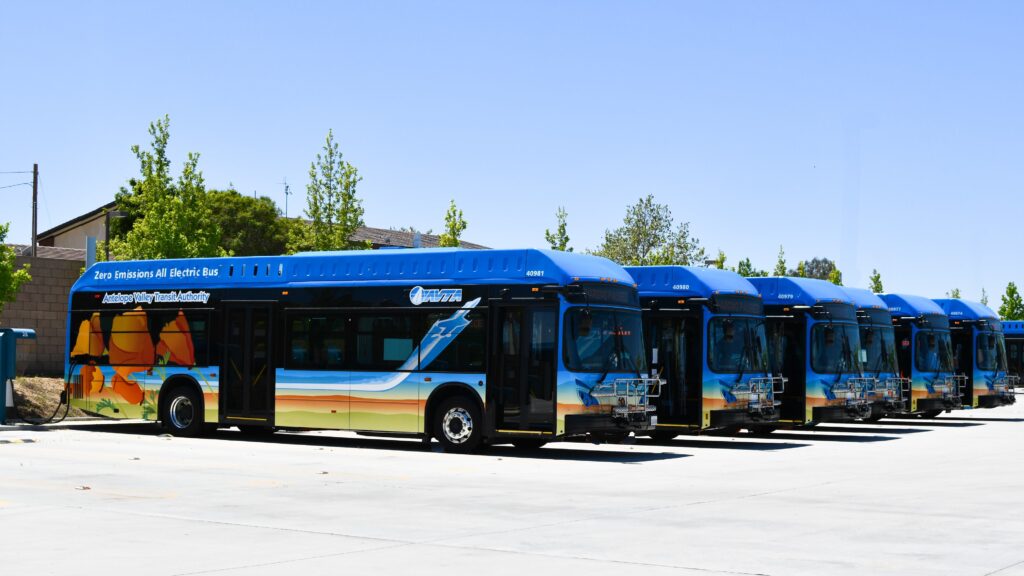 Plug-In Depot Chargers
In-house chargers are currently a popular option for companies adding electric buses to their fleets. Overnight charging allows operators to use smart, timed chargers that take electricity at off-peak times to reduce costs. This system can sufficiently charge most buses without disrupting service.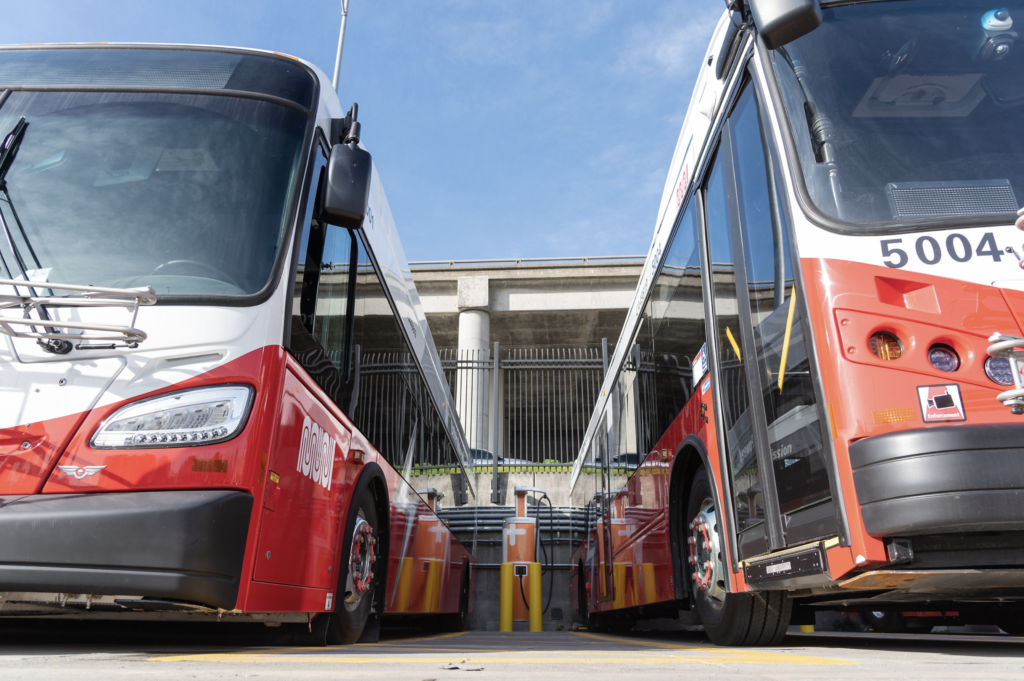 © SFMTA
However, as operators begin to convert their entire fleets to electric vehicles, this method can pose several challenges. For example, existing bus garages often have limited space and a minimal electricity connection that does not accommodate charging an entire fleet of electric buses. Indeed, electrical equipment takes up a considerable amount of space and plug-in chargers require vehicles to be adequately spaced when parked.
In urban areas where electric buses are currently most popular, it is not always possible for operators to buy more land or sufficiently expand their garages to accommodate the growing space needed to charge a fleet of buses. Space-constrained agencies such as LA Metro are therefore planning to install such equipment in overhead frames to maximise their existing space.
Furthermore, for night buses or buses serving longer routes, overnight charging may not be an option. Night buses often have a very limited window in which they can recharge, so operators may need to buy additional buses to allow for charging time. Meanwhile, buses travelling longer distances may not be able to complete a day's work on a single charge, which makes overnight depot charging insufficient.
Be this as it may, as technology continues to develop, the maximum range of electric buses continues to rise and more powerful chargers can provide a greater output in a shorter period of time. Such developments can consequently help to overcome the problems associated with depot charging.
En-Route Charging
Opportunity charging such as the use of pantographs further combats several of these issues by allowing a bus to receive top-up charging outside of the depot and along its route.
However, this may result in significantly higher costs due to the need to purchase high-power fast chargers that source electricity from the grid during peak times. In addition, the installation process can be more complex, as agencies often have to seek the necessary planning permission for installing the chargers along the bus route. En-route chargers can also result in greater risks of vandalism and damage, as well as higher maintenance costs, as workers have to travel to the chargers when a problem occurs.
As a result, many agencies are initially focussing on electrifying buses that can be charged with depot chargers, rather than on vehicles that are not compatible with this solution.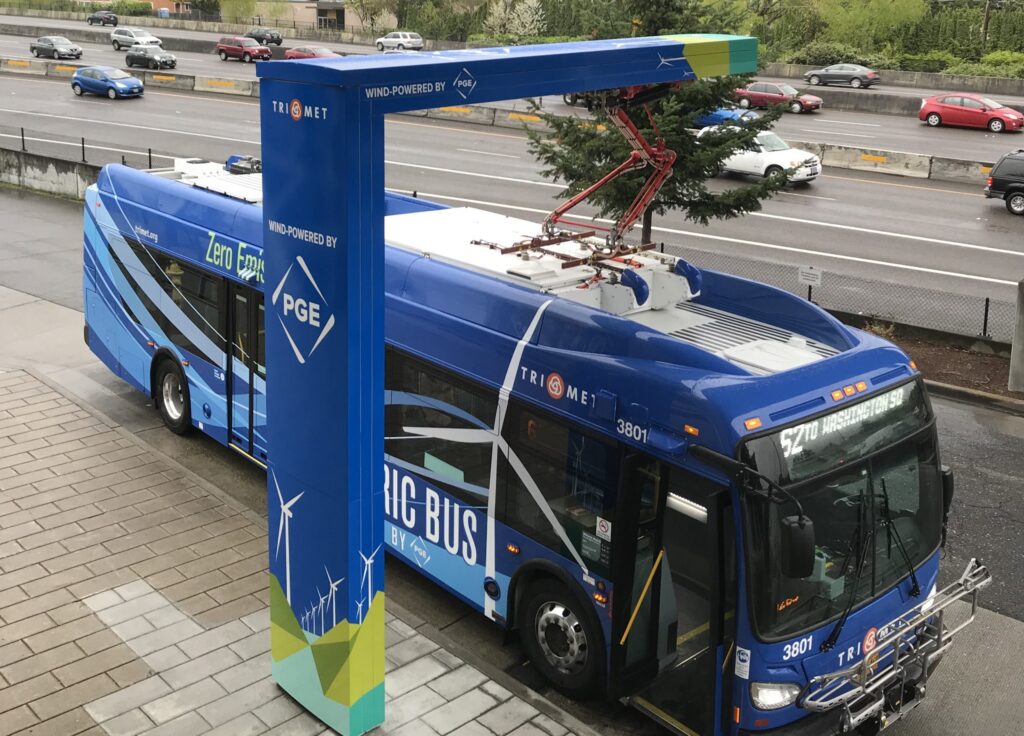 © TriMet
Depot Pantographs
Although pantograph chargers were traditionally designed for opportunity charging, many operators are now installing inverted pantographs in their depots. This method reduces manual labour, as the system can be automated, rather than requiring a large fleet of buses to be plugged in.
For example, in March this year, King County Metro opened its new charging station in Washington state, which uses inverted pantographs to automatically begin the charging process once a bus driver pulls into the depot and sets the parking brake.
This solution also improves safety by reducing the presence of cords around the depot and allows buses to be parked closer together to save space.
However, pantograph chargers are more expensive and may be less reliable than plug-in alternatives due to their reliance on wireless signals.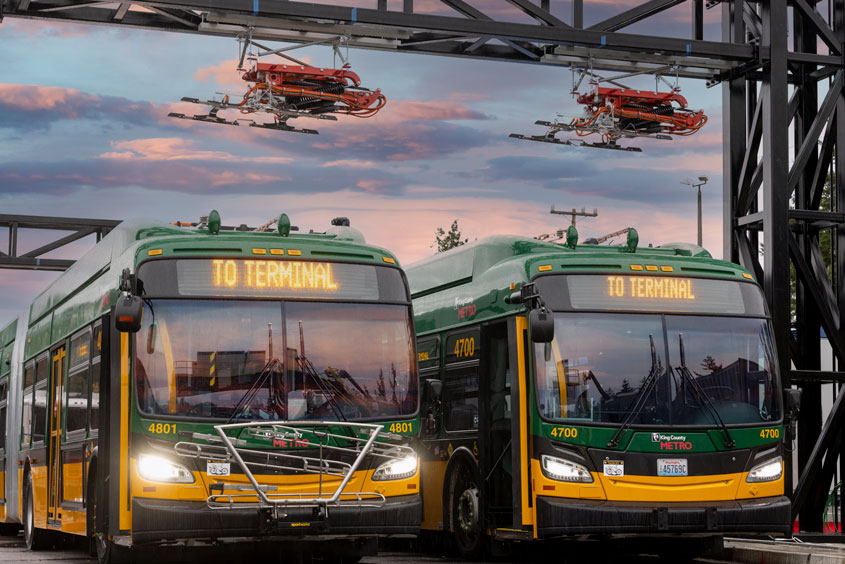 © King County Metro
Wireless Inductive Charging
As an alternative to pantographs, some operators are choosing to deploy wireless inductive chargers that consist of large metal charging pads that wirelessly transfer electricity to a bus parked above.
This solution eliminates the need for a manual connection and reduces the risk of vandalism or the chance of damage through a collision.
Wireless inductive chargers are currently used by Antelope Valley Transportation Authority (AVTA), the first all-electric bus agency in the US. AVTA operates all-electric local buses and commuter coaches and uses wireless inductive chargers alongside plug-in depot chargers to extend the range of its buses on longer routes.
This application demonstrates how wireless inductive chargers can help a fleet operate solely with electric vehicles. However, installation of this technology is expensive and newer to the market. It is therefore not compatible with all bus models, and can create problems for batteries that are unable to intake a large surge of power in a short time period. These drawbacks consequently prevent some agencies from pursuing this option.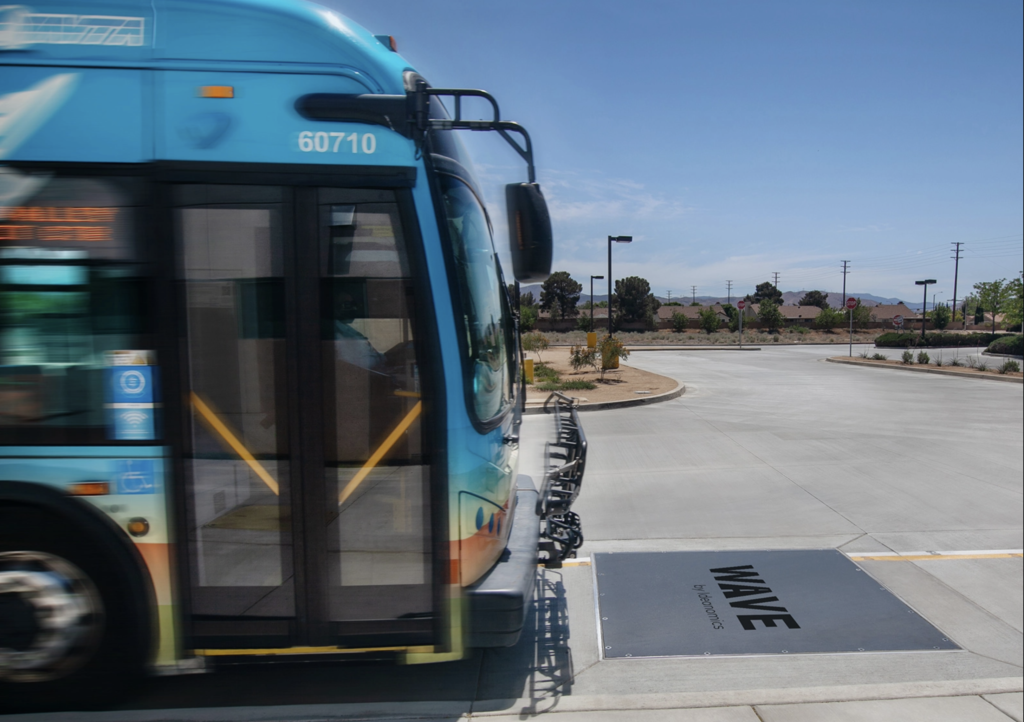 © WAVE
The large array of benefits and drawbacks of each charging solution can cause complexity for many operators and can deter them from electrifying their fleets if they are not sufficiently informed about their options.
It is thus vital for manufacturers to support operators in successfully installing the appropriate infrastructure to enable the eventual widespread electrification of bus fleets.