King County Metro has celebrated the opening of a new electric bus charging facility, enabling the launch of its battery-electric bus fleet in Washington state.
This opening marks the start of service for King County Metro's battery-electric New Flyer buses but the facility will also charge electric vehicles already in use by Metro and King County.
The electric bus charging facility can charge up to nine buses simultaneously, and was created with an interchangeable design using charging infrastructure from multiple manufacturers to ensure that all major models of battery-electric buses can charge at any station.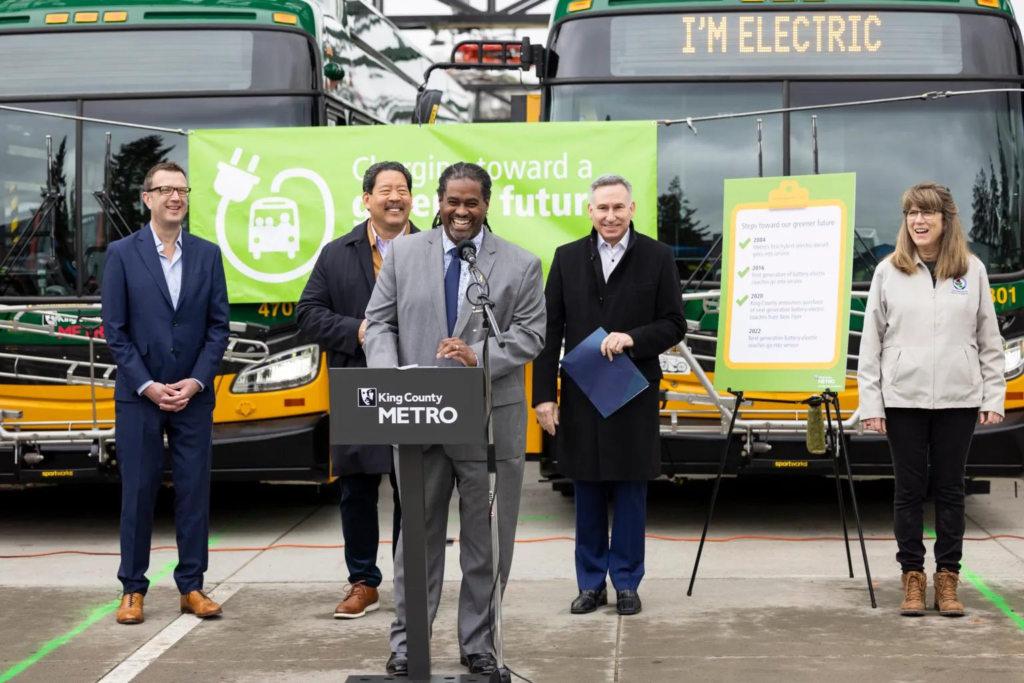 "As we charge up these new electric coaches at this state-of-the-art facility and send them out on the road, we're reducing global carbon emissions while taking local air pollution out of the communities most impacted by climate change. Developing buses to handle our unique conditions and scaling up our green infrastructure wouldn't be possible without the innovative leadership of King County Metro and our partners in the transportation industry."
In 2020, King County announced an agreement with New Flyer to purchase 40 battery-electric coaches that will be put into service by the end of 2022. The 60ft vehicles hold 120 people and can travel approximately 140 miles on a single charge. The 40ft vehicles hold 76 people and can complete a 220-mile route on a single charge.
The first coaches will serve Kings County routes in transit-dependent communities that have been impacted by air pollution and climate change in south King County. The first of the New Flyer coaches started operations on 30 March 2022 on Metro's Route 193, carrying riders from Federal Way to Seattle's First Hill.
"This is the type of exemplary collaboration and partnership we need to achieve our climate action goals for the region. We are committed to delivering clean, reliable, fast transit service to every Seattle resident. Working together, we can build a cleaner, greener future."
Seattle City Light provided Kings County Metro with direct support throughout the project's design, construction and testing. The public utility company will supply the facility with electricity and ensure it is efficiently used.
"Transportation electrification is an integral part of City Light's modernisation plan. This strategic partnership with King County Metro helps prioritise public transportation electrification to deliver a triple win for our communities, the environment, and the utility."