TriMet's Board of Directors has approved two resolutions to initiate the agency's first bulk purchase of battery-electric buses and expand the use of renewable diesel in the TriMet's diesel transit vehicles in Portland, Oregon.
TriMet will purchase 24 long-range battery electric, zero-emissions buses from GILLIG, with an estimated cost of 26.7 million USD. This is the agency's largest investment in electric bus technology and is a critical milestone for transitioning to a zero-emissions bus fleet by 2040. This bulk purchase of all-electric buses will consist of long-range buses that can travel between 150 and 200 miles on a single charge. The vehicles will begin arriving in autumn 2023.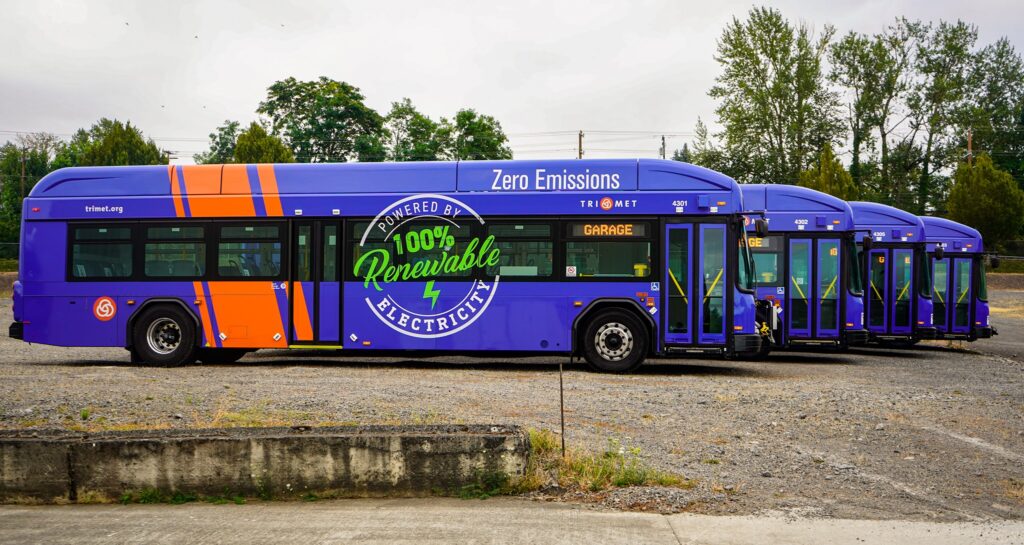 "Transitioning away from diesel completely will take time as electric and other zero-emissions sources continue evolving, but now is the time to invest in this emerging technology. As transit is a vital part of the solution to climate change, this will keep TriMet on the forefront of new advances to improve the air we breathe here in the Portland region."
TriMet has been testing electric buses since early 2019 with five short-range electric buses from New Flyer, five long-range electric buses from GILLIG, and four diesel-to-electric converted buses, including the world's first 60-foot articulated bus converted to 100 percent electric power.
In addition, TriMet started using a blend of 99 percent renewable diesel and 1 percent petroleum to power its fixed-route diesel buses five months ago. The R99 fuel is primarily derived from fats, greases, and other organic matter. While renewable diesel is chemically identical to petroleum, it comes with environmental and operational benefits, as it contains nearly no fossil carbon and also performs better in cold weather.
Building upon this switch, TriMet will now also contract Bretthauer Oil Company to fuel their LIFT paratransit and WES commuter rail vehicles using renewable diesel.