Y-Mech, Four Post or In-Ground – Which Heavy-Duty Fixed Lift Is Right for Your Workshop?
There's a lot of choice out there when you're looking at vehicle lifts. And with a big investment behind every type of lift, you need to be sure you're paying for the best possible fit — for your workshop, your vehicles, and the type of work you do.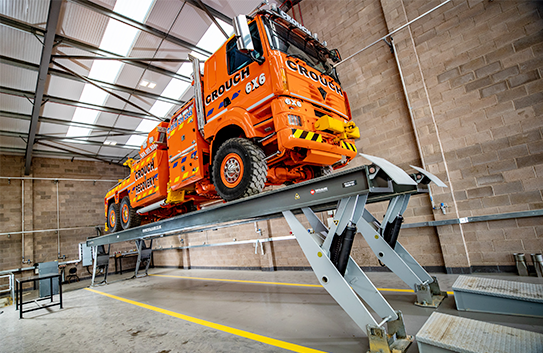 So, to help make that decision easier, we've put our heavy-duty fixed lifts against each other to give you a direct comparison on what each one can do, and where they work best.
But before we dive into the differences between them, we need to talk about how they're the same.
Let's get started:
What Do Fixed Vehicle Lifts Have in Common?
We'll get the obvious out of the way first:
Whether you're looking at our Heavy Duty Four Post Lift, our In-ground Lift, or the Heavy Duty Y-MECH, you're talking about a fixed-installation vehicle lift in a permanent position.
If you need the flexibility of a lift that can be repositioned and put into storage, you're better off with something mobile — like our T8DC or G8AC Mobile Column Lifts.
But beyond their fixed position, there are plenty of other features in common. Here's what you'll get with all three of our heavy-duty fixed lifts:
A lifting capacity that works for most heavy-duty vehicles
A range of lengths to fit different vehicles
Access to all four sides of the vehicle
Access to the underside of the vehicle
And options for a recessed installation to give you a flush fit with your workshop floor
With that out of the way, let's get into the differences. Here are the questions you need to ask to help you decide which lift is right for you:
How Heavy Are the Vehicles You Lift?
All our heavy-duty fixed lifts are built for big vehicles, with a range of lifting capacities for the typical heavy commercial vehicle.
But there are some differences depending on which lift you choose:
Type of Lift: Lifting Capacity
Heavy Duty Four Post Lift: 8,000kg – 33,000kg
In-ground Lift: 15,000kg per column (up to 8 columns)
Y-MECH Lift: 25,000kg – 35,000kg
On paper, that means the In-ground Lift has the highest possible lifting capacity. With up to 8 columns holding 15,000kg each, you're looking at a potential lifting capacity of 120,000kg.
But in practice, it's a bit more complex:
Depending on the length of the vehicle and the layout of those columns, you won't always be using every column at once. A shorter and heavier vehicle might only use two columns, which would mean a lifting capacity of 30,000kg.
So if you're leaning towards an In-ground Lift based on the capacity alone, you should speak to one of our Totalkare experts to get a better understanding of the specific installation you need.
How Long Are the Vehicles You Lift?
Our fixed lifts are all made for a range of vehicle lengths, covering most of the typical vehicle lengths you're likely to use.
Here's how they measure up:
Type of Lift: Platform Length
Heavy Duty Four Post Lift: 7m – 18m
In-ground Lift: Custom-made for your installation
Y-MECH Lift: 6m – 13m
Again, the In-ground Lift is a special case. You can choose an installation with up to 8 lifting columns, which means some smaller installations might not be suitable for longer vehicles.
Do You Need Access to the Wheels While You Lift?
This is an easy one to forget. But depending on the type of work you do, it could be one of the biggest deciding factors in the lift you choose.
A lift that attaches to the chassis of the vehicle gives you full access to the wheels while it's raised — but might come with limited access to the chassis itself.
And a lift that raises a vehicle on rails or platforms makes the wheels inaccessible — but it gives you full access to the centre of the undercarriage. However, you can always install a jacking beam if this is a problem.
Type of Lift: Access to the wheels – Access to the chassis
Heavy Duty Four Post Lift: With jacking beam – Yes
In-ground Lift: Yes – Limited
Y-MECH Lift: With jacking beam – Yes
Do You Need a Vehicle Lift That Works in a Wash Bay?
If you're running a workshop with its own in-house wash bay, you'll probably need a lift that comes ready for wet work.
As well as having options for full galvanisation to make it suitable for a wash bay, you should also pay attention to the IP rating of both the columns and the electronics. (The IP rating is a measure of Ingress Protection — how resistant something is against water and particles getting inside it.)
Here's what you need to know:
Type of Lift: Options for Galvanisation – IP Rating
Heavy Duty Four Post Lift: Yes – Columns: IP67 , Control Box: IP66
In-ground Lift: No – No, Lift Electronics: IP67
Y-MECH Lift: Yes – Lift Electronics: IP67, Control Box: Less than IP67
Do You Need to Make the Most of Your Floor Space?
All three of our fixed post lifts for heavy vehicles come with the option of a recessed installation — making them flush with the floor of your workshop.
So when you're not using the lift to raise vehicles, you're able to minimise the amount of floor space taken up by the lift. You'll have more flexibility in your workshop layout, giving you extra space to carry out small jobs, or to move smaller pieces of mobile workshop equipment into the surrounding area — both of which can improve your workshop's productivity and throughput.
But there is some difference between the space you gain:
The Heavy Duty Four Post Lift comes with four upright posts that remain above ground in a recessed installation.
The Y-MECH gives you a fully useable space when it's recessed. And the In-ground Lift comes with a built-in roller cover with a capacity of 7,000kg — which means you can even drive or park some types of vehicles directly on top of the unused lift.
Here's how the different lifts stack up:
Type of Lift: Recessed installation – Fully useable space
Heavy Duty Four Post Lift: Optional – Limited — four raised posts
In-ground Lift: Yes – Yes
Y-MECH Lift: Optional – Yes  (up to 7,000kg)
Need an Expert Opinion?
Investing in a heavy-duty lift should never be a rushed decision. There's a lot to take in, and lots of different features and scenarios to think about.
So if you're still not sure which is the best fit for your workshop, chat with one of our vehicle lift specialists today — and we'll help you find exactly what you need.
This article was originally published by Totalkare Ltd.