If you're looking to upgrade your workshop, it's easy to focus on the short term – the cost of new equipment, and how to put it to good use.
But there's a lot more going on than just the initial investment. And the plans you put in place now could help you to reduce your risks, extend the life of your equipment, and save your business money in the long term.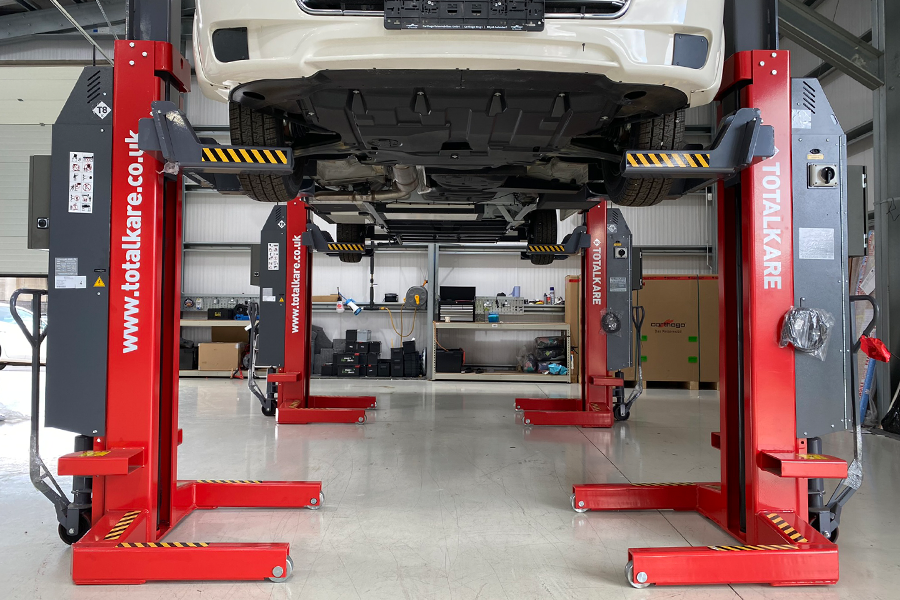 Here are five reasons why you need to get frequent servicing for your vehicle lifts.
1. It's the Law
This is an easy one – because there's no getting around it.
Under UK law, vehicle lifts need to be thoroughly examined by a competent person who can issue a 'Report of Thorough Examination'.
The government recommends that you carry out these examinations at least once every six months. But just like any other safety issue, the bare minimum of checks isn't always enough.
If you want to keep your lifts in top condition – and minimise the risk of accidents in your workshop – you should always get your vehicle lifts serviced after:
A long period without being used
A significant change in operating conditions
Any damage or mechanical failure to your lifts
2. There's a Lot at Stake
No matter what you're lifting, the costs of poor maintenance can be huge.
Even the smallest vehicles have a substantial monetary value, and an accident or failure in your vehicle lift could cost you tens of thousands of pounds in replacement parts and vehicle repairs.
(And that's before you start to think about the loss of reputation when the vehicle belongs to one of your clients!)
But beyond the sizeable financial risk, there's a much more serious issue at hand: when a vehicle lift is neglected, you could be putting your workers in harm's way.
We're proud of the equipment we sell here at Totalkare, and we can say with confidence that our lifts are some of the safest around.
But without the right checks and maintenance, even the best equipment in the world will eventually suffer from wear and tear. If you don't keep on top of things with regular and frequent servicing, your vehicle lifts might eventually become a safety risk – and you might not realise until it's too late.
3. You Can Catch Problems Early
Every business does its best to keep its costs down. And if your budget's under strain, it can be tempting to get your equipment serviced less often.
But in reality, the right level of servicing can actually help you save money.
When you keep your vehicle lifts in top condition, it's rare that you'll have to fork out for a major repair. You're catching potential problems before they develop into something serious – making incremental repairs and replacing smaller parts as soon as they show signs of damage.
You might think you're saving money if you choose to skip these frequent services. But as your lifts continue to degrade over time, you're only delaying the inevitable.
And if you neglect your lifts to the point of serious failure?
You'll have a much bigger bill waiting for you at the end.
The costs of frequent servicing and small repairs might seem like an unnecessary dent in your spending now. But it's nothing compared to the costs of a serious incident – in terms of significant damage to your lift, the costs of repairing a vehicle, and the potential harm caused to your staff.
4. You're Protecting Your Investment
We know that vehicle lifts don't come cheap.
(If they did, you should be worried!)
You've dropped a considerable sum of money into kitting out your workshop, and you need to be sure that your equipment lasts long enough to justify the investment you've made.
So what's the best way to extend the life of your vehicle lifts?
With frequent and regular servicing and maintenance.
Wear and tear doesn't happen overnight, and expensive repairs don't come out of nowhere. It's a gradual process that takes time to develop.
And at every step of that process, you've got the chance to identify potential issues and prevent them from growing further – adding years to your equipment, squeezing more value out of every penny spent when your first bought your vehicle lift.
5. You're Creating Confidence
Every business needs to hit the legal minimum for how often they service their equipment.
But when a business goes above and beyond – with their own schedule of frequent checks and maintenance – it's a badge that they can wear (and boast about) with pride.
When potential clients come to check out your workshop, they want to know that their vehicles are in safe hands. They need assurance that you're using modern equipment in top condition. And when you have records of regular services and spotless examinations, that's a selling point that shows you take your business seriously.
But it's not just about inspiring confidence from your clients and prospects:
It's about creating confidence for your teams and workers, too.
Any technician that works with heavy-duty equipment wants to know that they can rely on their machines. They want to feel safe with the vehicles and lifts they're working around and under – and they want to know that their employer takes things just as seriously as they do.
So, if you're keeping on top of your equipment and its maintenance, your team can work faster and more productively – with complete trust in the equipment they use.
Looking for an Easy Way to Get Your Vehicle Lifts Serviced?
Choosing the right vehicle lift is an important first step. But if you want to get the most out of a significant investment, you'll need a long-term plan to keep your equipment in top condition.
We've been selling heavy-duty lifts for over 40 years. And that means we know exactly how important it is to have the right maintenance and checks in place – from an expert provider that knows the ins and outs of the equipment you use.
So if you're looking for a simple way to ensure your peace of mind, our Totalkare Afterkare Service could be exactly what you're looking for.
With a comprehensive package that includes PUWER and LOLER-compliant servicing and reports (as well as a 24-hour helpline with expert advice), you'll get a simple and stress-free way to stay on top of your vehicle lift servicing – so you can stay focused on keeping your business running.
Check out the full details of our Afterkare service online – or talk to one of our experts to find out exactly how we can help.
This article was originally published by Totalkare Ltd.