Yutong Steals the Show with First-of-Its-Kind 18-Meter Full-Electric High-Platform BRT Bus in Mexico
On August 29, 2021, 10 Yutong 18-meter full-electric BRT buses were officially delivered to Mexico City and put into operation. This is not only the world's first BRT system operated by 18-meter full-electric high-platform buses, but also the mass-production debut of Yutong electric BRT bus in the Mexican market. As the first batch of electric BRT buses purchased by the government of Mexico City, they will kick start a full-electric bus BRT era in the city.
Dra. Claudia Sheinbaum, Mayor of Mexico City, Wang Huijun, Acting Commissioner of the Economic and Commercial Counsellor's Office of the Chinese Embassy in Mexico, Maestro Andrés Lajous, Secretary of Mobility of Mexico City, Maestro Roberto Capuano, General Manager of Metrobús, Jorge Suárez, Commercial Director of VEMO, Qi Baocang, Country Manager of Yutong Mexico, Ren Wenhui, Customer Manager of Yutong Mexico, Bao Difan, Customer Manager of Yutong Mexico, and representatives from Mexico City Secretariat of Science, Education, Technology, and Innovation, STE, CISA, and ADO attended the delivery ceremony.
These buses will not only significantly improve the transit efficiency and travel experience of Mexican residents, but also help Mexico open a new chapter of green and rapid transit. They are expected to set a benchmark for BRT electrification worldwide.
Tailor-Made for Mobility Upgrade in Mexico City
With an area of 1,525 square kilometers and a population of about 22 million (including satellite cities), Mexico City is the most populous metropolitan area in the Americas and the highest-altitude metropolitan area in the world. As a well-known international metropolis and the political, economic, cultural and transport center of Mexico, Mexico City accounts for approximately 50% of the country's industrial establishments, commercial facilities, service providers, and financial institutions.
In recent years, growing economy and rapid urbanization has led to increasingly serious "big city diseases" such as air pollution and traffic congestion in Mexico City. To address these problems, Mexico City made vigorous efforts to develop BRT routes and promote green mobility. The introduction of "zero-emission" full-electric BRT buses with intelligent connected vehicle system unarguably accelerated Mexico City's progress toward green mobility.
Mayor Dra. Claudia Sheinbaum of Mexico City noted at the delivery ceremony that the full-electric BRT bus marked an important step in mobility integration in Mexico City. They will further improve the transportation system and bring cleaner air and better health. Everyone living in Mexico and Mexico City is entitled to such rights.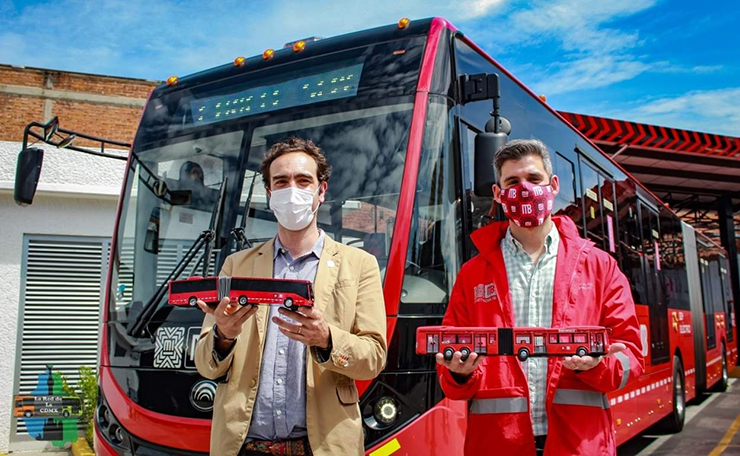 Later, Dra. Claudia Sheinbaum sent a special letter of thanks to Yutong Bus, stating that it was a great honor to work with Yutong Bus to implement Mexico City's commitment to greenhouse gas emissions reduction. The introduction of full-electric BRT buses will reduce carbon emissions by 1,300 tons over the next 10 years in Mexico. The Mexico City government will make all efforts for a better future of the city and continue its important partnership with Yutong.
Qi Baocang noted that the project was a collaboration between Yutong Bus, VEMO, ADO and Metrobús, and the vehicles would operate the Metrobús Line 3 service. In fact, Yutong delivered the first 18-meter full-electric bus to Metrobús as a prototype in 2020, which demonstrated stable performance, reliable after-sales support, quiet and comfortable riding experience, and ultra-low energy consumption in operation for more than half a year, and thus won extensive recognition from Metrobús, ADO, and local passengers. Mexico chose Yutong again this time not only because of its trust in the brand but also the excellent performance of the prototype model during the trial.
Before the debut of the full-electric BRT buses, Yutong Mexico fully researched into the needs of the market and prepared technological analysis and product strategy accordingly. Eventually, a bespoke model was developed especially for Mexico. The 18-meter bus features high safety, high reliability, high efficiency, and easy maintenance. It is designed with a capacity of 160 passengers and a range of 330 kilometers. The battery, motor, and vehicle control unit are waterproof with IP68 rating and save up to 80% of energy.
Undoubtedly, the full-electric BRT buses will reshape the direction of Mexico's mobility system, and are expected to further improve the comprehensive strength and national image of the country. On the other hand, the successful delivery of the buses is an important fruit of Yutong's overseas market development efforts over the years.
Chinese Passenger Bus Brand Earns Reputation with Strength
Yutong Bus is well received in the Mexican market for its high-quality products and services. Next, Yutong Bus will further develop the market with high-quality and eco-friendly solutions.
At the end of 2018, Yutong delivered 55 9.5-meter natural gas buses to Mexico. From 2019 onwards, Yutong has delivered 193 new-generation dual-source trolley buses and 10 full-electric buses to Mexico City. Yutong won high recognition from local government, customers and residents for its high-quality, high-performance products and well-established after-sales support system.
In 2020, due to the COVID-19 pandemic, more than 50% of bus services in Mexico City were suspended. However, Yutong dual-source electric trolley buses remained normal operation for its eco-friendliness and ride comfort. Moreover, they showed stable operation with an on-time rate of 100%. The full-electric BRT buses delivered this time are to further underline Mexico City's vision of human-oriented and green mobility.
Over the years, Yutong addressed overseas markets and clients by tailoring products and solutions to their specific needs and ensuring comprehensive financing and after-sales support. That's how Yutong improved its sales and market shares overseas and created beneficial cycles. Mexico is no exception.
At present, Yutong Bus accounts for nearly 80% of new energy buses in Mexico. Qi Baocang said that Mexico is one of the key strategic markets of Yutong, who expects to become a mainstream travel solutions provider with rising market shares in the next three years. Meanwhile, Yutong plans to establish assembly plants in Mexico for localized production, so that the company can create greater value and provide better travel experience for Mexican customers and passengers.
This article was originally published by Yutong.