International Recognition! Yutong as First in Chinese Commercial Vehicle Industry to Obtain Certification on UN R155 Cybersecurity Management System Compliance
Recently, Yutong Bus Co., Ltd. ("Yutong Bus") became the first one in the Chinese commercial vehicle industry to obtain the certification of Cyber Security Management System (CSMS) compliance under UN R155.

The certificate awarded by UTAC, France, indicates that Yutong Bus has possessed the industry-leading capability of vehicle cyber-security management, and its sound CSMS is consistent with international mandatory regulations, ensuring its vehicles are able to effectively detect and control cyber security risks throughout their life cycle.
With the rapid development of intelligent connected vehicles, the IoV cyber-attack risks and cyber security incidents continue to increase both in magnitude and quantity. Such security issues will affect driving safety and cause user data leakage, even threatening national security. To this end, the UN Economic Commission for Europe (UNECE) adopted a cybersecurity regulation for road vehicles in June 2020, known as UN R155.
As the first mandatory regulation on automobile cybersecurity issued by the UN, the UN R155 is applicable to a host of countries and regions including the EU and the UK, providing extremely critical and clear guidelines and requirements for the development of cybersecurity across the auto industry. The regulation requires manufacturers to pass the certification of vehicle CSMS and vehicle models need to have certified cybersecurity type approval.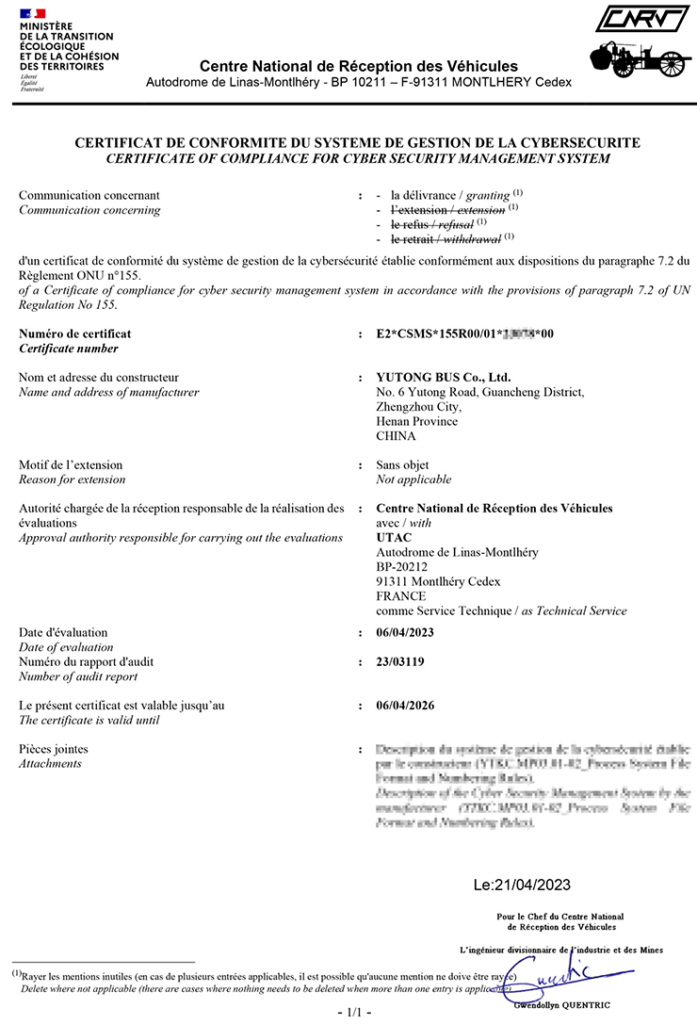 Consistent in improving vehicle cyber security, Yutong Bus has established an all-round vehicle cyber security protection system covering vehicle end, control center and cloud platform for better quality system and CSMS. Through the technologies of on-board bus system detection, host detection, alarm record etc. and the input situational models, the security and business situations of the vehicle end and cloud platform are predicted to arm products with cyber-security threat resistance, and bring to customers an all-round cyber-security that is more reliable and worry-free, as part of more secure mobility solutions. Obtaining the first certification under UN R155 in China's commercial vehicle industry is a testimony that Yutong Bus has successfully established a CSMS with international credibility, and with the security bottom line in mind, it will apply for vehicle type approval subsequently and pursue the sustainable development of IoV technologies.
It is reported that Yutong has also started the process of UN R155 CSMS certification for other types of commercial vehicles. The above success of certification will not only continuously empower its overseas deployment of commercial vehicles, but also effectively support its strategy of going global with high-end intelligent connected EVs, so as to continue the offering of green, energy-saving, safe and reliable products and services worldwide to create greater values for communities.
This article was originally published by Yutong.