Of the five countries in North Europe, Yutong has sold its buses in four ones, which proves Yutong's electric buses not only stand the test of the harsh environment there, but also pass the test of high bus requirements in that region. Yutong has become the trustworthy green bus brand among bus operators and residents there.
Biggest Order Secured Over Ten-Year Efforts in Europe
The E12 electric buses delivered to Keolis Norge in batches are of high reputation in Europe. Denmark firstly purchased the bus models and put them in operation.
It was learned that Yutong manufactured the prototype only two months after winning the bid. Keolis Norge also came to Yutong on January 19 for acceptance check and on-site visits.
The delegation of Keolis Norge spoke highly of Yutong's scale of production, and technological reserve in new energy buses. In addition, the production efficiency of sample models also increased the confidence of Keolis Norge in Yutong's delivery capability.
As introduced by the person from Yutong, the order was finally completed earlier than the required time. Impacted by the COVID-19, our Norwegian customers could not inspect buses on site. However, both sides creatively adopted the "Cloud Bus Inspection" mode, and examined the appearance, interior, performance, and road test through live video. In the end, all the buses passed the factory acceptance test.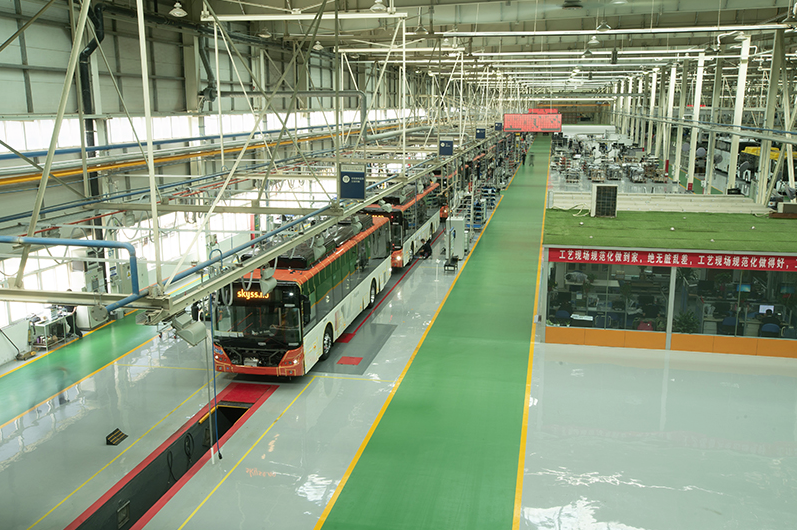 © Yutong
It is estimated that 102 Yutong full electric buses will run in the streets of Bergen, providing more eco-friendly and comfortable public transport service for the picturesque city.
Open Norwegian Market with Quality Products
Boasting the heartland of automobile industry in the world, Europe has long been the target market of Chinese ambitious bus brands.
Yutong's success in opening Norwegian market with a record order can be attributed to its competitive quality products.
Norway, located in the west of the Scandinavian Peninsula, is called "Country of Ten Thousand Islands". It has complex terrains and diverse climate conditions. The city Bergen where Yutong buses will be operated is known as European "Rain Capital" because of over 200 rainy days in a year. Thus, the temperature, humidity and terrain are the touchstone for the electric buses.
In light of actual conditions, Yutong sent engineers to Bergen to collect road spectrum and customize power system plans based on operation routes to improve control strategies, and meet actual operation requirements. After the full understanding of their special requirements, Yutong developed the three-point safety belt high back seat, and guide dog folding chair to adapt customers' habits, which won the recognition of customers.
In addition, the IP68 Waterproof Grade of "Three Power System" (electric drive, battery and power control) is adopted in the buses, which guarantees safe operation of buses even they are immersed in water for 24 hours.