150 Units Golden Dragon 12-Meter BRT Buses Shipped to Kazakhstan for Operation
150 units Golden Dragon BRT buses in KD forms were officially shipped to Almaty, the largest city in Kazakhstan. According to Golden Dragon, all the buses will be immediately assembled and put into operation on some key bus routes after their arrival in the city. Following two deliveries in 2018 and 2019, this is the third time for Golden Dragon to secure deals with the same bus operator in Kazakhstan.
With a low-floor access, Golden Dragon BRT bus measures 12-meter in length. According to Golden Dragon, its customer in Almaty bought 60 units 18-meter BRT buses in KD forms in 2019, ushering a brand new era featuring natural gas powered public transportation in the city. Since then, they have been running smoothly. Moreover, all buses have served local people well and thus won widespread acclaims among the locals, which gives the customer greater confidence in Golden Dragon buses.
Golden Dragon's Marketing Manager in the region, Huang Huang, said:
"The purchase this time has reached an unprecedented scale and all the buses fully meet local people's growing demands for greener and more comfortable travel services.
"We aim very high and our top priority is to offer our customers with the best quality buses."
Almaty boasts a population of 18.5 million and over half of them normally live in urban areas. How to help people move more quickly is always a major concern for local government and local bus operators. Having made full consideration of local people's driving habits and the climate conditions in the country, Golden Dragon successfully developed some customized bus products and rolled out a package of after-sales services to local customers. Due to a long period of extremely cold weather, the bus maker has adopted new materials and employed special manufacturing techniques that can better protect passengers from the coldness. All buses have gone through stringent low temperature endurance test at -35°C at Golden Dragon's State-level Bus Testing Center to ensure their best performances at harsh weather conditions.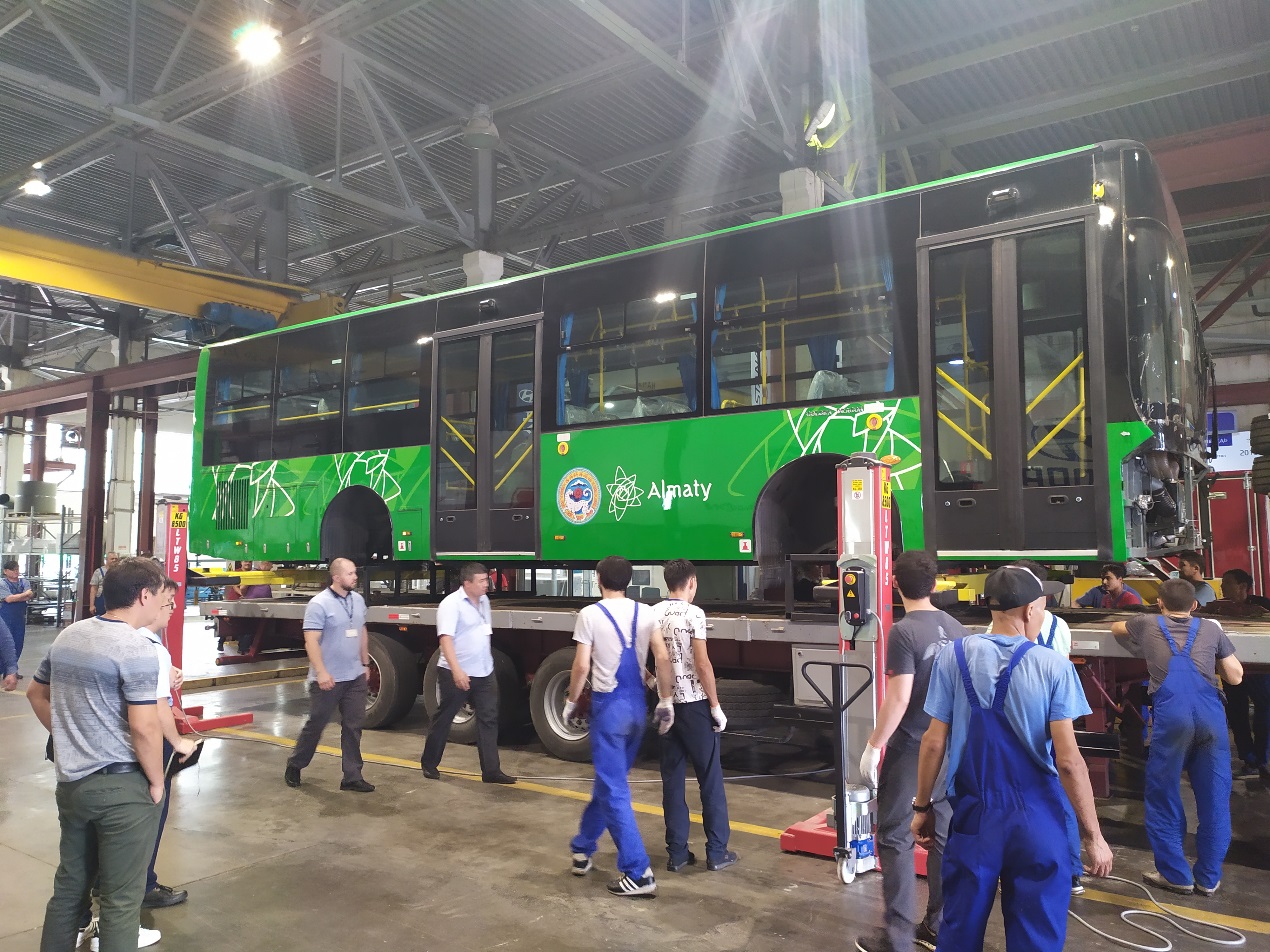 Under the framework of Belt Road Initiative, China and Kazakhstan have greatly deepened their cooperative ties and have carried out a number of cooperation programs in wide areas. Golden Dragon officially entered Kazakhstan in 2016 by securing a sales contract of 100 units buses. Since then, it has been actively participating in promoting technological advances and greener public transport, fully demonstrating the ever-growing friendship between the two countries. So far, the number of Golden Dragon buses in operation in Kazakhstan has exceeded 300 units.
As an economic center and a transportation hub in Kazakhstan and Central Asia, Almaty has been taking many concrete measures to build a modern public transport network with higher environmental friendliness. In recent years, it mainly introduced CNG powered buses with low-floor access. In this process, Golden Dragon's BRT buses, with consistently reliable performances, have caught the eyes of local bus operators and become their first choice.
This article was originally published by Golden Dragon.