Off-Route Vehicles Now in Live Operations
Fixed-route transit is supposed to be just that: along a fixed route. Unfortunately, things don't always go to plan, and vehicles inevitably go off route from time to time.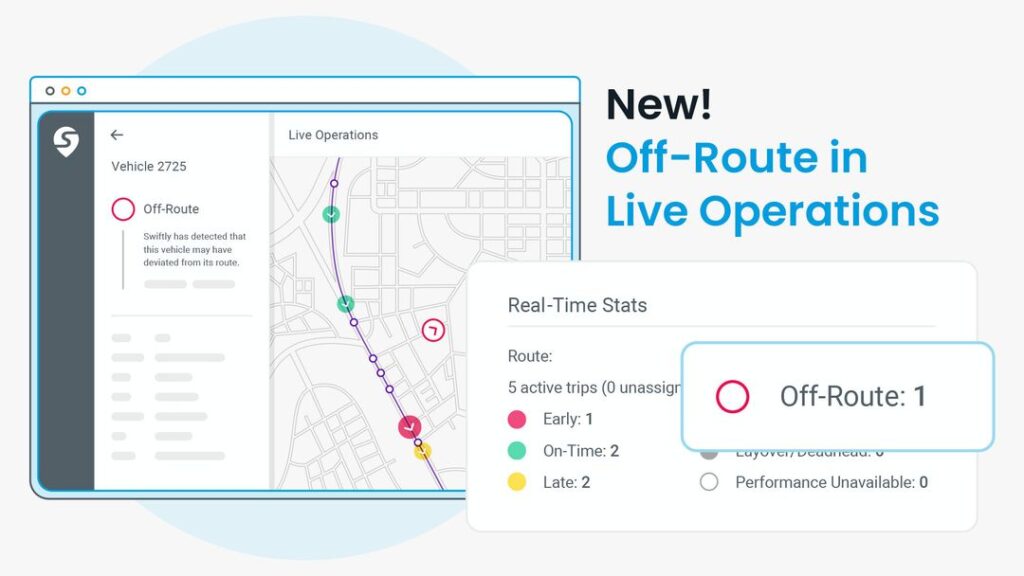 Whether it's due to a downed tree or a simple wrong turn, dispatchers need to find off-route vehicles quickly to assist operators and minimize the impact on the rider experience.
That's why we're introducing Off-Route, a new feature in Live Operations that shows Swiftly users when vehicles go off their preset routes. Integrated seamlessly into the Live Operations product, Off-Route aims to help agency staff catch off-route vehicles before they snowball into bigger issues.
How It Works
Off-Route works by analyzing the real-time location of each vehicle, then comparing it against the set of all geographical points that make up the vehicle's fixed route. If a vehicle is outside the bounds of its route for more than one minute, Swiftly labels the vehicle "off-route" and surfaces it throughout the Dashboard.
Off-Route vehicles show up in Live Operations' Map View and List View.
Off-Route Vehicles in Map View
In the Map View of Live Operations, Off-Route is a new vehicle status, in addition to Early, On-Time, Late, and Layover/Deadhead. Similar to the other categories, Off-Route vehicles are color-coded for easy identification. When users click on an off-route vehicle, the Vehicle Panel on the left displays the vehicle's associated information.
© Swiftly
For agencies with Service Adjustments, if a dispatcher learns the vehicle has gone off-route due to an unplanned road obstruction that necessitates a detour, they can click "Modify Service" to create a detour right away, keeping operators, other staff, and even riders in the loop.
For agencies with GPS Playback, users can click "Open in GPS Playback" in the Vehicle Panel to investigate when and where the vehicle went off route. In GPS Playback, it's just a matter of hitting play and noting when the dot changes colors. That's where the vehicle went off route.
Off-Route Vehicles in List View
In List View of Live Operations, Off-Route appears as a new Status, in addition to Missing, Early, Late, On-Time, and Layover/Deadhead. In the Status column, off-route vehicles display as Off-Route.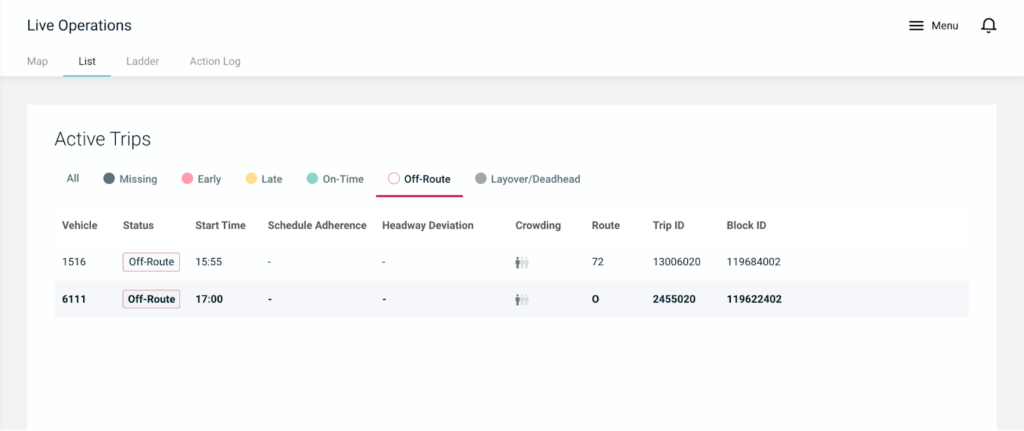 © Swiftly
This allows users to easily filter for off-route vehicles. Simply click "Off-Route" in the top bar of the Active Trips panel and all off-route vehicles then show up, along with associated vehicle information.
Benefits of Off-Route
Unexpected Detours
Off-Route helps dispatchers catch unexpected detours more proactively. Rather than waiting for operators to radio when they encounter road closures or other issues, dispatchers can see a vehicle is off-route and respond, rather than waiting for an operator to call it in on the radio when the operator becomes available.
Wrong Turns
‍Operator shortages are forcing operators to drive unfamiliar routes more often, increasing the likelihood of wrong turns. Off-Route helps dispatchers see wrong turns as they happen and before they become larger issues. Off-Route also helps customer service agents field complaints about wrong turns; they can use the List View to filter for all off-route vehicles then investigate the complaint further.
Off-Route Visibility for Smaller Agencies
For smaller agencies with limited or no CAD/AVL capabilities, Off-Route provides off-route tracking at no additional cost, a feature that may otherwise be out of reach. This means smaller agencies can adopt a more proactive process for managing off-route vehicles.
Off-Route is now available to all Live Operations customers at no additional cost.
Ready to see how Off-Route can help your agency? Reach out to schedule a demo today!
This article was originally published by Swiftly.