At Euro Bus Expo, Alexander Dennis has shared a preview of its next-generation battery-electric buses, the Enviro400EV and Enviro100EV.
Earlier this year, Alexander Dennis announced it was expanding its portfolio of electric buses with models fully designed and integrated in-house. These buses will be in addition to those offered through the BYD ADL partnership.
The first of its new battery-electric models will be the Enviro400EV double decker and the Enviro100EV midibus. Initial orders for these models have already been received and the vehicles are expected to be delivered from 2023.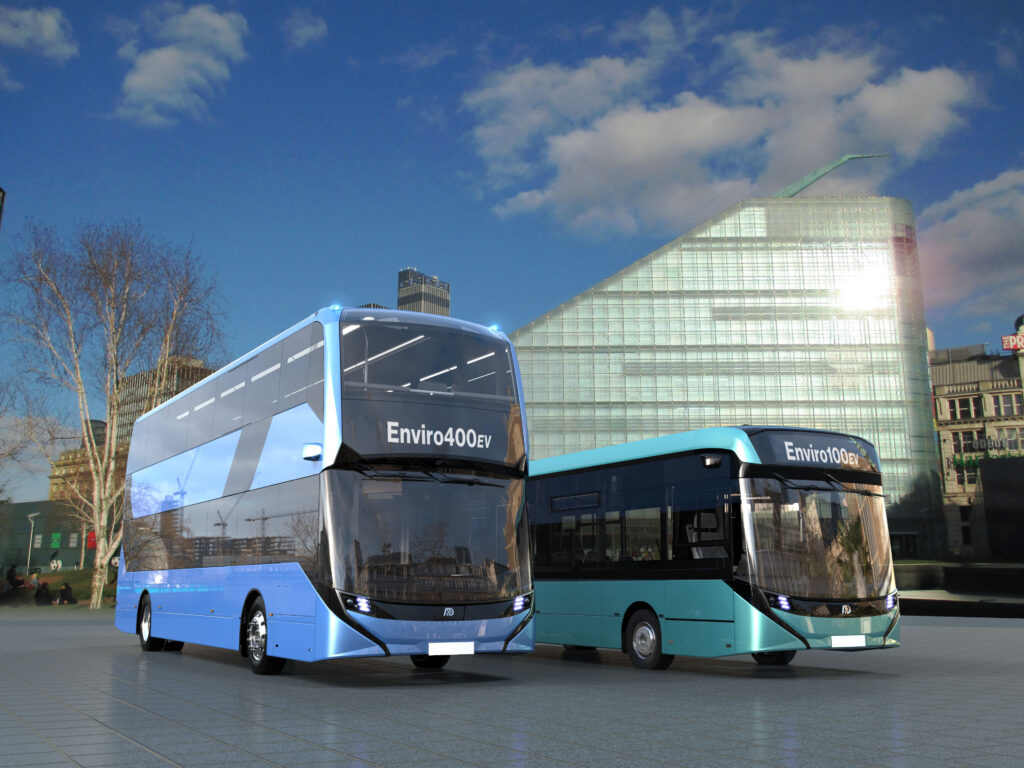 "Alexander Dennis is taking the next step in leading the ZEvolution with our next generation of zero-emission buses fully designed and built in-house, while continuing our very successful partnership with BYD which has been leading the market for the last six years and will continue to offer excellent products that meet further operational needs.
"Passenger appeal, performance, efficiency and total cost of ownership are all key principles that have featured in every decision and at every stage during the development of our new battery-electric buses, with no gambles taken or corners cut. The crowd-shifting Enviro400EV and the Enviro100EV, which introduces a big bus feel to the small bus market, are both designed specifically and unequivocally for the specific requirements of bus operation in the UK and Ireland, giving bus operators, transport authorities and cities the best bus for the zero-emission age."
The Enviro400EV can transport up to 96 passengers and has an operational range of up to 260 miles on each charge.
Meanwhile, the Enviro100EV is is just 8.5 metres long and 2.35 metres wide and will have up to 25 seats to accommodate a total of up to 45 passengers. It will have a range of up to 285 miles on a single charge to help it travel on longer, countryside routes.
The buses are equipped with a Voith electrical drive system with a permanent magnet traction motor that delivers substantial torque and power in a compact design, thus optimising vehicle space for passengers.
To ensure battery system reliability, the vehicles have underfloor battery packs that are mechanically isolated rather than directly bolted to the chassis. They also have a stainless-steel container and aluminium cooling plate to limit the risk of damage from road debris.
In addition, string-level redundancy ensures that the bus can drive home in case of a single fault, reducing the likelihood of breaking down.
Furthermore, the new electric buses have been developed with enhanced safety features. Wrap-around glass and minimal A pillar intrusion offers improved driver visibility, while the strongly raked windscreen reduces internal reflections. Also, an electronic park brake and safety interlocks reduce the risk of accidental roll-away.