We are on the verge of reaching 10 years of collaboration with ALSA, the leading mobility company in Spain and Morocco, which is celebrating its 100th anniversary this year.
Looking back, we wanted to ask some of their executives about their experience with Bledsystem and, in general, key aspects when working with systems of this kind.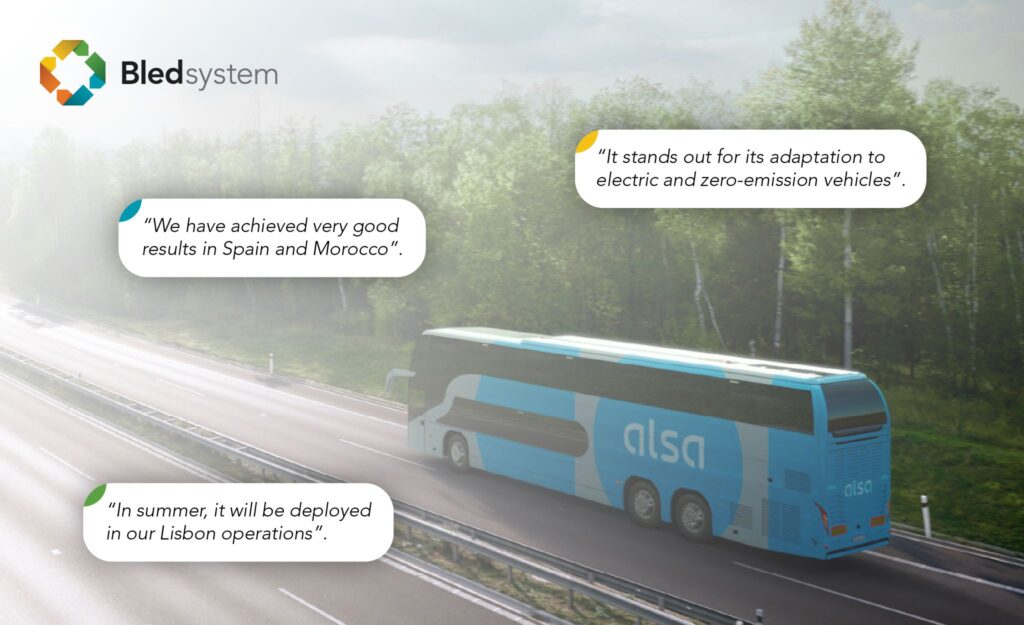 Bledsystem works with Alsa to promote eco-driving and efficiency and safety in their operations.
At Bledsystem, we feel privileged to be with Alsa on this journey, and we are excited to continue contributing to achieving their sustainability and safety goals, which are benchmarks in the industry.
From Alsa's Engineering department they emphasize that "We are happy with the growth of Bledsystem in all these years. They have successfully anticipated the evolutions and technological trends of the sector, and their SaaS service can now be provided without the need for additional equipment, thanks to their network of reference partners where Bledsystem is natively integrated, such as Indra and AVM Nauta, among others. It also highlights its adaptation to electric buses and zero emissions, where these systems are very important".
Alberto Pérez, Executive Director of ALSA Maroc has commented:
"Bledsystem is present in our operations in Marrakech, Tangier, Agadir and recently in Casablanca. Thanks to its advanced tools and first-rate service, we have achieved very good results in terms of reducing operating costs, emissions and increasing comfort, with significant acceptance from the staff and drivers over all these years."
Diego Granado de la Fuente, Director of Transport ALSA International and M&A, said:
"In our international growth strategy, Bledsystem is a product that helps us make our business plan more efficient in operating costs. In the summer it will be deployed in our Lisbon operation, where we also have a part of electric fleet."
This information was originally posted by Bledsystem.