In May 2023, industry leaders at ITT Hub explored evolving technologies in the transport industry and their potential to improve the capabilities of fleets.
Specifically, exhibitors looked to address key challenges, such as extending battery capabilities to help sustainably scale the electrification of road transport.
In line with this theme, the range of vehicles on show at the exhibition demonstrated the multitude of electric models being rolled out across the UK, especially within the country's bus and truck networks. However, a recurring challenge of note was whether this progress could also be extended to the coach industry.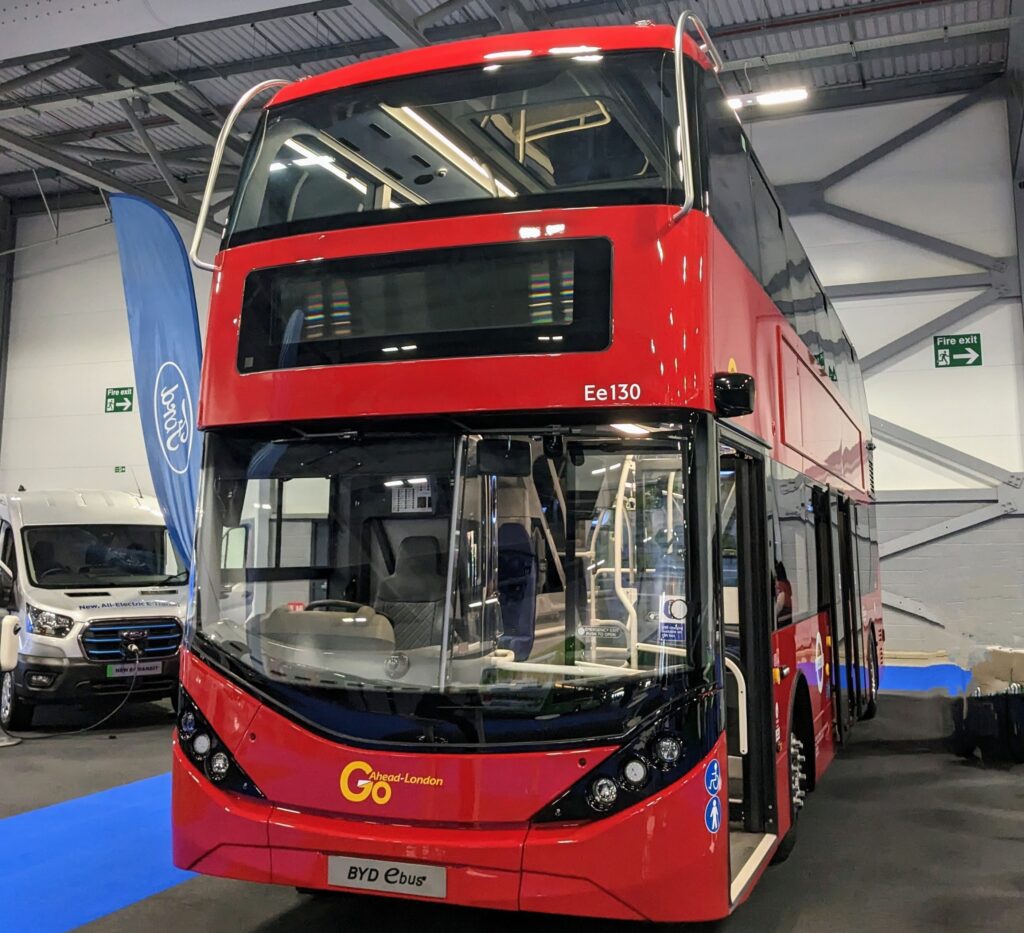 The UK government plans on banning the sale of new buses, coaches and minibuses that are not zero-emission at tailpipe by 2032. It has also committed to deploying at least 4,000 zero-direct-emission buses by the end of parliament in January 2025. To facilitate this goal, the Department for Transport (DfT) has now invested over 300 million GBP in purchasing such buses under the ZEBRA scheme.
However, despite the ban on new diesel vehicles also affecting coach operators, the same level of government support and commitment is not currently present for the coach industry. Indeed, the only relevant funding opportunity to have been announced to date is localised in Scotland as part of phase two of the ScotZEB programme.
Despite an apparent lack of urgency from the government to decarbonise coaches elsewhere, many coach operators feel that they are faced with a pressing need to reduce emissions from their services.
Peter Bradley, Managing Director of the UK Coach Operators Association, spoke at ITT Hub about the increased difficulty diesel coaches are likely to face when entering urban centres with low or no-emission zones.
"You can see the writing is on the wall. We've already had discussions with Westminster City Council for example, who are looking to introduce a series of zero-emission zones, and have made it very clear that coaches that don't meet the requirements would not be welcome.
"Some of our operators are quite enlightened about it, but for others it's a terrifying subject and they literally don't know where to start."
To reduce emissions and ensure the coach industry continues to remain viable, it is thus crucial that the industry and government work together to overcome the challenges of decarbonising coach fleets.
The Challenges of Coach Decarbonisation
Besides a lack of comparable funding with the bus sector, coach operators are faced with additional challenges that hinder the ability to electrify their fleets. This includes the need to travel longer distances, carry luggage and complete overnight trips that prevent the vehicles from returning to the depot to recharge.
Consequently, the latest report published UK's Zero Emission Coach Taskforce (ZECT) found that only 50% of operators' services could be delivered using current 'zero-emission' technologies.
Within this figure, easily electrified services include school and factory runs, as well as local private hires. For example, last year, Dwight School London launched the UK's first fully electric school bus in partnership with Zeelo and Pelican, currently the only company in the UK to sell new zero-direct-emission coaches. The Yutong TCE12 electric bus is equipped with a 281kW battery that can travel over 200 miles on a single charge.
However, Andrew Luckett, Director at BluMarbl, which aims to offer operators logic and toolsets to transition to electric or hydrogen services, noted that purchasing new electric vehicles for shorter routes was not compatible with the industry's current practices. He said companies typically used newer, modernised vehicles for lengthier touring trips and then cascaded the coaches down to complete shorter routes later in their service lives.
For this reason, Westway Coaches recently chose to retrofit its existing mid-life Van Hool T917 with Eqipmake's zero-emission drive, enabling it to travel up to 250 miles on a single charge while retaining the same passenger and luggage capacity.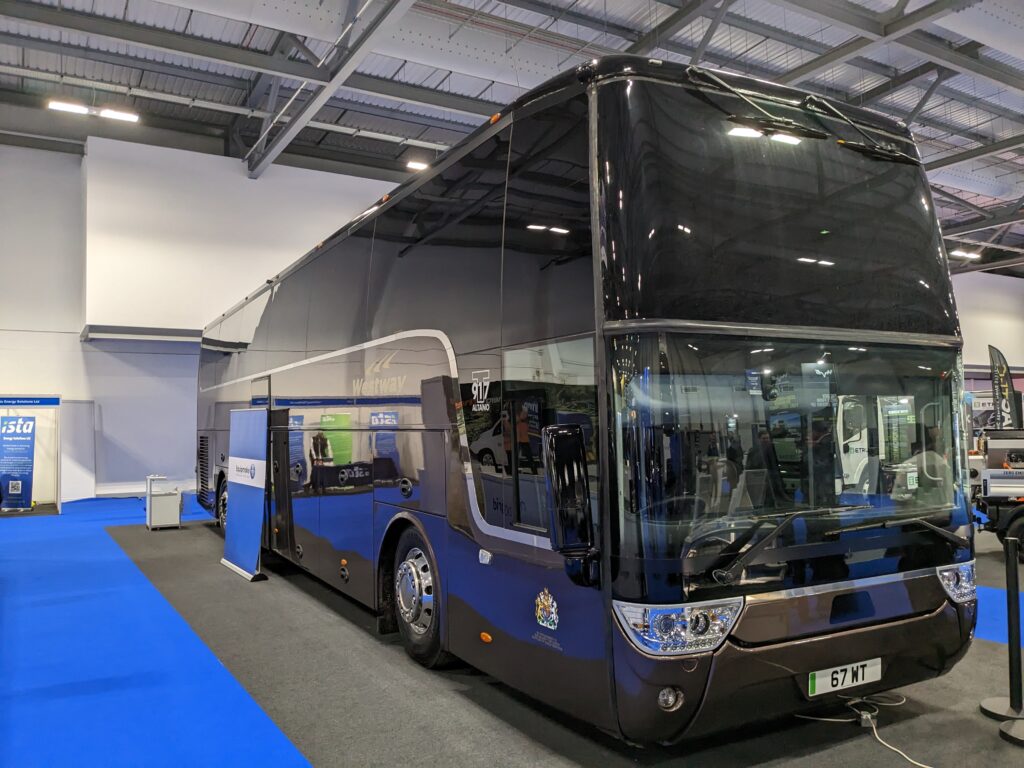 © a2b Global Media
This vehicle can be used for a range of use cases, including shorter school routes and longer motorway journeys within the UK. In addition, as longer journeys often include a scheduled stop at a service station, this could enable the battery to be recharged en route if the charging infrastructure is available.
Deploying Charging Infrastructure
For coach operators to rely on electric vehicles on longer routes, a consistent and accessible charging network is indubitably required. In its 2023 report, ZECT stated that recharging points would be needed every 160 miles to provide operators with the confidence to invest in electric vehicles.
According to Luckett, the coach industry was aiming to get on board with Project Rapid, which is a government-funded project installing rapid charging stations for HGV vehicles at motorway service stations.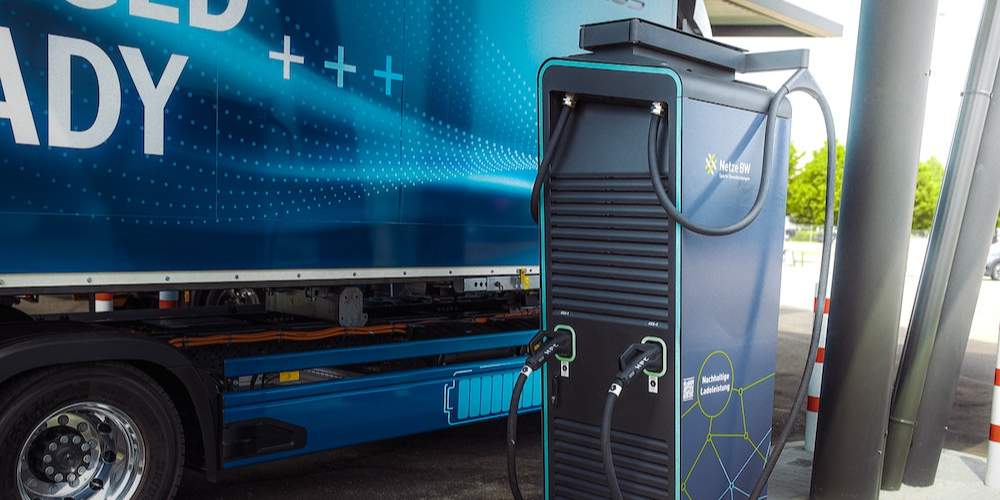 Although Luckett noted that including coaches in this project should not cost significantly more than doing so for HGVs, some adjustments may need to be factored into its design to ensure coach passengers were not simply dropped off in a lorry park and could instead access the service station facilities while waiting for their vehicle to recharge.
In response to this need, the UK Coach Operators Association is working with motorway service stations to explore how charging infrastructure for coaches can be effectively built into these established complexes.
"One of the motorway service stations has joined us as an industry partner and they're very interested in looking at the question of what they need to provide for coaches. One of the things that they're really keen on doing is segregating coaches and trucks, so the coaches have their own dedicated areas, because they're thinking not only about the the charging stations but also about where customers are set down and picked up. So, the the idea is that they do something in a specific area for coaches, which is designed for coaches, and therefore, whether it's bookable or you just turn up, there are the facilities for coaches available at the stations."
Hydrogen Power
Despite electrified solutions currently dominating discussions on the future of transport, some challenges faced by the coach industry may be more easily overcome using hydrogen power.
Indeed, hydrogen offers a faster refuelling time, a longer range, and adds less weight to the vehicle, thus reducing the impact on current designs and operations.
However, hydrogen is also more expensive, less energy efficient and has more dubious green credentials. Furthermore, as it is a newer technology, even fewer refuelling stations are available across the UK and beyond.
Ian Downie, Head of Yutong UK at Pelican Bus and Coach therefore predicts that hydrogen coaches will only be used on specialised long-distance routes with built-in dedicated infrastructure unless more widespread adoption is seen by the HGV industry to spur development.
Instead, Downie foresees that diesel will remain dominant in the coach sector over the next decade, while bus routes will continue to be electrified.
Overall, despite the vast array of technology and innovation on display at ITT Hub, decarbonising the coach sector remains a significant challenge. Be this as it may, organisations such as the UK Coach Operators Association and BluMarbl, as well as manufacturers such as Equipmake and Pelican are working to explore viable solutions.
Elsewhere in Europe, a partnership is also underway between major long-distance operator, FlixBus and manufacturer, Daimler Buses to trial two prototype electric coaches with the view of electrifying the FlixBus fleet for international journeys.
Although there is not yet an obvious single solution for the industry, progress is being made, and with government support in the future, the industry is hopefully set to get on board with the UK's net-zero future.
"Every year something new is popping up. Actually being here at ITT Hub, it is inspiring because you can see some of the developments that are going on as work continues behind the scenes. I wouldn't say at this particular point in time, I can put my finger on one particular thing and say that it is the next big thing that is going to help operators, but I know that work is going on and I think it's important that we continue to engage with the wider industry to see what is developing next. And I'm sure that in a couple of years' time, we will be far further forward than we are at this point."