Arriva: The Use of Predictive Maintenance in the Drive Towards Operational Excellence
Arriva, one of the largest transport operators in Europe, has presented the facts and figures that are driving their success after implementing Stratio's predictive maintenance solution.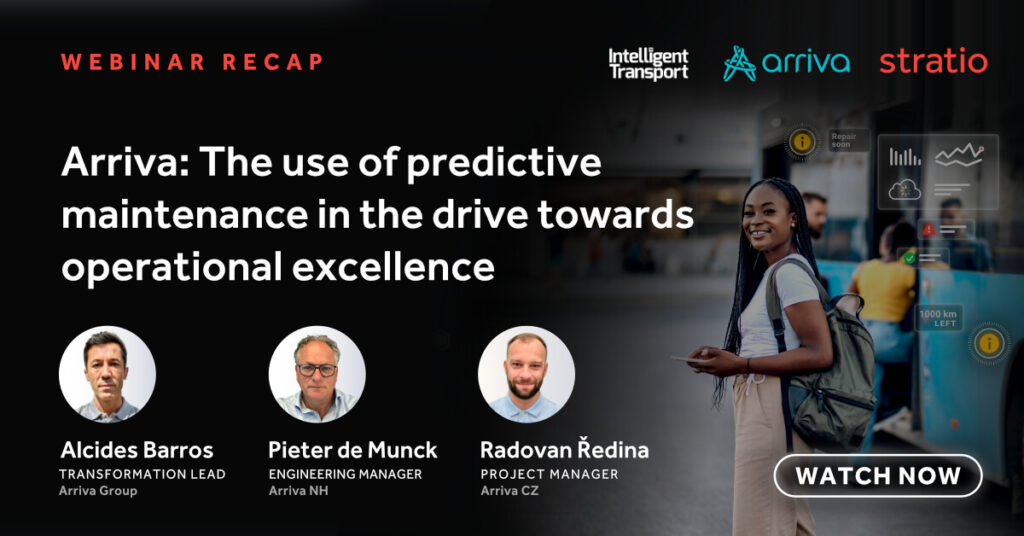 Watch the webinar recap to discover:
How Arriva Group is leveraging data and predictive maintenance as part of  their strategy to  deliver the best passenger transport
Arriva Czech Republic's strategy to  implement predictive maintenance to minimise unplanned vehicle downtime and save costs
Arriva Netherlands' success in extending the lifetime of EV batteries with predictive battery analytics
Access the webinar recap by clicking here.
About Stratio
The Stratio Platform enables zero downtime, saves costs, and allows transport operators to serve more people, better. By eliminating vehicle breakdowns, Stratio's predictive maintenance technology makes transportation more efficient, sustainable, and accessible to everyone. 5 of the 10 largest transportation companies in the world rely on Stratio's technology to fully leverage the data under the hood, improve operational efficiency, and offer a service that passengers can trust. Stratio's technology has enabled transportation for 1.4 billion people so far. Learn more at www.stratioautomotive.com
This article was originally published by Stratio Automotive.