Market research agency, Technavio has released its "Autonomous Bus Market Forecast and Analysis 2022-2026" report, which indicates that the autonomous bus market is likely to grow by 3,679 million units by 2026.
The report predicts the market to have a Compound Annual Growth Rate (CAGR) of 30.75% thanks to ongoing investments in autonomous mobility technologies.
It forecasts that 35% of this market growth will originate from Europe, with the Netherlands acting as the key market.
This is partly due to the availability of well-developed and high-speed road infrastructure throughout the European Union (EU).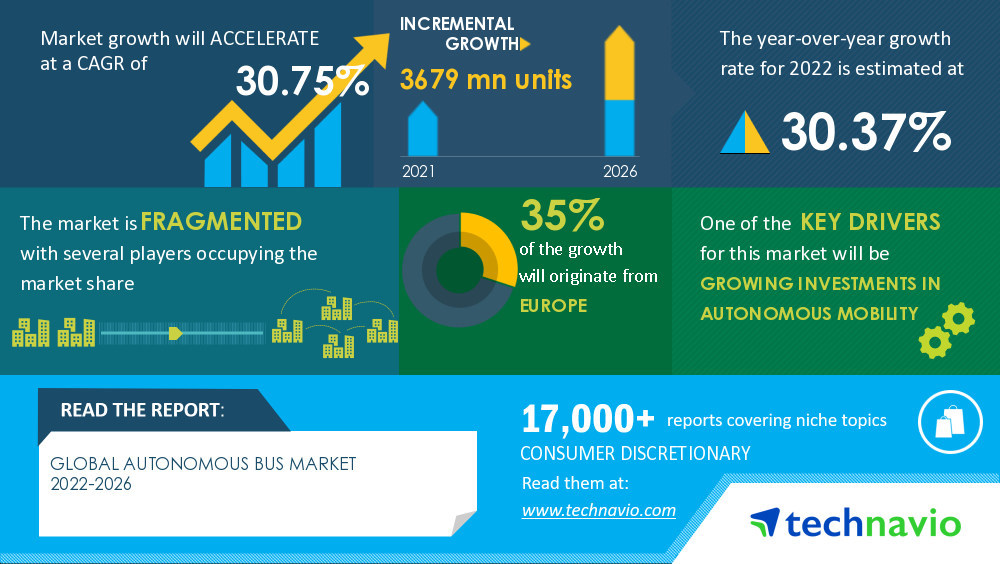 Alongside many developers investing significant capital in self-driving vehicles, the report identifies that the industry is witnessing several mergers, acquisitions and partnerships that are acting as market enablers.
For example, in July 2019, Navya signed a Memorandum of Understanding (MoU) with ESMO Corp. and SK Telecom Co. Ltd. to develop autonomous driving systems.
Under this partnership, ESMO is responsible for the design and localisation of autonomous driving components for Navya's autonomous 6-metre bus, while SK Telecom provides connectivity solutions.
Meanwhile, bus manufacturer IVECO BUS has also partnered with driverless technology provider, EasyMile to test its fully driverless standard bus prototype.
Despite the autonomous bus market's continued growth, one of the key challenges it faces is addressing the environmental impact of autonomous vehicles.
Indeed, Technavio states that autonomous vehicles are often associated with high energy consumption and environmental concerns.
A sample of Technavio's report can be viewed here.