CDC Hybrid Buses Zone-in on Zero Emissions on Melbourne Streets
CDC Victoria are pleased to announce that our locally built Volvo hybrid (self-charging electric) fleet are in the midst of being fitted with technology to make Victoria's public transport network an even greener, more sustainable network following the launch of Volvo's Zone Management system.
The technology innovation allows our existing hybrid fleet (the largest in Australia) to achieve zero emissions in designated zones not only improving the passenger experience for commuters in Melbourne, but also for pedestrians and outdoor diners.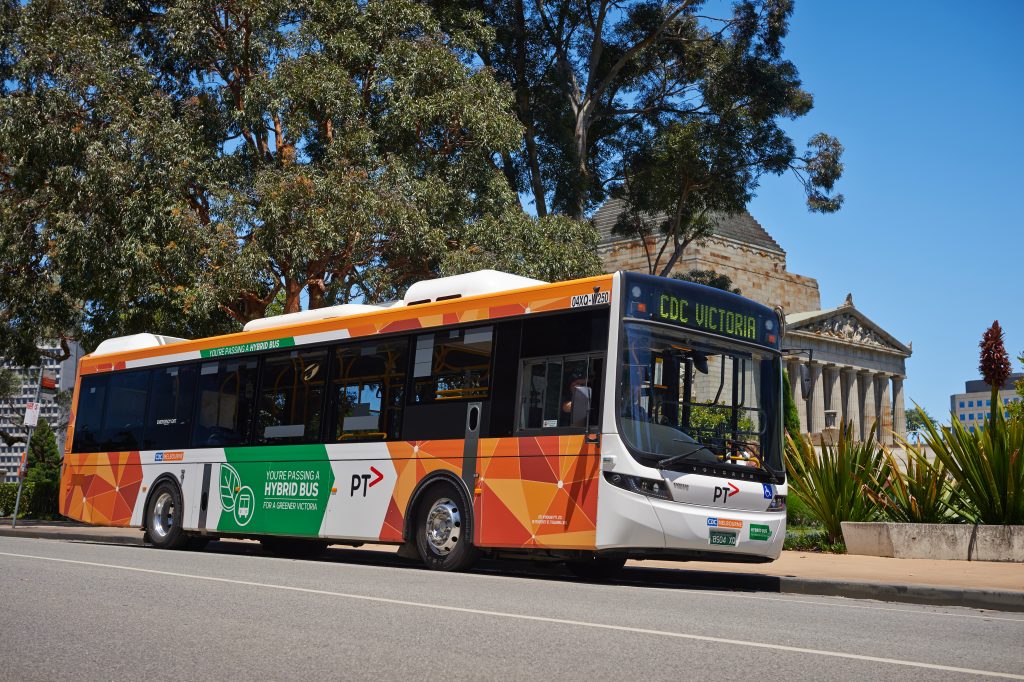 Victoria's Minister for Public Transport – The Hon. Ben Carroll took time out to trial the new technology on board our Hybrid fleet recently.
"This new technology is a welcome addition to the State's bus fleet as we continue to explore innovative ways to reduce emissions. In a first for Australia, this new technology will bring immediate benefits for passengers and people in the busy designated zones through quieter vehicles and zero emissions."
In a nutshell, the buses can operate exclusively in electric drive mode within designated zones, promising a silent ride for commuters and less road noise for residents and other road users. A timely introduction since warmer summer weather means more people are in parks, enjoying recreational activities and dining outdoors.
Volvo's Zone Management system is powered by geofencing technology and telematics – which is a first for Australia and within the Asia Pacific region.
"We are so excited to be the first in Australia to achieve zone based zero emissions on our existing Hybrid fleet and believe that this technology innovation revolutionises our Victorian operations without the need for extensive infrastructure."
Not having to invest in further infrastructure for charging is one of the key qualities of the innovative Zone Management system which revolutionises and optimises CDC's existing hybrids, elevating the fleet to the next level of performance without relying on the electricity grid
Vice President Volvo Bus, Asia Pacific – David Mead commented that they are excited to be partnering with CDC on this journey in Melbourne and for allowing us to introduce innovation with a trusted partner.
"The application of Volvo's Zone management feature will allow our customers' like CDC to drive longer and emission free on electricity without the need to modify their operations."
Nine of the hybrid buses with the Volvo's Zone Management system have commenced operations on the streets of Melbourne, including on bus route 605 which runs into Melbourne CBD, the Botanical Gardens and the Shrine of Remembrance, as well as Route 630 which serves busy Monash University and Huntingdale Station.
The remainder of the existing CDC Victoria's hybrid fleet will be fitted with this new system in two stages over the next 4 months.
This article was originally published by CDC Victoria.