Getting Started: How to Choose the Right Equipment for Your New Vehicle Workshop
Whether you're setting up shop or bringing services in-house, there's a lot going on when it comes to workshop equipment.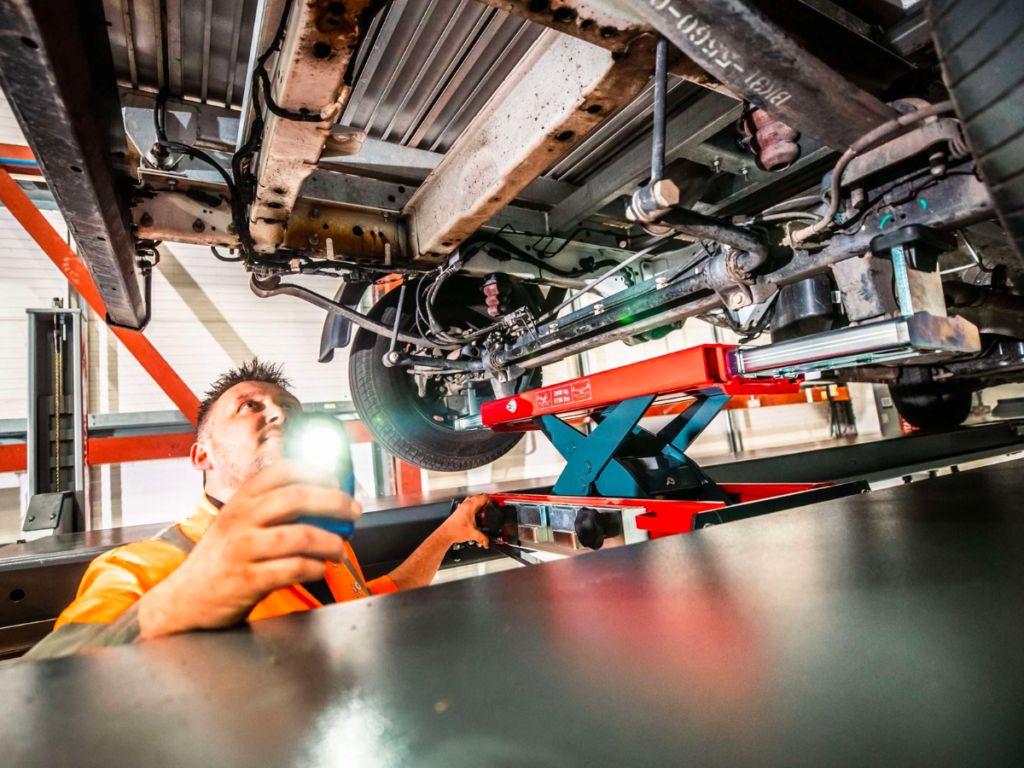 So before you dive in and make a big investment, you need to be sure you're choosing the right tools for the job.
Here are the essentials that every new workshop needs — and the questions you need to ask to make the best choices for your business:
Vehicle Lifts
There's no getting around it — you're going to need to get under your vehicles.
Every vehicle workshop needs a safe way to access the underside of its fleet. It's an essential part of the everyday servicing and maintenance of your fleet. And for most new workshops, a vehicle lift is the easiest way to go about it.
(You can also get great results with a vehicle inspection pit. But there are some differences you need to know about — so be sure to check out our short guide to pits and lifts.)
There are so many options for vehicle lifts out there. And if you're just getting started with in-house equipment, it might seem overwhelming.
So here are the basic questions you need to ask:
Once you've got an answer for each of these questions, you'll be able to match your requirements to the different lifts available:
Need to lift lighter vehicles while still accessing the wheelbase? Check out the Totalkare Two Post Lift.
Want a mobile lifting option that's great for wet work and outdoor use? Take a look at our G8AC Washbay Mobile Column Lift.
Need a heavy-duty lift that lets you use the floor space when you're not lifting? Our In-Ground Lift retracts into the ground with a rolling cover to make room for other jobs.
Brake Testers
Brake testing is a crucial component of every fleet's safety checks. And if you've been outsourcing your brake testing for a while, you'll know how those costs (and the hassle) add up.
So if you're bringing your brake testing in-house — or you're setting up shop with a brand-new workshop — how do you choose the right brake tester for your business?
Here are the questions you need to ask:
Do you already use (or plan to use) a vehicle inspection pit?
Do you have an outdoor space you could use for brake testing?
Are you planning to use an ATF lane?
Do you want to be able to use the floor space for other jobs?
What type of load simulation do you need?
With a proper understanding of what your workshop needs, you'll be able to choose the right brake tester for the jobs ahead:
Using a pit or an ATF lane and want to make the most of your floor space? Our In-Ground Brake Testers can be installed over the same space.
Need a brake tester with Axle Load Simulation — that helps you get value from your outdoor areas? Our Mobile Brake Testers work on asphalt, gravel, or even sand and dirt.
There are lots of options for brake testers — especially when it comes to their advanced features. So before you commit to spending any money, get the full details in our short guide to advanced brake testing equipment.
Tyre Changers
The more miles your vehicles clock in on the road, the more often you'll need to change your tyres. And if you've got a fleet that's always in action, it makes good financial sense to bring your tyre-changing in-house.
But if you're just getting started, how do you know which tyre changer to choose?
Here's what you need to be asking:
Do you need to be able to change tyres at high speed?
Does your fleet include a wide range of wheels?
Is your workshop short on space?
Do you need to change tyres in a roadside situation?
Once you've got an idea of what you need from a tyre changer, you'll be ready to pick the best option for your workshop:
Need a high-throughput solution that can change a tyre in 30 seconds? Take a look at the Totalkare NAV101.
Got a fleet with different wheel types — including heavy-duty vehicles? Our NAV11 can help you service a wide range of wheels.
And if you're looking to save space in a smaller workshop? Check out the compact NAV26HW, which is also suitable for roadside situations.
Ready to Get Set Up?
We've only scratched the surface when it comes to useful bits of kit — with the everyday essentials that every good workshop needs.
So if you're hungry for more useful guides, check out these in-depth articles to help you choose the best equipment for your new workshop:
Torque Tools: How to Choose the Right Tool for the Right Job
Does Your Workshop Equipment Have the Safety Features You Need?
How to Choose the Right Mobile Column Lift for Your Vehicle Workshop
This article was originally published by Totalkare Ltd.