Three miles of new bus lanes have opened in the Soundview neighbourhood of the South Bronx to give priority to MTA buses. The project also includes major pedestrian safety improvements and transit-signal priority.
The New York City Department of Transportation (DOT) has announced that major thoroughfares in the Soundview neighbourhood of the South Bronx have been converted into bus-priority corridors. The new bus lanes stretch along three miles of major Soundview streets, such as Story Avenue, Bronx River Avenue, and White Plains Road to serve 45,000 daily riders on MTA buses.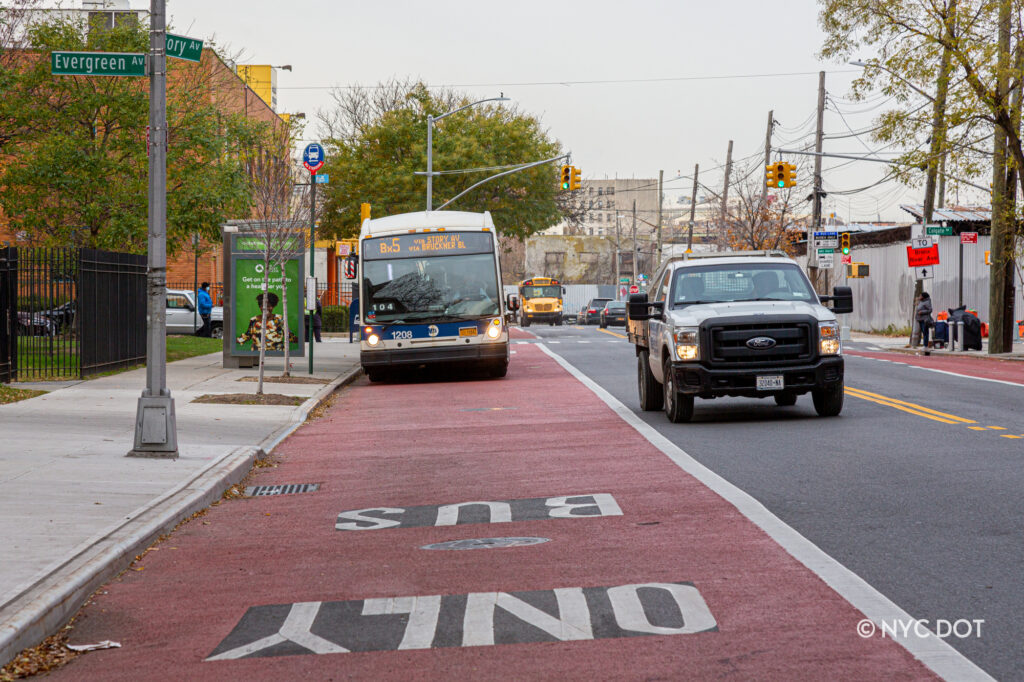 Prior to this conversion, service on these streets was notoriously unreliable and slow, with average peak-period speeds of around 5mph. The new bus lanes, along with other major improvements, will significantly speed up daily commutes. Transit-signal priority technology will help speed buses through traffic lights with a smart-signal system that extends green lights and makes red lights shorter when a bus is approaching.
"NYCDOT's addition of bus priority treatments along Story Avenue, Bronx River Avenue and White Plains Road will have significant impact for Bronx riders who depend on buses to get where they need to go. The Soundview treatments also represent a win for cooperation between the MTA and NYCDOT in bus network redesign planning. We look forward to further expansion of these bus priority treatments across the city, bringing faster, more dependable trips to all New Yorkers."
DOT has added seven miles of new bus lanes in the Bronx since 2020, with lanes already in operation along 149th Street, Edward L Grant Hwy. and University Avenue.
The new curbside bus lanes on Story Avenue and White Plains Road are now in effect Monday-Friday, 7am to 7pm, while the new bus lane in the traffic lane along Bronx River Avenue is in effect at all times.
"Thousands of Soundview residents will now be able to take advantage of the MTA's vast bus network at much faster speeds than before with the introduction of these new bus lanes. The MTA is committed to continuing the work to improve our transit system by increasing bus speeds with dedicated lanes, promoting public transportation ridership, and bringing New Yorkers back to the system. Our riders rely on safety and efficiency, and these bus lanes help work towards that mission."
Vision Zero pedestrian improvements are also being implemented as part of this project, such as painted curb extensions to calm traffic and improve safety for pedestrians at five intersections.
Furthermore, although bus lanes have reduced parking along the bus routes during weekday daytime hours, angled parking has been added on adjacent side streets at the community's request, including along Boynton, Soundview and Taylor Avenues.
"We're giving the Bronx a win-win: faster buses and safer streets. These new bus lanes and street safety improvements are the result of close consultation with the community, from bus-rider surveys to community-board meetings. Working with the MTA and across the entire de Blasio Administration, we're delivering results as we aim to improve bus service citywide."
The bus lanes will be enforced by the NYPD, alongside DOT automated enforcement cameras. Bus lane cameras have been activated and warnings will be issued for the first 60-days, after which fines will start at $50 and progressively increase to $250 for subsequent violations within a one-year period.
"The new bus priority corridors in Soundview will ease the commutes of thousands of daily bus riders, and we are thrilled that DOT has added 7 miles of dedicated bus lanes in the Bronx since 2020. With traffic congestion on the rise, and average bus speeds cratering as a result, targeted investments, including bus lanes and transit signal priority, will produce significant benefits for bus riders. We truly applaud Mayor de Blasio and DOT Commissioner Gutman for continuing to prioritise sustainable and equitable transit on the city's streets, particularly in bus-dependent communities."
This article was originally published by New York City DOT.