Golden Dragon Polestar Series Buses Make Three Major Innovations
Golden Dragon Polestar series buses consist of city bus series, travel coach series, autonomous driving bus series, customized bus series. So far, they have won a number of awards, including Intercity Bus Innovation Award, City Bus Innovation Award, etc.
At 2021 Beijing International Exhibition on Buses, Trucks and Components held on July 7, 2021, Lai Zhiyi, Deputy General Manager of Golden Dragon was invited to share the bus maker's latest efforts for bus innovations.
Commercial Innovation
Deputy General Manager of Golden Dragon, Lai Zhiyi, said:
"Our research on the bus market has revealed to us what our customers need is not just buses or coaches, but a whole package of transportation solutions."
Polestar series buses measure 2.1-meter, 7-meter, 8-meter and 10.5-meter in length. Moreover, they serve not only as a means of transportation for people, but also as mobile commercial areas or carriers for goods.
So far, Polestar series city buses have been put into operation in Fuzhou, Ningbo, Ningde and Jinhua. In addition, Polestar city buses have been serving passengers and providing postal services in Ninghai.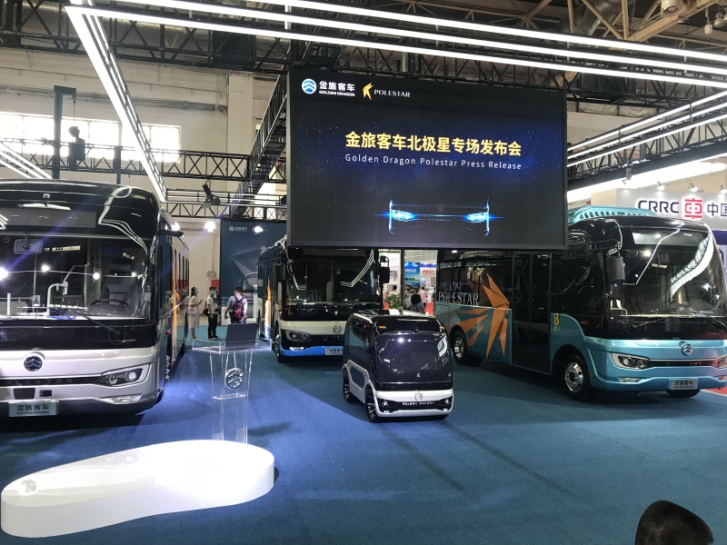 Platform Innovation
Golden Dragon has successfully rolled out GDMA, a new generation of highly modularized product development platform, which well integrates supply chain resources, further cuts the development cycle and renders Polestar series buses greater agility.
Mr. Lai, said:
"We have been working hard and the birth of GDMA is set to revolutionize the whole bus industry."
Production Base Innovation
In 2021, Golden Dragon's Longhai Production Base officially started operation. With an annual production capacity of 30,000 units energy-saving and new energy large- and medium-sized buses, 10,000 units high-end business coaches and 100,000 units light buses, the production base is ushering in a brand new era for the bus industry. Equipped with a host of advanced technologies, including laser wielding, whole vehicle electrophoresis, robot baiting, the production base has greatly improved Golden Dragon's overall competitiveness.
This article was originally published by Golden Dragon.