Heliox brings SprintCharge® to Busworld, the world's first battery integrated opportunity charging station for e-buses and e-trucks.
SprintCharge®
Limited available grid capacity and high peak demand charges can make opportunity charging a challenge. SprintCharge® is a new generation of smart charging station which includes a stationary battery for storage to enable the high power "sprints" of charging power required for opportunity charging.
CCO from Heliox, Koen van Haperen, said:
"The battery can deliver a much higher power charging sprint than the grid connection can support, allowing a smaller, cheaper grid connection. While the opportunity charger is not being used the internal battery is refilled, allowing it to draw a more constant, lower power from the grid, thus saving considerable electricity costs."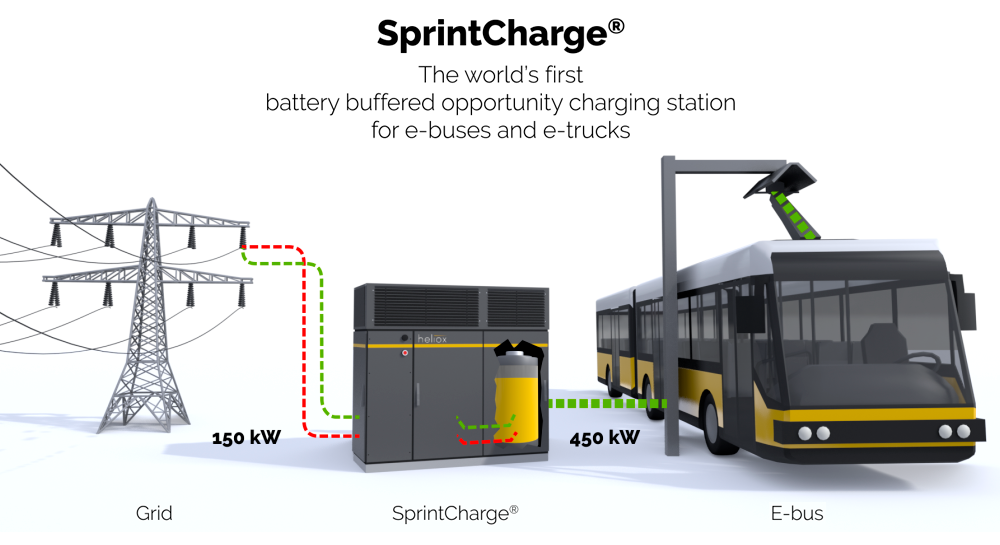 Koen van Haperen added:
"Apart from the electricity cost savings, SprintCharge® is more flexible when selecting a new location. Remote locations need smaller grid connections due to the battery buffering of SprintCharge®. When developing the product concept, we also took the possibility to make the SprintCharge® bidirectional, enabling it to connect to smart-grids and aggregate into virtual power plants, utilising energy stored in the integrated storage or attached vehicle."
Innovation Label Nominee at Busworld 2019
Following a positive pre-launch at the UITP in Stockholm, last June, the official launch will be at Busworld 2019, taking place from 18-23rd of October in Brussels. SprintCharge® has been shortlisted for the Innovation Label Award at Busworld.
CEO Heliox Technology Inc., Bob Bouhuijs, said:
"We are excited to have been included in the shortlist for the Innovation Label at Busworld. This category especially for non-vehicles proves that the EV market is evolving and looking at the bus market from a broader perspective"
This article was originally published by Heliox.