The Los Angeles Metro Board has approved a 180-million USD plan to implement a bus rapid transit (BRT) network in the North San Fernando Valley transit corridor in California.
This project aims to improve the speed, reliability and passenger experience for bus services on major routes throughout the San Fernando Valley.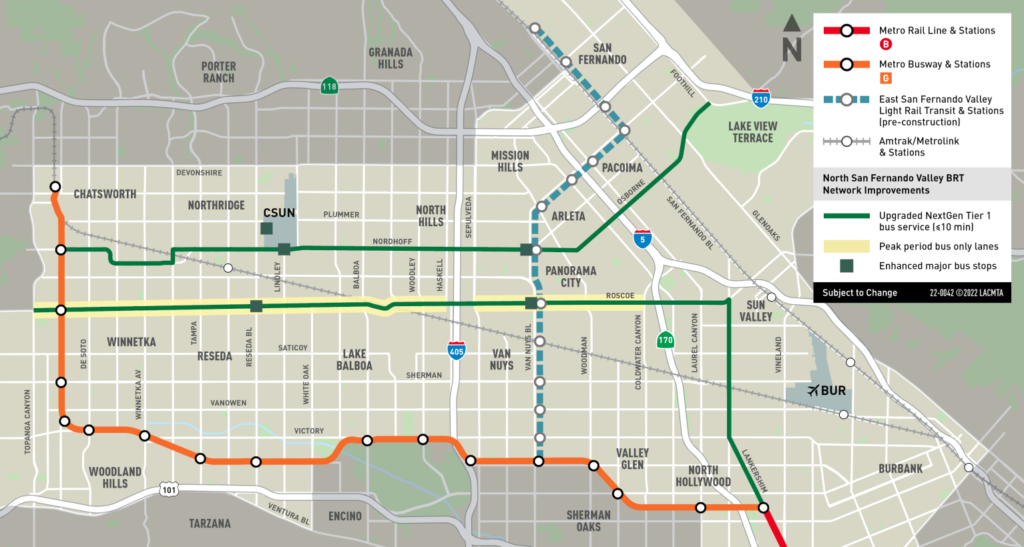 Work on the implementation plan is expected to begin in autumn 2023 and should be completed by winter 2025.
The BRT network will include bus priority lanes on Roscoe Boulevard, as well as transit signal priority to reduce travel times for seven bus lines: 152, 162, 164, 165, 166, 224 and 240. In addition, weekday services will be increased to a 10-minute frequency on both Roscoe Boulevard and Nordhoff Street
"Bus rapid transit improvements will play a critical role in improving mobility for our region. Our goal is to provide Angelenos with more frequent and reliable connections to Valley job centres, housing and major destinations like California State University, Northridge."
The plan also includes installing new bus shelters at nearly 400 Valley locations. Meanwhile, five key passenger transfer locations will see enhanced bus stop facilities with larger shelters, more seating, better lighting and real-time information.
Furthermore, Metro will purchase 75 new battery-electric zero-emission buses to fully electrify four bus lines. All buses will be equipped with TAP validators at their rear doors to allow all-door boarding.
"This plan will make it easier for Valley residents to travel with greater reliability, ease and comfort on Metro buses and it will provide better east-west transit service with improved access to jobs, education and essential services. By increasing the frequency of service and adding new bus shelters and zero-emission buses, this is a game changer for mobility and sustainability in the Valley."
This project adds to a series of work underway in the San Fernando Valley to provide the region's 1.9 million residents with better transit services. For example, Metro recently broke ground on advanced utility work for the East San Fernando Valley Light Rail Transit Project, which will add 14 new stations between the G Line Van Nuys Station and the Sylmar/San Fernando Metrolink Station.