Madrid Trials Papercast Power Efficient, Solar Powered E-paper Bus Stop Signs
Consorcio Regional de Transportes de la Comunidad de Madrid (CRTM) – the main authority for coordinating public transport operations across city and province – has completed a trial of Papercast solar powered e-paper displays with Winfin Sistemas S.L..
The trial includes both 13″ and 23″ solar powered e-paper displays in bus shelter and bus stop environments at stations on the intercity passenger transport network.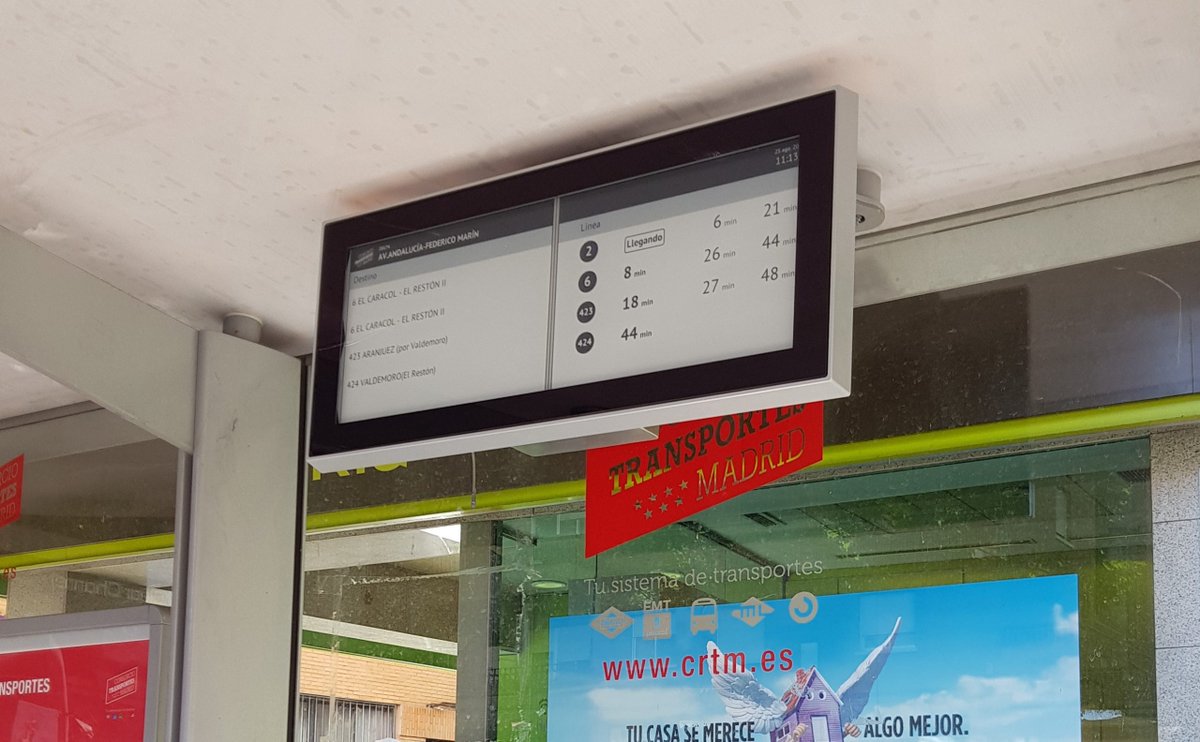 CRTM has added these displays to its existing network of LED panels to improve the real time information provided to the user, while achieving zero energy consumption – the panel runs on a rechargeable battery that is continually powered by the solar panel installed with the display.
The project was managed by Winfin Systems, Papercast's partner in Spain, with whom the consortium has a longstanding agreement to develop innovative mobility and smart transport projects. Winfin Systems currently operates more than 600 bus stops for CRTM using LED technology.
CEO at Winfin Sistemas S.L., Juan Blanco, said:
"The extremely low power nature of Papercast technology and the eco-friendly benefits of solar power – combined with the ability to provide graphical real-time travel information on a flexible, easy to read display area – presents an opportunity for operators to improve passenger information provision across the transport network, while achieving their sustainability goals."
The unique attributes of e-paper make it ideal for outside use, with unbeatable screen visibility, even in direct sunlight. Couple this with wireless connectivity and exceptionally low power consumption, and Papercast displays can be continuously solar powered – no power or connectivity cables are required. This means Papercast is quick to install to an existing pole or shelter, while offering a sustainable and environmentally friendly display technology.
This article was originally published by Papercast.