Even the drivers at BVB benefit from a high level of comfort. The driver's cab is separated from the passenger area by means glazed partition with openings for speaking to passengers and handing out change. Cabs will also be equipped with a swivelling, heated and climatised seat with multiple adjustment options, including an electrically adjustable lumbar support. A CCTV system provides an overview of what's going on inside the bus, while a reversing camera assists the driver during manoeuvring.
Basler Verkehrs-Betriebe: Making the Switch to a Locally Emission-Free Fleet in Just Two Steps with Mercedes-Benz
With their dense route networks and rapid tact, Basler Verkehrs-Betriebe facilitates mobility not only for the city's inhabitants but also for those living in the greater Basel area – even connecting Basel with the neighbouring countries Germany and France. A total of 115 buses (of which the Citaro currently forms the backbone) serve 14 routes while 135 trams cover the company's nine tram lines. In all, the buses reach an annual mileage of more than six million kilometres.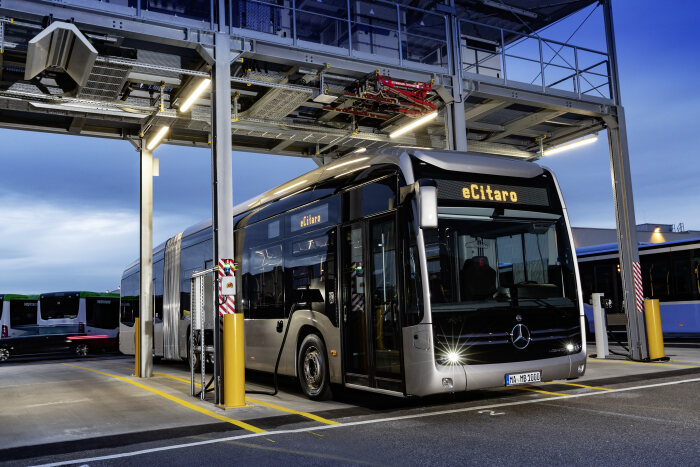 Last year, Basler Verkehrs-Betriebe celebrated 125 years of existence. But instead of resting on its laurels, the company is especially forward-sighted and even intends to complete the changeover of its entire bus fleet to electric vehicles in just two steps. In doing so, it will be fulfilling the specifications of Basel's public transport legislation which requires fleets to be powered by 100 % renewable energy by the year 2027. Over the course of the coming year, the first 62 electric buses will be brought into operation, and of those, 54 will be eCitaro models. In 2027, an optional order of a further 64 buses will follow. As part of the changeover, the depot, garages and their infrastructure will be completely redeveloped. To recharge the vehicles, only electricity from renewable sources will be used. What's more, at the terminal bus stops of five longer routes, stations for intermediary charging will be built.
In accordance with calculations made by Basler Verkehrs-Betriebe, the annual CO2 saving resulting from this bus fleet conversion will be equivalent to that of around 3500 passenger cars running on combustion engines.
This article was originally published by Daimler AG.