National Express has announced that a Mercednes-Benz eCitaro electric bus was integrated into its Coventry fleet without a hitch during a trial period in December 2022.
As part of its fleet decarbonisation programme, National Express Coventry is testing a range of electric buses from multiple manufactures.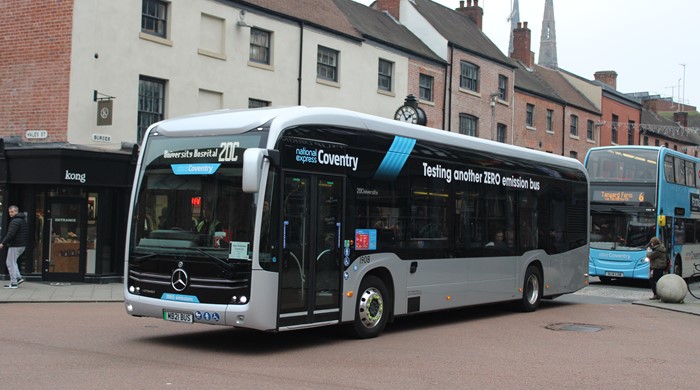 During the month-long trial, an eCitaro electric bus was used on a variety of routes across Coventry and on two routes in south Birmingham.
This included high-capacity commuter services and one of the busiest corridors in Coventry, connecting the city centre with Longford, Bedworth and Nuneaton while serving over 40 stops.
In addition, the eCitaro travelled between University Hospital Coventry and the city centre, with stops in residential areas.
To support these operations, an overnight charging regime was adopted at the National Express Coventry and Yardley Wood depots. The eCitaro provided real-time charging status updates to ensure fleet availability and planability.
"National Express Coventry plays a critical role in keeping people and communities connected, carrying millions of people to work, school, shops and to see their family and friends every day.
"We are proud to be providing greener, cleaner transport choices for our new and existing customers, and helping everybody to play their part in making the air cleaner for everybody's lungs.
"National Express is already leading from the front with our transition to zero-emission buses. Over a third of our fleet in Coventry is now electric and we have a bold ambition to have a fully zero-emission bus fleet across the West Midlands by 2030.
"As we continue our journey we are delighted to have been able to trial the all-new Mercedes eCitaro electric single-decker. It has been a great opportunity to test the vehicle and better understand its capabilities and efficiencies under our usual operating conditions, with excellent feedback about the build quality and the smooth and comfortable ride."
The Mercedes-Benz eCitaro supplied to National Express Coventry for demonstration purposes was provided by Mercedes-Benz Bus Sales at EvoBus Ltd.
It joined the 50 electric Alexander Dennis Limited (ADL) buses already in operation in Coventry.