The New York City Department of Transportation (NYC DOT) has announced the substantial completion of a bus priority project along Northern Boulevard in Queens.
This project consists of five miles of bus lanes across Central Queens, serving 17,000 weekday riders.
It represents NYC DOT's longest bus project this year as part of its ongoing collaboration with the MTA to improve bus services in New York.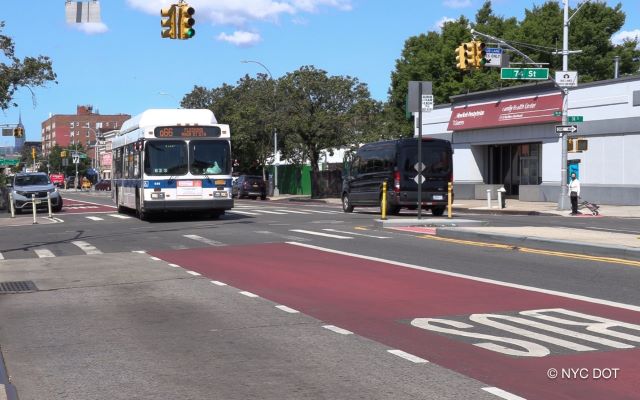 "The thousands of New Yorkers who commute on Northern Boulevard will not only have faster and more reliable bus service, but they will have a safer experience when walking and crossing the corridor. Projects like this help us make progress on our Vision Zero goals. We understand that strong bus infrastructure is a necessity; that is why we will continue collaborating with the MTA and our community partners as we tackle more of these important projects."
The Northern Boulevard bus priority project has provided five miles of bus lanes from Woodside to Corona. In addition, it has delivered street improvements along a Vision Zero priority corridor.
These improvements will benefit five bus routes: Q66, QM2, QM3, QM20 and QM32, and will also connect riders to the M and R subway lines at Broadway and Northern Boulevard.
The project stemmed from numerous public engagement consultations that revealed significant safety and mobility concerns in this area.
To improve safety, the community wanted to reduce pedestrian-vehicle conflicts and shorten crossing distances. Meanwhile, to improve transit, it wanted faster, more reliable service and better connections.
From 2018–2021, NYC DOT focused on pedestrian safety by adding Leading Pedestrian Intervals at intersections, adding Left Turn Traffic Calming, constructing 15 new concrete pedestrian refuge islands, and adding painted curb extensions at all feasible locations.
From 2021–2023, it then focussed on transit improvements, which included consolidating 10 paired bus stops and adding Bus Only Lanes.
"I'm thrilled to see the Northern Boulevard bus priority project completed, so that the thousands of community members who rely on it, from Woodside to Corona, can have a better and faster commuting experience. Buses are a critical way for Queens residents to move around the borough, and we're committed to working alongside NYC DOT and all our city partners to speed up travel times, reduce traffic on our roads and make streets safe. I thank everyone involved in this project for making this happen."