The NYC Department of Transportation (NYC DOT) has commenced work on new bus-priority lanes along Northern Boulevard in Queens, New York.
This is the latest project in the ongoing collaboration with the MTA to improve bus services across New York.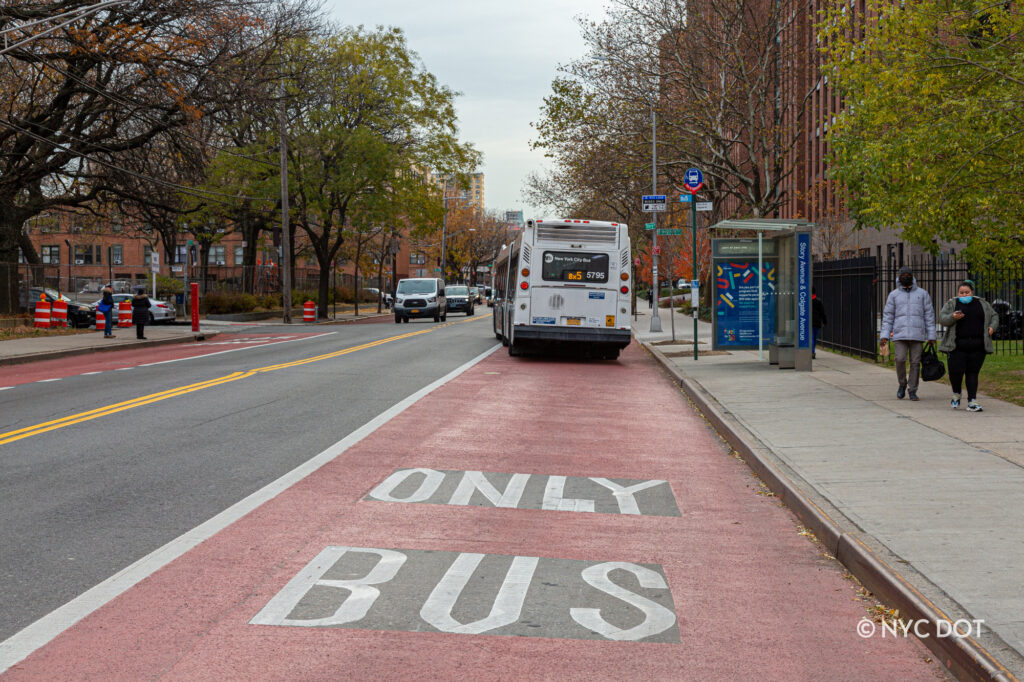 Meanwhile, the NYC DOT has also announced that the bus lanes installed during 2021 along 181st Street in Manhattan's Washington Heights and along Jamaica Avenue and Archer Avenue in Queens will become permanent.
"We are working every day to achieve the Adams Administration's ambitious commitment to deliver an unprecedented number of bus lanes. The changes to Northern Boulevard will not only make bus service faster and more reliable to thousands of riders, but they will also help us make this street much safer, enabling us to meet our Vision Zero goals. We understand that strong bus infrastructure is a necessity; that is why we have also made busways permanent on three critical arteries in Manhattan and Queens. We will continue collaborating with the MTA and our community partners as we tackle these important projects."
Northern Boulevard Bus-Priority
The Northern Boulevard bus-priority project will deliver 4.6 miles of bus lanes from Woodside to Corona in response to the need for faster, more reliable services.
This year, the NYC DOT has already completed 6.7 miles of bus lane projects, most recently finishing construction on 1st Avenue in Manhattan. Work is also underway along Westchester Avenue and University Avenue in the Bronx.
DOT expects to complete the Northern Boulevard bus-priority project in the spring of 2023.
"When buses have dedicated space on the street separated from general traffic, they move faster. And when buses move faster riders benefit and more people choose buses. The MTA is extremely pleased to be working closely with the Adams Administration to improve bus service for the millions of New Yorkers who rely on buses every day, and to attract more riders to this environmentally friendly, congestion-busting form of transportation."
The project will complement a series of pedestrian safety improvements the NYC DOT previously installed along the Northern Boulevard corridor, including pedestrian islands and painted curb extensions.
Permanent Busways
The NYC DOT will also make the busways along 181st Street in Washington Heights and Jamaica Avenue and Archer Avenue in Queens permanent.
The MTA bus routes along 181st Street serve 68,000 weekday passengers, but pre-busway average speeds were 3.7 miles per hour. After implementing the busway, these speeds were improved to deliver more efficient transportation.
In addition, buses along Archer Avenue previously had average speeds of 5.7 to 6.1 miles per hour during the afternoon rush, while on Jamaica Avenue, buses moved at speeds of only 4.7 to 4.9 miles per hour due to traffic congestion. Since implementing the busway, surveyed DOT commuters have noticed significant improvements.
The busways will be enforced by the NYPD, as well as with NYC DOT and MTA automated enforcement cameras.