The city of Jaworzno, Poland has started a four-week trial of a Solaris Urbino 12 hydrogen bus.
Public transport provider PKM Jaworzno already successfully operates 50 electric buses in the city of Jaworzno and now aims to explore how hydrogen buses can further contribute towards its urban transport network.
The trial will take place from 2 to 31 March along the busiest routes in Jaworzno. The hydrogen bus will operate seven days a week to allow PKM Jaworzno to learn more about hydrogen technology. Hydrogen refilling will take place at a mobile station run by AirProducts.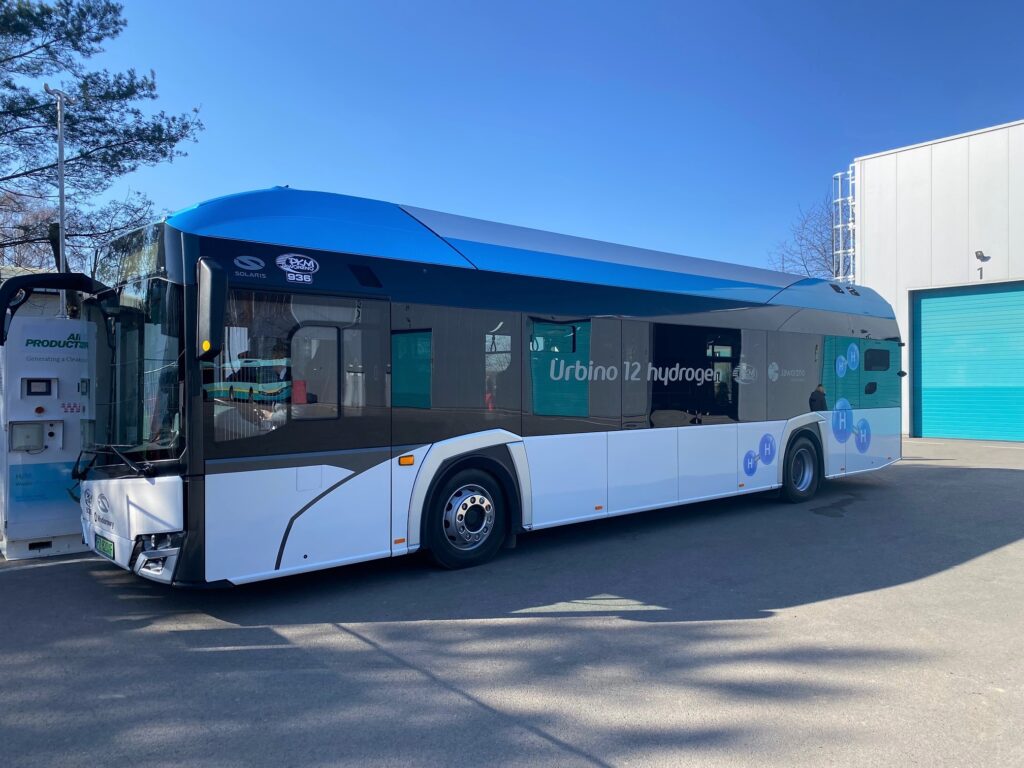 "I was very glad to hear that the possibilities of this state-of-the-art vehicle will be put on trial in Jaworzno, a city which is an excellent example of the successful implementation of e-mobility in public transport. The tests will last four weeks, which will enable the city to thoroughly acquaint itself with all the functionalities that the Urbino 12 hydrogen offers for everyday urban traffic. Let us recall that Jaworzno was a trailblazer when it comes to fleet electrification in Poland. Now, it has a chance to become a leader in hydrogen technology, another advanced technology for the zero-emission transport of the future."
PKM Jaworzno has collaborated with Solaris Bus & Coach for 21 years. 80 Urbino buses currently operate in the city, over half of which are zero-emission electric vehicles. Their smooth operation demonstrates that electric buses can successfully replace diesel models.
"It is very important to us that Jaworzno be perceived as a place that supports new technologies and is open to investors and new residents. Efficient public transport is a pivotal aspect when it comes to the functioning of the urban organism. According to regularly conducted public opinion surveys, local residents appreciate the high quality of our transport services. Over 80 percent of the city's inhabitants use public transport and 88 percent approve of the introduction and development of the local electric vehicle fleet."
The Urbino bus stores hydrogen gas within 5 composite tanks on the roof, which have a total capacity of 1,560 litres. To power the bus's 125 kW e-motor, the hydrogen is directed to a fuel cell, where electricity is produced through hydrogen's reaction with oxygen.
This technology allows the bus to cover 350 kilometres on a single refill, without generating local emissions.
"Our company's first e-bus is already 7 years old. We constantly need to remember to renew our vehicle fleet and are looking for the most efficient technologies in this regard. We hope that the experience gathered during the trials will enable us to successfully apply for external funding for further fleet modernisation. In the near future, we will be the first to announce a date as of which a large city, like Jaworzno, will no longer be served by diesel buses."
Throughout the trial, PKM Jaworzno plans to determine real-world hydrogen consumption during intensive passenger service, while also estimating the necessary frequency and time of refuelling.
The vehicle's performance in low temperatures will also be tested to determine whether hydrogen technology can contribute towards green public transport in Jaworzno.