SunLine Transit has installed a new liquid hydrogen pump that provides mobile charging for the agency's fuel cell bus fleet.
The system was developed in partnership with NICE American Research, who worked with SunLine Transit over 6 years to create a system that allows for hydrogen refuelling without a permanent station structure. The pump, launched at the agency's Indio facility, is NICE's first mobile trailer.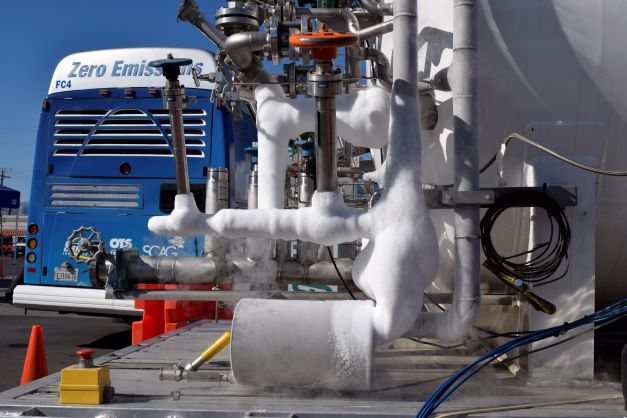 SunLine Transit is currently building a fleet entirely of hydrogen fuel cell buses and is focused on hydrogen fuelling infrastructure, fuel cell technology development, and commercial operation of fuel cell buses in the US. Earlier this week, the company was announced as a founding member of the newly formed Hydrogen Fuel Cell Bus Council in the US.
By piloting the mobile refuelling station, SunLine Transit is furthering its objective to operate a fleet that is zero-emission at the point of use by 2035.
"SunLine has been a pioneer in alternative fuels for the past three decades, and the liquid hydrogen pump commemorated today is just another example of the Agency's commitment to our community and our environment. It's scalable deployment strategies such as this that are pivotal in charting the Coachella Valley's future development as a hydrogen corridor."
Local officials attended the launch of the mobile liquid hydrogen pump at SunLine Transit Agency's Indio facility in Riverside County, California. Several key officials who advocate for alternative fuel technology attended the event, including Congressman Raul Ruiz.
The event also featured the unveiling of a hydrogen bus wrapped with the GoHuman community engagement campaign, which is aimed at promoting walking and biking and educating drivers to pay attention to more vulnerable road users.
"I fully support SunLine's mission to achieve a zero-emission future, and today represents a great step forward in that goal. SunLine's visionary leadership has put our region on the map for innovation in hydrogen fuel technology. Now, with the Bipartisan Infrastructure Law's bold investments in transportation, we will build on today's success and cement the Coachella Valley as the hydrogen hub for the nation."