Sweden's Skånetrafiken Expands Ridership While Increasing Customer Satisfaction
Executive Summary
Ridership in Sweden's Skåne region has rebounded in the wake of pandemic restrictions, largely due to the efforts of the local transit agency to provide the best possible transit experience for riders. The team at the regional public transport authority, Skånetrafiken, has identified improving service reliability and punctuality as key initiatives to increase ridership and passenger satisfaction. In the face of these challenges, Skånetrafiken has partnered with Swiftly to execute a bold vision for expanding public transport in Southern Sweden.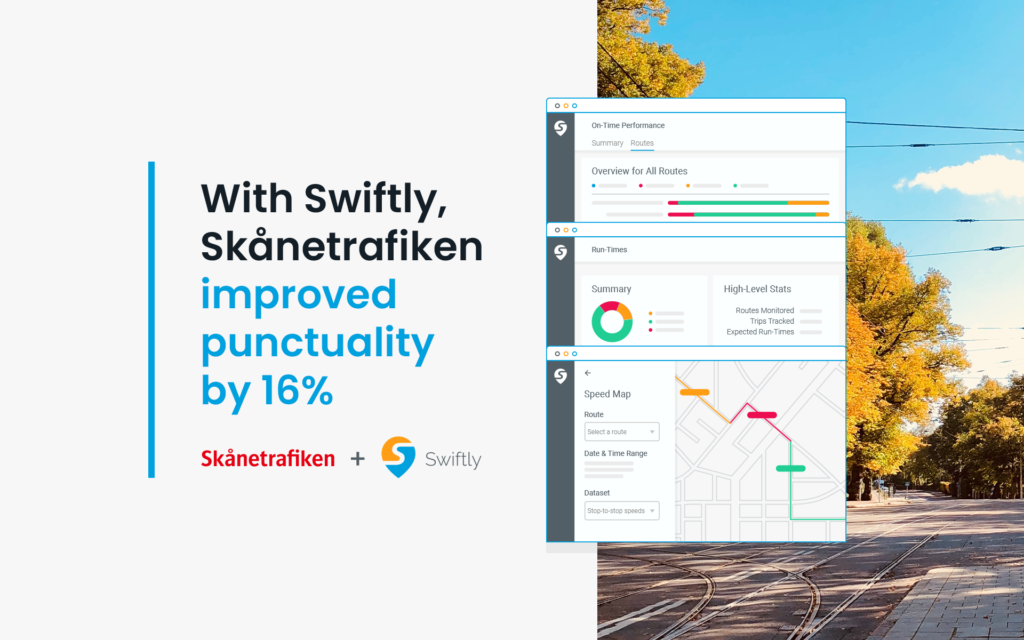 Working with Swiftly, Skånetrafiken was able to:
Decrease early departures by 28 percent on routes analyzed with Swiftly
Improve punctuality on routes analyzed with Swiftly by 16 percent
Reduce the time to review timetables from 6,000 hours to 75 hours
Overcoming Limitations in Schedule Building
Skånetrafiken's guiding metrics are to improve customer satisfaction while expanding the percentage of trips taken on public transportation.
"We have two main goals. We want eight out of ten passengers to be satisfied, and we'd like 40 percent of all motor-driven journeys in Skåne to happen with public transportation by 2030. Swiftly is helping us reach those two main goals."
"Especially since the pandemic, we want to do everything we can to improve customer satisfaction and increase ridership. To be able to get customers back and increase customer satisfaction, they must trust that the bus is coming when they expect it to come. They shouldn't rely on luck to get from A to B."
Building the most efficient schedules possible is Skånetrafiken's key method of improving punctuality. But these efforts were hampered by the limitations of Skånetrafiken's tools and resources prior to working with Swiftly.
The lack of an easy-to-use reporting interface made it difficult to measure punctuality and optimize routes. Staff knew certain routes were underperforming but didn't have an easy way to identify and resolve the causes.
Staff dedicated significant resources to re-evaluating schedules, but a time-consuming, manual process done in spreadsheets limited their progress.
Finally, Skånetrafiken staff were limited in their ability to have data-informed conversations with external stakeholders. When Skånetrafiken staff believed they could remove slack from a route's schedule, they did not have a data visualization to communicate their decision-making to the operator. If a route went through a congested urban corridor, they did not have an easy way to share compelling data to advocate for public transport infrastructure with the municipality responsible for the streets.
"We needed a tool to work more efficiently and to visualize data in an easy way to share with stakeholders."
Establishing a Common Data Language with the Connected Transit Platform
The infrastructure team implemented the Swiftly Connected Transit Platform to improve service performance and reliability while creating a shared data language for internal teams and external stakeholders.
After two years of working with Swiftly, Skånetrafiken has seen transformative results. Optimizing schedules has reduced the costs of providing service and increased the efficiency of the schedule building process, allowing teams to save time on manual tasks and invest more resources in improving service. The team can now communicate data-based decisions across departments and with external stakeholders, operators, and municipalities.
Let's dive into the details of how Skånetrafiken have used the Swiftly Connected Transit Platform to drive results toward their organizational goals.
Improving On-Time Performance to Increase Customer Satisfaction
Improving punctuality was fundamental to Skånetrafiken's goals to increase ridership and customer satisfaction. They began working toward that goal with Swiftly by first capturing granular data through Swiftly's Run Times and On-Time Performance products.
In the first year of working with Swiftly, Skånetrafiken improved punctuality on routes analyzed using the Swiftly Connected Transit Platform by 16 percent, and they have continued to increase punctuality by double digit percentage points so far in 2022. One route in particular saw a 42 percent increase in punctuality!
"We'd like schedules to be as reliable as possible. Attractive public transportation is our goal. With Swiftly we can make more exact timetables that are reliable and ensure that our buses will be punctual. The more satisfied customers we have, the more riders will travel with us."
Designing schedules used to be a predominantly manual process for Skånetrafiken staff. With Swiftly, the On-Time Performance and Run-Times products generate data visualizations and reports on historical performance with just a few clicks. Analysis for one route previously could take up to eight hours, and now takes only minutes. Across the organization, staff reduced the time to review every timetable three times per year from 6,000 hours to 75 hours.
Now that staff can complete the process more quickly, they can conduct analysis more frequently and invest resources in strategic projects.
"Back in the day we had three timetable shifts in the year. Now we have five. We can also spend more time on projects like analysis to increase customer satisfaction."
Redistributing Costs While Improving Service
As punctuality improved, Skånetrafiken also found they could use Swiftly's On-Time Performance and Run Times products to remove slack from routes and create more efficient schedules. Over the past year, Skånetrafiken was able to redistribute costs while delivering better service.
"With the help of Swiftly, we can reinvest in the most efficient service from operators. It's not our purpose just to cut down the incentives that operators get. But it means we can find more effective ways of using the money. It's very important for us to find the most effective ways of using taxpayers' money and not wasting it. With Swiftly we can get the most effective service possible with the budget we have."
"One of the main positive things about Swiftly is that it makes us more efficient. We're increasing customer satisfaction while at the same time redistributing costs within the timetable."
Using Speed Map to Identify Infrastructure Requirements
Even with more efficient schedules, Skånetrafiken could not prevent vehicles from being stuck in congestion. They use Swiftly's Speed Map product to evaluate areas where vehicle speeds slow down, whether it's a high congestion corridor or a problematic intersection. They can then prioritize these areas for infrastructure improvements.
As the public transport authority, they need to work with municipalities to implement infrastructure projects to improve vehicle speeds through congested corridors. Swiftly gave Skånetrafiken the data they need to make the case for the most impactful improvements.
"We're in charge of transportation itself, but the municipalities are responsible for the infrastructure in the street like bus lanes, priority in the intersections, and as fast bus lanes as possible. We have intersections where we're losing time. With Speed Map, we can see where we get traffic and congestion, when we have to stop in intersections for too long, and so on.
"We have discussions and dialogues with municipalities for them to understand that we need to get some better infrastructure to make public transportation more attractive. In those cases, the Speed Map comes in handy for the discussion for this kind of collaboration with municipalities."
Improving Collaboration with Internal and External Stakeholders
A key element of Swiftly's Connect with Staff solution is the ability for an agency to establish a common data language shared across internal teams and external stakeholders. Skånetrafiken had trouble communicating data they had compiled manually. After Swiftly provided valuable data visualization early on, staff across teams began to reference Swiftly reports with confidence.
The data visualizations in the Swiftly web application offer a key means of quickly communicating findings. The staff at Skånetrafiken will frequently take screenshots of reports in the Swiftly web service to share their insights. Critically, this has especially helped in conversations with external collaborators, including the operators and municipalities whose collaboration is critical to Skånetrafiken's success.
"Data visualization has been a positive influence with stakeholders internally and externally. We can share screenshots instead of typing out numbers. It has gained trust and helped others see the advantages. They can see the same data and we can work closely together to create better results. It has especially increased collaboration with external stakeholders: the municipalities, operators, and traffic authorities."
Partnering with Swiftly to Achieve Their Goals
Throughout the project, Skånetrafiken staff partnered closely with the Swiftly team to achieve their goals. Support from Swiftly's customer success team includes individual trainings, unlimited staff logins, and executive business reviews to tie the project to clear ROI.
"It's an easy process to learn how to use Swiftly. They had training for new employees and operators, so they can find it easy to pick up. After a bit of time learning, they're comfortable with the tool. We have as much communication with the Swiftly team as with internal colleagues. It's not the typical customer and agency relationship. We're working together to create the best results we can."
This article was originally published by Swiftly.