TEMSA's environmentally friendly E6 diesel engine LF12 model will soon be on the roads in Israel.
Having delivered 48 vehicles in the last dispatch to Dalhom Motors, one of Israel's largest operators, TEMSA has provided a total of 83 TEMSA-branded vehicles in the company's fleet within a year.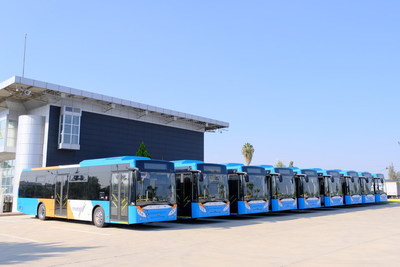 Within the scope of the agreement, 48 pieces of LF12-model TEMSA vehicles were recently delivered to Dalhom Motors Ltd., increasing its fleet of TEMSA-branded vehicles to 83 buses. The latest vehicles will be put into service in Netanya, Israel, on 1 January 2022.
TEMSA's buses reflect the experience it has acquired in urban transportation solutions, with the 48 pieces of its LF12 model each designed down to the last detail according to Dalhom Motors Ltd.'s requests. Through the collaboration between TEMSA and Dalhom Motors Ltd., these tailored details, including the operator's special requests, such as a destination board and ticket machine, were completed at TEMSA's plant.