227 Units Golden Dragon Buses Arrive in Israel for Operation
In September, Golden Dragon exported 227 units buses to Israel for operation, the highest monthly export volume ever recorded in Israeli market. Despite the logistic disruptions caused by COVID-19, the bus maker overcome many difficulties and managed to deliver buses to its customers punctually.
In the first nine months this year, Golden Dragon's export volume in Israel reached 500 units with a total value of over 500 million RMB. According to the bus maker, 2,000+ Golden Dragon buses are currently working smoothly in Israel, providing greener and more convenient transportation services for local residents.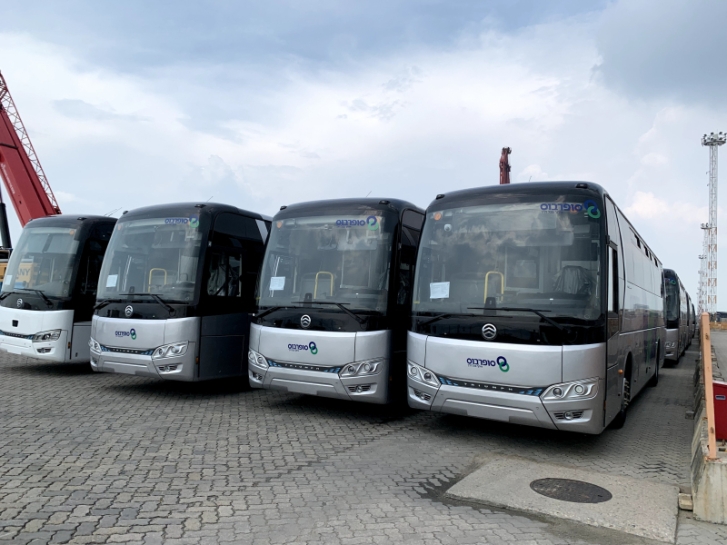 Despite the sporadic COVID-19 cases in the domestic market, Golden Dragon has overcome a host of difficulties and ensured the timely delivery of its bus products to bus operators across the globe.
Golden Dragon officially entered Israeli market in 2011. In just a decade, it has already established a solid presence in the country, enjoying wide recognition among local residents.
The outbreak of COVID-19 in earlier 2020 has brought many challenges. However, Golden Dragon has been seeking new opportunities amid the global pandemic.
In 2020, Golden Dragon delivered 18-meter articulated diesel powered buses, 12-meter natural gas and diesel powered buses with low-floor access, new Triumph intercity coaches and new Triumph travel coaches to its Israeli customers. Despite all the difficulties, the bus maker further strengthened its presence in Israel.
Apart from new energy buses which have made up the majority of exports, Golden Dragon has also delivered new energy powered bus chassis to its customers in Israel.
Thanks to the concerted efforts from the various departments in Golden Dragon, all buses and coaches exported to Israel are fully in compliance with EU's laws and regulations.
"Golden Dragon buses are superb! Besides, we have already built deep trust between us."
This article was originally published by Golden Dragon.