The 270 million GBP Connecting Leeds investment in improving transport and travel around the city has been completed.
The programme began in 2018 with the goal of improving connectivity across Leeds and the surrounding area. The funds were spent on improvements to road, rail, bus, park and ride, cycling and walking services and infrastructure with the benefits of improved air quality, reduced congestion and improved accessibility.
Adding to the 173.5 million GBP that was awarded by the UK government for public transport investment, Leeds City Council, in partnership with West Yorkshire Combined Authority and with further investment from bus operators, has made improvements to the bus network, pedestrian and cycling facilities.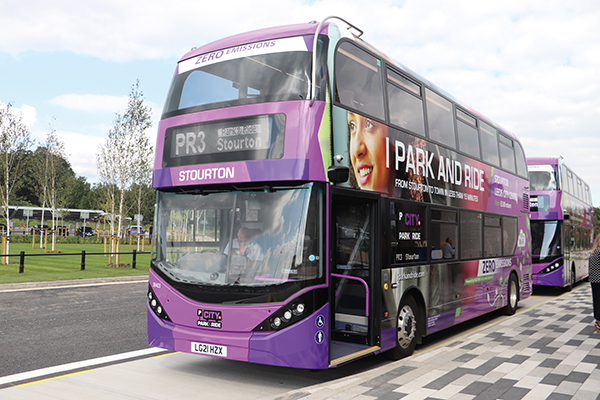 Some of the specific outcomes of Connecting Leeds are:
Bus operators have introduced a fleet of new low-emission buses that provide audio and / or visual next stop announcements, complementary Wi-Fi and contactless payment facilities
The transformation of Leeds Bus Station
Newly built and expanded park and ride facilities
Improvements to key arterial roads to reduce bus journey times and improve service reliability, coupled with cycling and walking facilities
Bus signal priority measures
The installation of almost 1,000 new real-time information boards at bus stops along with a colour-coded Leeds Core Bus Network tube-style map
"In 2016, we started our biggest-ever transport conversation in which over 8,000 people told us what's important to them and for Leeds.
"I'm delighted and proud to have experienced the completion of so many schemes across Leeds – from the UK's first fully solar powered Stourton park and ride site to the wider pavements and bus priorities along the Headrow. And the fantastic new urban realm spaces around the Corn Exchange Gateway scheme. I'm really pleased to see new areas of public realms as part of these transport schemes, with new space for biodiversity and people to relax."
"There are well over 200 new ultra-low and zero-emission buses now helping to create cleaner air on the city's streets and reduce carbon emissions.
"Where we provide great service quality supported by bus priority, we know we can offer a realistic alternative to the car, achieve bus passenger growth, and encourage more sustainable travel around the city."
Following city-wide engagement with the public and local businesses, construction on the first schemes began in the summer of 2019.