It's amazing to think how much more enjoyable travelling by public transport today can be than it was but a decade or so ago…
In yesteryear, passengers might have sat idly twiddling their thumbs on a long-distance coach journey, wishing they could drown out the world as the couple sitting opposite on the bus bickered, or literally counting sheep in fields as their train travelled passed in a desperate attempt to drift off to sleep. Travel could sometimes feel like a chore; a necessary but mundane multitude of moments spent journeying from door to destination.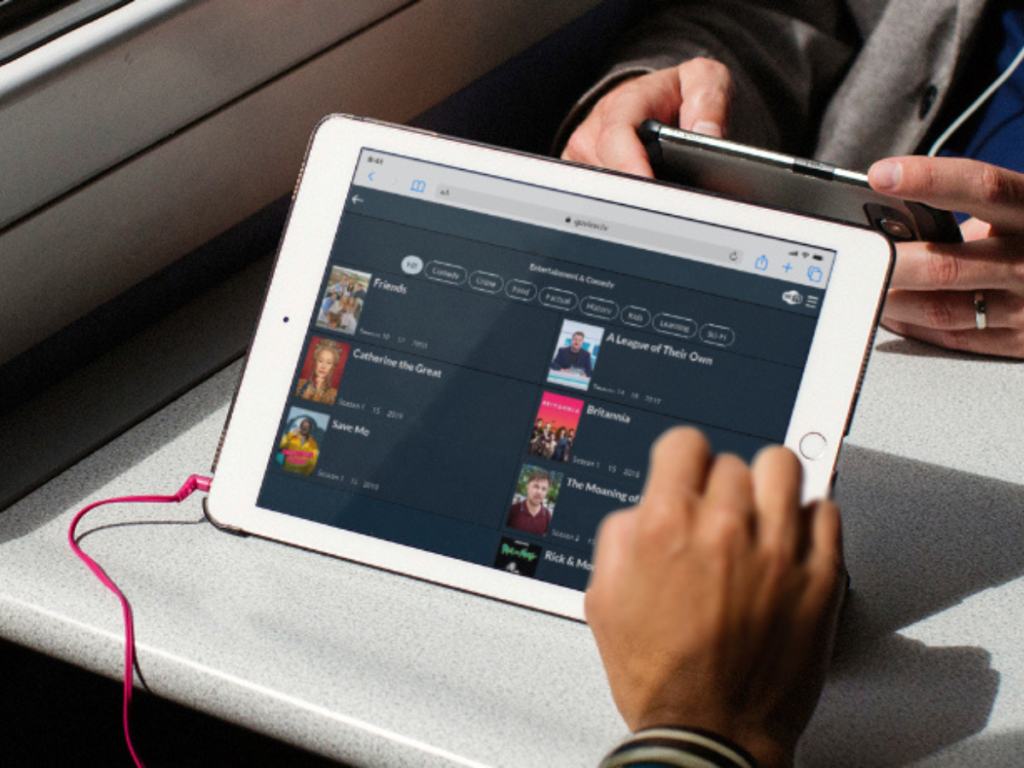 In contrast, thanks to amenities which improve the passenger experience, such as our GoView entertainment portal, nowadays travel time can fly by. There's a certain alchemy to how an entire trip can flash past as we sit immersed watching the latest Hollywood blockbuster, bingeing the new TV show we've been dying to see, or transported to a fantastical world when reading an eBook penned by a favourite author. Similarly, a commute can feel like a breeze as we try and beat the high score set by a fellow passenger on a game, catch up on the important events of the day when reading a digital newspaper, or listen to a new album our friends have been raving about.
With many years' experience in broadcasting, Icomera's wholly owned subsidiary GoMedia has access to the widest range of content from the leading rights owners across the globe; taking advantage of this wealth of expertise, they build GoView content packages tailored to meet each client's specific needs. But the spell-binding success of our onboard entertainment solution isn't simply down to the unrivalled range of content that's available. Importantly, GoView content can be accessed even in periods when there is no external connectivity to a vehicle, providing a seamless entertainment experience for passengers when travelling through tunnels or in remote rural areas, for example.
As GoMedia's Managing Director Roger Matthews explains:
"GoView pairs perfectly with an onboard Passenger Wi-Fi solution from a data cost-saving perspective; since entertainment is hosted locally on the vehicle, operators can reduce the costs associated with their passengers streaming content over Wi-Fi, while simultaneously encouraging additional ticket sales through the improved passenger experience." Because the content is accessed directly via the web browser on passengers' own smart devices, there's no need to download an app, and no requirement for operators to install or maintain costly seat-back screens on their vehicles either."
GoMedia's CEO Matt Seaman adds:
"There really are a myriad of ways in which travel in 2022 is a world away from days gone by", adds . "Delivered as part of Icomera's integrated connectivity platform, applications such as onboard entertainment, real-time journey information and passenger Wi-Fi are all easily deployable from a single piece of hardware, and supported as part of our fully-managed end-to-end solution."
It's little wonder that operators are already excited when imagining what onboard entertainment will look like another ten years from now. Undoubtedly, there will be even more content for those travelling to enjoy, as well as new ways of accessing what's on offer; data-driven analytics will play an ever-greater role in helping to shape the user experience, and there will exist even faster, more efficient ways in which content can be remotely refreshed. As the global experts in delivering passenger-centric solutions, Icomera and GoMedia will remain at the leading edge in shaping this future, providing clients with everything they require to deploy best-in-class onboard entertainment.
This article was originally published by Icomera.