Icomera partners with Swarthout Coaches to elevate the passenger experience, delivering industry-leading passenger Wi-Fi for all occasions.
Locally-owned and operated motorcoach operator, Swarthout Coaches is enhancing their entire fleet of coaches with Icomera's advanced Internet connectivity platform for industry-leading passenger Wi-Fi.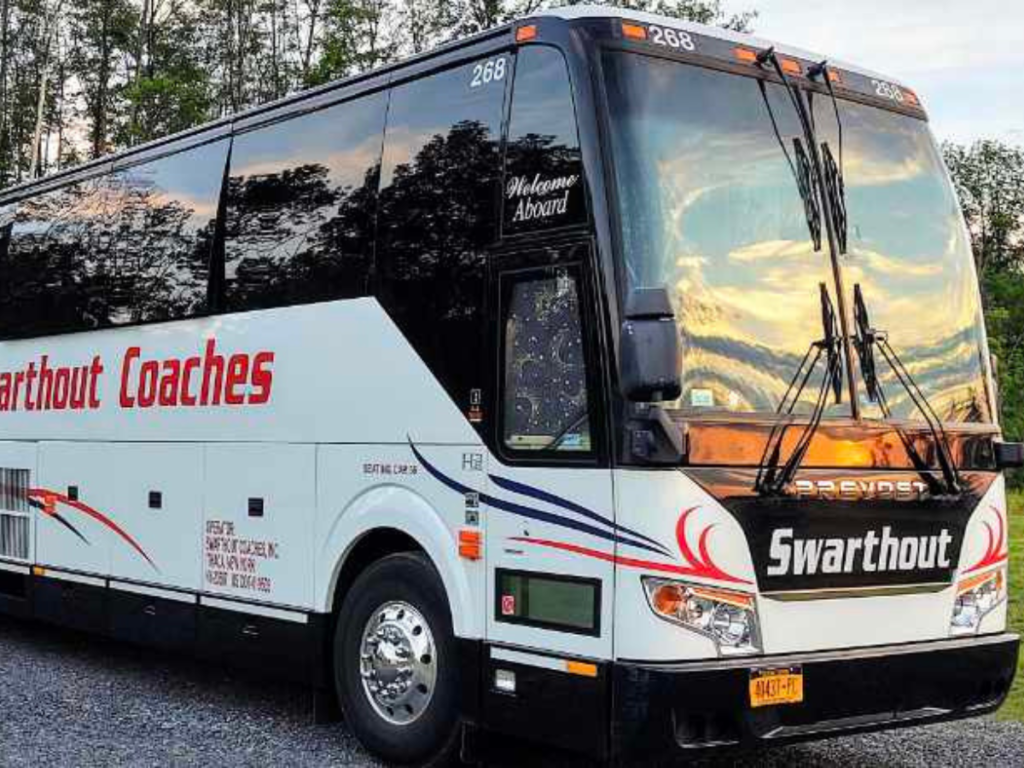 Since 1950, Swarthout Coaches (a subsidiary of The Kildare Group) has been providing premium group transportation services to the residents, educational institutions, and businesses of the Central & Southern Tier areas of New York State. And with the iteratively evolving dynamics of providing mobile hospitality to its customers, Swarthout was challenged in finding a solid corporate partner with the ability to effectively integrate technology into the on-board experience for its customers.
A chance meeting at an industry event in April 2021 introduced Swarthout to Icomera and their offerings; two months later, an agreement was struck to have Icomera provide a demonstration of its solutions to showcase and validate real-world performance of the Icomera X³ Advanced Router within Swarthout's typical regions of travel. The Icomera X³ is the ideal one-box solution for coach and city bus operators, providing high-bandwidth connectivity to existing onboard systems and passenger Wi-Fi.
When testing was complete and all the usage/coverage/uptime data was reviewed, Swarthout concluded that the Icomera X³ exceeded the expectations that it set for the needs of its customers. Swarthout has embarked on a fleet-wide upgrade and plans to give the Icomera X³ a home on all new vehicle purchases.
John Miskulin from Swarthout Coaches, said:
"Our customers spend a significant amount of time onboard our coaches as they travel to their destination, so we take great pride in our high-level of hospitality, which goes far beyond customer service and includes us equipping our coaches with the best "top-of-the-line" amenities that are available to us. The Icomera solution significantly exceeded the expectations of many of our customers and was punctuated with a message the head coach of a university athletic team shared that travelling on the coach with the demonstration unit was 'the best internet connection' that he had ever experienced aboard a coach."
Gabriel Lopez-Bernal, Vice President of Sales & Marketing for Icomera in North America, said:
"We are living in an 'always connected' world with 'Internet everywhere', providing a robust internet connection aboard is of paramount significance for motorcoach passengers, especially on longer-distance routes."
Icomera has been serving the motorcoach industry since 2008 and in 2019 hit a landmark 1 billion Passenger Wi-Fi sessions on buses. Today, Icomera's fast, secure and reliable connectivity technology is installed on more than 30,000 trainsets, trams, coaches, and buses worldwide.
Icomera's patented technology is turning travel time into productive time, connecting passengers to their work and social networks and allowing them to complete digital tasks on the move. The opportunity to stay connected and increase productivity while travelling is helping make long-distance travel usage more attractive.
This article was originally published by Icomera.