The SKYLIFT even has its own name boards in the SBS Transit workshop. Some depots are responsible for up to 600 buses which all have to be in top condition and meet the stringent Singapore public transportation regulations.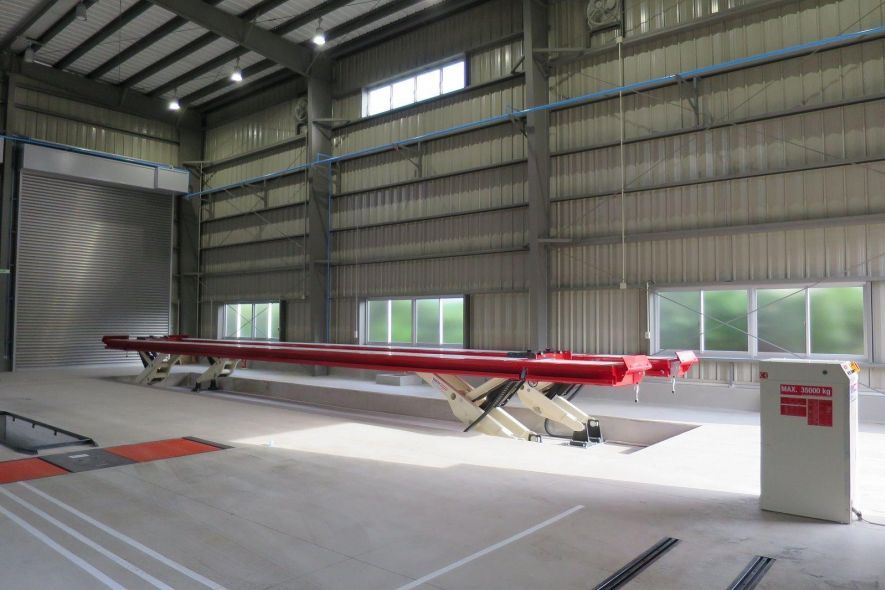 Stertil-Koni Automatic Reversed Roll-off Protection: No bridging sections required and flush with the floor meaning that the platform does not rest on the workshop floor which by conventional installations can cause damage to the workshop floor over time.
Another big success story, Takahagi Automobile Industry Japan, has recently selected Tuff Kote Stertil-Koni's distributor in Japan, to supply and install a fully equipped Stertil-Koni SKYLIFT 350. The Takahagi Automobile performs repair and maintenance, paint jobs and inspections of heavy duty vehicles.
Mr Takahagi, the owner of the company opted for the heaviest SKYLIFT model in the range, SKY 350. The SKY 350 has a capacity of 35,000 kg and was supplied with a platform length of 14.5 metres with factory installed platform length LED lights and anti-slip plates.
Stertil-Koni SKY 250
Besides the recent installations of the SKY 350 by Tuff Kote in Japan they have also installed a Stertil-Koni SKY 250 with recess cover plates for Goto Motors Inc. The SKY 250 has a lifting capacity of 25,000 kg and the recess cover plates are fully galvanised and have a wheel load capacity of 1,500 kg.

Recess cover plates are a perfect solution when the SKYLIFT is flush-mounted. The automatically extending cover plates allow for easier movability of toolboxes around the workshop floor, thus offering additional safety.
Free of cross-beams, scissors or bulky columns the mechanical engineer has complete freedom of movement under the platforms, something which is impossible with a traditional platform lift, as well as offering the following:
Economical and Efficient
Superior ease of Operation
Automatic Safeguard
Customised Solutions – Surface mounted platforms have a low drive-on height
Up to 30 meters long and 70 tons lifting capacity
This article was originally published by Stertil-Koni.