Scania Launches the Fencer f1, the First Model in an All-New, Fully Built-up and Sustainable Single Deck Bus Range
The UK has been chosen for the global launch of Scania's new Fencer bus range, the first model of which is the Fencer f1, a single deck, fully built-up bus.  The vehicle, which is the first complete Scania single deck bus to be released in the UK for ten years, will subsequently be introduced to many other markets worldwide and will form the basis of a new platform of sustainable Scania buses going forward.  Named to reflect its agility, performance and the sharpness of its design lines, the Scania Fencer f1 offers a host of operational and sustainability benefits, including the widest range of fuelling options available on the market today.
"The Scania Fencer f1 is a truly innovative and exciting new product which is the result of several years of research and development by Scania's engineers in conjunction with our colleagues at Higer, with whom we have enjoyed a strong, professional partnership with for the past 15 years. The result is a flexible, efficient and economical vehicle built to the high quality standards assured by our fully embedded production processes at the Higer factory. As such, the Fencer will contribute significantly to the sustainability objectives of the UK Government's recently announced national bus strategy. As a completely built-up Scania product, the Fencer will be fully supported by the Scania network of 84 UK service centres.
"The Fencer will be built on a new chassis, which has been designed from the outset as a future-proofed platform with a comprehensive selection of renewably-fuelled drivetrains including full battery electric and hybrid versions and biogas options (see Editor's note 1). Initially, we are launching the vehicle with our tried, tested, proven and highly regarded nine-litre engine, which can be operated on 100 percent HVO (Hydrotreated Vegetable Oil) biofuel. This engine option has been missed in recent years by our rural and inter-urban customers and we are delighted to be reintroducing it to the market at this time.
"Looking ahead, the single deck Fencer f1 is just the beginning of a new bus platform for Scania. Articulated and double deck options are also planned, meaning we will soon have a solution for every UK bus fleet operator."
Scania Fencer: Features and Benefits
The nine-litre Scania engine fitted to the first Fencer vehicles will be SCR-only and meets the requirements of the Euro 6 Step E emissions standard.  Paired with ZF's  Ecolife 2 fully automatic six-speed gearbox, the vehicle is capable of achieving substantial fuel savings compared to its predecessors.  Other features of the transmission include fast and smooth shifting and a new 'unloaded starting' feature which enhances passenger comfort by reducing noise, improving starting performance and delivering consistent acceleration.
Scania's in-house modular chassis development approach focuses on safety, performance and quality, and ensures all major components are under Scania's direct control.  Suspension, brakes and electrics are all controlled by Scania's own software, and all systems communicate with Scania's own diagnostic tool, thereby simplifying trouble shooting and programming.  In this way, Scania seeks to maximise uptime of the Fencer while maintaining optimal efficiency and performance at all times.
An all-new driver's area features an adjustable instrument panel for increased driver comfort.  Ergonomically designed, all controls are within arm's reach for ease of use and to reduce driver fatigue and stress.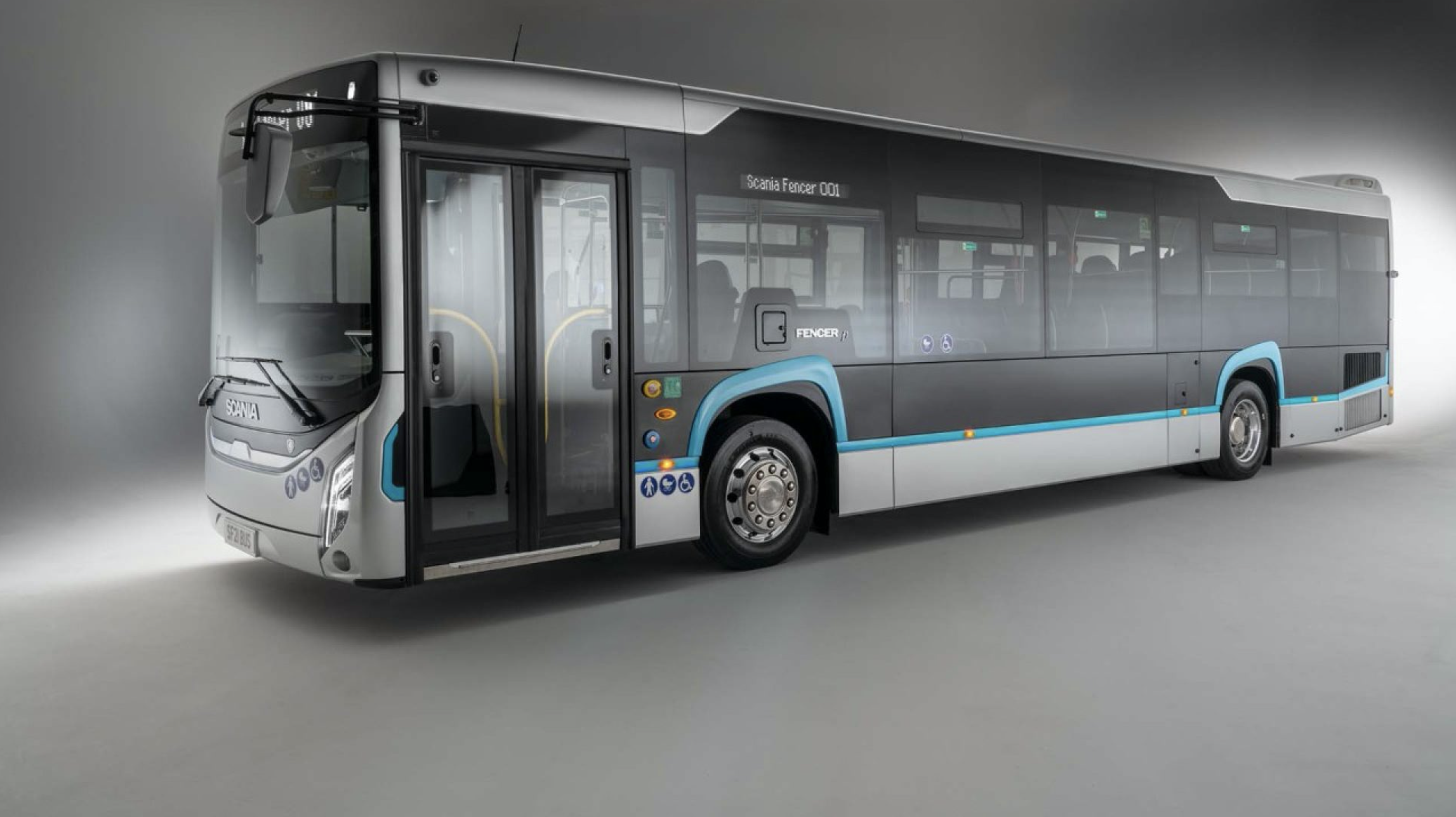 Externally, the Fencer's bodywork displays an innovative and contemporary profile, with low windows contributing to the natural flow of the vehicle's lines and kerbside appeal. Also incorporated into the design are stylish LED lights and enhanced side lighting.  Inside, the modern, spacious design approach continues, with a light and airy saloon complemented again by full LED lighting to create a stylish and relaxed ambience.
Sustainability, Science Based Targets and the Scania Fencer
Scania is firmly committed to driving the shift towards more sustainable transport solutions.  As such, the company adheres to agreed Science Based Targets (see Editor's note 2) set by SBTi, a partnership between the Carbon Disclosure Project, the United Nations Global Compact, World Resources Institute (WRI) and the World Wide Fund for Nature.  Scania was the first manufacturer in its sector to have its Science Based Targets approved.
While Scania's targets fall under what are referred to Scope 1 (actions directly under a company's control, such as its environmental measures at its production facilities) and Scope 2 (actions indirectly under a company's control, such as the type of electricity and heating/cooling systems it uses), Scania is also working with its customers, for whom Scope 3 (the 'well-to-wheel' impact of the products they use) applies.
This is because of all the impacts related to Scania's indirect downstream activities, the use of Scania's vehicles – upon which Scope 3 focuses – accounts for more than 90 percent of the total carbon footprint generated. According to the Science Based Targets initiative, the Scope 3 target is far-reaching and aligned with the most ambitious decarbonisation scenario developed by the initiative. With regard to its Scope 3 activities, Scania ensures the products it offers are matched to the purpose to which they will be put and looks to educate and create awareness in sustainability issues amongst its customers.  Between them, Scopes 1 and 2 seek to reduce carbon dioxide emissions by 50 percent by 2025 and Scope 3 seeks to reduce carbon dioxide by 20 percent by 2025.
As a vehicle which is produced responsibly and is to be offered with a wide choice of fuelling options, the Scania Fencer will contribute significantly towards achieving Scania's Science Based Targets.
This article was originally published by Scania.