The shuttles provided for broadcasting and telecommunications group Sky employees are to become electric.
The agreement to make this switch was announced by Alexander Dennis and BYD UK. Their electric vehicle partnership is working with Dawsongroup bus and coach (DGBC) and Cobra Corporate Services Limited to provide electric transportation to Sky.
Alexander Dennis is a subsidiary of bus manufacturer NFI. BYD produces batteries, energy management and electric mobility products. DGBC is part of Dawsongroup, which specialises in supplying commercial assets.
The Sky shuttles are used by staff and visitors as transport between various public transport locations and its Livingston Campus near Edinburgh and its Osterley Campus in London.
Cobra operates the shuttle service.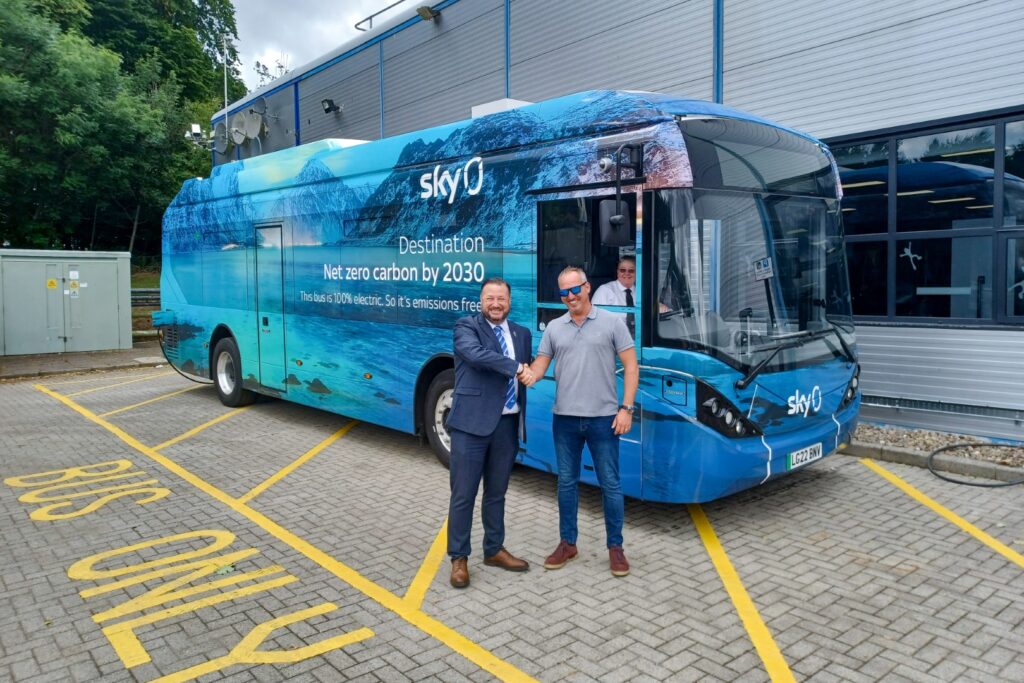 The eight new BYD ADL Environ200 EV electric single-deck buses will become part of the Cobra fleet in the next few weeks. The first two buses began operating at the Livingston Campus on 2 August, while the remaining six will enter service at the Osterley Campus on 15 August.
The all-electric buses will replace diesel units.
The BYD ADL Enviro200 EV buses are equipped with iron-phosphate batteries by BYD. According to the manufacturer, these have a longer driving range, optimised battery life and extremely safe performance. The Cobra buses will be able to run a full day's shuttle service on a single charge.
"After many months of research, discussions and preparation to ensure the correct products were used, BYD ADL are the right choice of electric bus for us to integrate into the Sky Zero strategy. The decision to continue the relationship with Dawsongroup and our chosen infrastructure suppliers made all the hard work that much easier. Pooling in knowledge from the industry leaders in bus and charger manufacturing has enabled a confident launch of service delivery as we enter our operations into the world of electrically propelled passenger transportation."
The buses are all being manufactured in Britain.
"We are delighted to show the benefits of electric buses on staff shuttle services with this project being the largest of its kind in the country. Our British-built BYD ADL Enviro200EV is a great fit and incorporates unrivalled experience from over 1,000 electric buses on the road nationally, ensuring reliability and peace of mind for Cobra as the operator, as well as Dawsongroup as owner and provider of the vehicles."