Yutong Accelerates Overseas Expansion by Establishing the Largest European Spare Parts Warehouse for China's Buses in France
On July 29, 2020, Yutong Bus held the opening ceremony of the European spare parts warehouse in Lens, France.
Sylvain Robert, Regional Chairman of Lens Liévin, Olivier Gacquerre, Regional Chairman of Béthune-Bruay of France, Du Jingjun, Service Manager of Yutong's European Market, Water Charpentier, Chairman of the Board of Directors of TWV, Liu Quanxu (Guillaume Jinkoji), Head of Asian Business of the Investment Promotion Agency for the Hauts-de-France and Xi Yan, the principal of JDJ Consulting, LLC, attended the opening ceremony and witnessed this historic moment together.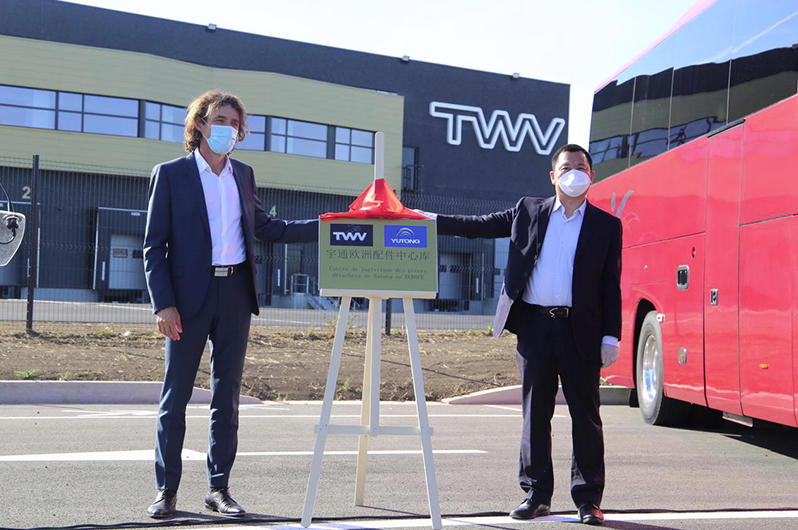 The spare parts warehouse settled in Lens is not only the first one established by Yutong in Europe, but also the largest one established by a Chinese bus brand in Europe. It marks another important step forward for Yutong in its global strategic development, which will lay a solid foundation for Chinese buses to march into Europe and the world at a faster pace.
Improving the Supply of Spare Parts for a Better Europe
The establishment of the European spare parts warehouse is an important strategy for Yutong to boost its competitiveness in the European market. That will inject new momentum into Yutong's effort to expand its market. Yutong further facilitates Chinese buses to travel in Europe, and provides new ideas for Chinese buses to export.
According to Du Jingjun, Service Manager of Yutong's European Market, Yutong European spare parts warehouse, operated by Yutong's French subsidiary, serves as the operation platform in Europe for Yutong's spare parts allocation and management. Its initial planning area covers 500㎡ and the spare parts reserve scale will reach EUR1 million, which will continue to expand with the growth of the sales of spare parts.
The Yutong's European spare parts warehouse will not only satisfy the spare parts needs of its European customers for daily procurement, urgent allocation and bulk order vehicles, but also greatly shorten the supply cycle and effective service distance of spare parts in European market, which can provide not only better service experience and faster spare parts supply for European customers, but also better operation guarantee for Yutong vehicles in the European market.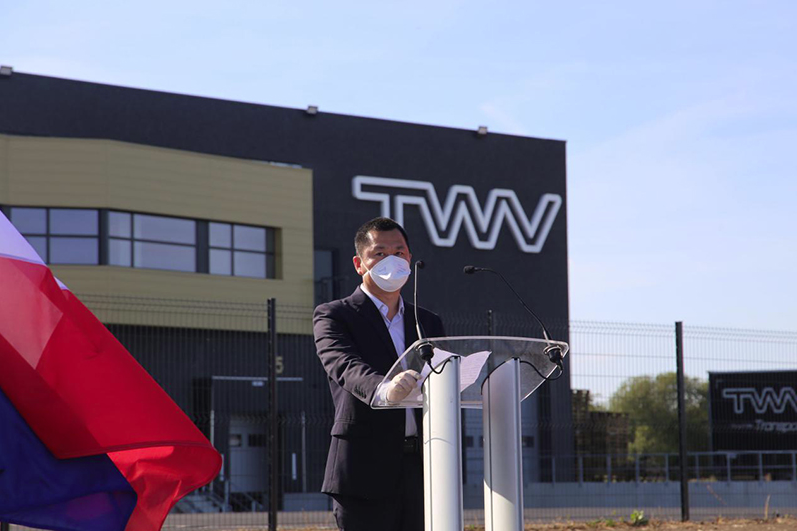 © Yutong
"Without this spare parts warehouse, it would take 20 to 25 days for Yutong to deliver spare parts from China to Europe by sea, and another week to deliver in land plus customs declaration and clearance. So the cycle of spare parts supply is about one month. After the establishment of the spare parts warehouse, spare parts can be directly transported by land from Lens to EU countries, and it takes only one week on average."
As the birthplace of the world's bus industry, Europe plays an important role on the global bus market. It is also Yutong's strategic market. Yutong always gives priority to providing resources to support stable, sustainable and healthy development of the European market. Until now, Yutong has sold more than 8,000 buses in Europe.
© Yutong
"Yutong always puts superior experience of customers first. This is also the original intention of Yutong Bus to establish a European spare parts warehouse. In the future, Yutong will continue to maintain steady operation in the European market, gradually expand its marketing network, and improve services and spare parts supply ability. We will continue to innovate our business model and maintain a responsible brand image that can build long-term business partnerships with European customers."
Products and services grow together, leading the continuous rise of Chinese bus brands
Yutong is more than a leader in China's bus industry, which is also poised to become a promoter and enabler of the European and even global bus industry, constantly outlining a greener and better development blue print by actions and wisdom.
In order to continuously enhance customer service experience, Yutong has been committed to improving its service and parts supply system. At present, Yutong owns more than 200 authorized service stations or service companies and over 320 authorized service outlets overseas, and has established multiple overseas spare parts warehouses in Russia, Australia, Panama, South Africa, UAE, etc. Front-line service teams composed of service engineers and maintenance technicians maintain a long-term presence in major overseas markets to know customer demand, provide technical training, and solve vehicle problems to ensure the good operation.
From the start of trial operation of the first Yutong's full electric bus in the French market in 2015, to the continuous effort to put Yutong full electric intercity buses into operation in bulk in 2017 and 2018, the current operating mileage of Yutong's full electric buses in France has exceeded 2 million kilometers. This not only fully reflects Yutong's intensive cultivation and steady accumulation in overseas markets over the years, but also demonstrates that Yutong's full electric buses tally with overseas market demand entirely.
To date, Yutong has sold over 8,600 vehicles in the entire European region including France, UK, Bulgaria, Romania, Slovakia, and Russia. In terms of the promotion of new energy buses, Yutong has achieved bulk sales of full electric buses in France, Iceland, Denmark, Finland, Bulgaria, etc.
The European spare parts warehouse has further improved Yutong's overseas spare parts supply system. It will help expand Yutong's overseas market from France to the entire Europe, and enhance the global competitiveness of Chinese buses, supporting "Made in China" to serve the world.
Looking ahead, Yutong will better serve the European market based on the warehouse and increase global recognition of Chinese buses to facilitate better travel.
Originally published here