First Bus has completed the development of its Caledonia depot in Glasgow, unveiling the UK's largest electric vehicle (EV) rapid-charging centre.
The new facility will be able to simultaneously charge 150 electric buses, advancing First Bus's goal to be emission-free by 2035.
In addition to supporting First Bus's growing electric fleet in Glasgow, the site will also help other organisations to decarbonise their fleets, as First Bus is trialling the use of its charging infrastructure to third-party businesses while its buses are out in service.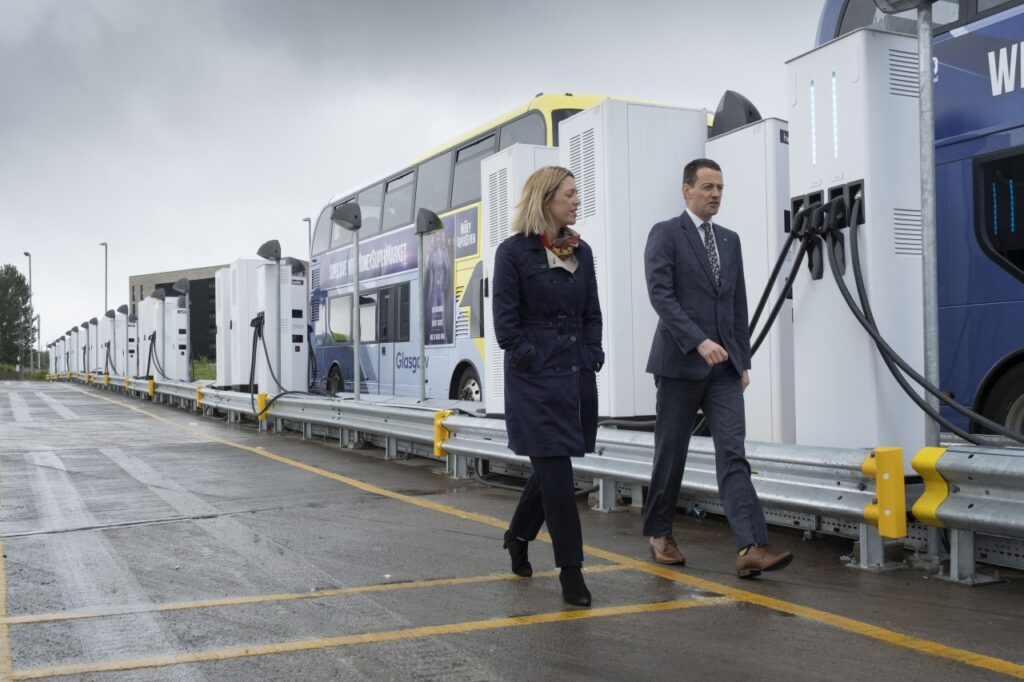 "I am delighted to visit the depot to see the scale of what the largest D.C. charging centre in UK is now, which has been made possible by £26.3 million of Scottish Government investment. This really is a gamer changer in our progress towards decarbonising Scotland's buses. What's been achieved at the Caledonia depot is a great example of partnership working with the bus, energy and finance sectors to make the best use of Scottish Government investment."
The new rapid-charging stations can fully charge a bus in just four hours and will be controlled via smart-charging software to ensure the power is used efficiently.
First Bus now plans to further expand the depot in partnership with Ofgem and Scottish Power Energy Networks to allow the site to host an additional 200 vehicles and charging points.
"We are thrilled to announce the completion of our Caledonia depot. It's a landmark moment on our journey to an entirely zero emissions fleet and a vital step in decarbonising the local environment and improving air quality. We're proud to enable more Glasgow companies to realise their own paths to zero emissions, too. With the great range of our new EVs, and the immense power of these new charging stations, our buses only need to stop to be charged overnight, allowing us to free up the depot during the day for other electric fleets in and around Glasgow."
First Bus's Caledonia depot bus fleet will be 50 percent electric by December 2022, when a further 52 electric buses will be delivered. 98 electric buses are currently in operation in Glasgow.
First Bus will further expand its fleet of electric vehicles following its success in the Scottish Government's ScotZEB funding round. In addition, First Bus and its local authority partners in five regions have been successful in their bid to secure UK Government funding for new electric buses through the Zero Emission Buses Regional Area (ZEBRA) scheme.
"Today marks another major milestone in our decarbonisation journey with the completion of the Glasgow Caledonia electrification project. This inspiring project has seen the depot transformed into one of the biggest EV rapid charging hubs of its kind anywhere. To deliver a project of this scale is a magnificent achievement for all the teams involved. Caledonia Depot is now our pathfinder project as we roll-out electric vehicles at scale across the rest of the UK and marks a very exciting turning point for both our people and our customers."