The UK government has committed to supplying nearly 200 million GBP in funding to allow local operators to purchase electric and hydrogen-powered buses through the Zero-Emission Buses Regional Area (ZEBRA) scheme.
The investment will fund the purchase of an additional 943 electric and hydrogen-powered buses across twelve areas in England, along with the related charging or fuelling infrastructure.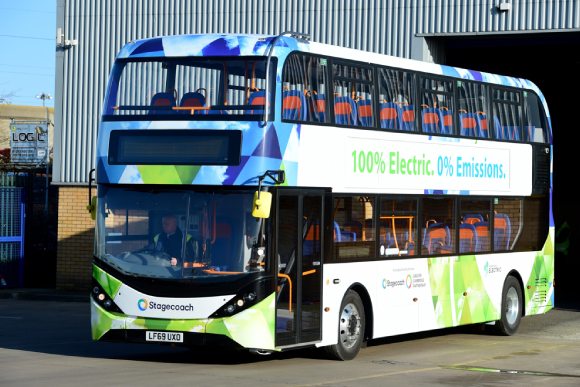 The ZEBRA scheme was launched in 2021 to allow transport authorities to bid for funding for zero-emission buses. The latest round of funding builds upon the 71 million GBP announced last year to purchase up to 335 zero-emission (at the point of use) buses in 5 areas, as well as a further 50 million GBP for the UK's first All Electric Bus City, Coventry.
This funding therefore advances the government's commitment to fund 4,000 zero-emission buses across the country.
"I will level up and clean up our transport network. That's why I've announced hundreds of millions of pounds to roll out zero emission buses nationwide. Not only will this improve the experience of passengers, but it will help support our mission to fund 4,000 of these cleaner buses, reach net zero emissions by 2050 and build back greener. Today's announcement is part of our National Bus Strategy, which will introduce lower fares, helping drive down the cost of public transport even further for passengers."
This transition to greener transport solutions is expected to remove over 57,000 tonnes of carbon dioxide per year from the country's air, as well as 22 tonnes of nitrogen oxides.
The UK's commitment to purchasing zero-emission buses is also part of the government's 3 billion GBP National Bus Strategy that aims to significantly improve bus services by providing new priority lanes, lower fares, more integrated ticketing and more frequent services.
Jobs in the bus manufacturing industry will also be supported as a result of the transition, and as zero-emission buses are cheaper to run, bus operators will benefit economically from their use.
"We recognise the scale of the challenge the world faces in reaching net zero. That's why reducing emissions and creating green jobs lies at the heart of our transport agenda. Today's multimillion-pound investment is an enormous step towards a cleaner future, helping ensure transport is fit for generations to come and allowing millions of people to get around in a way that is kinder to our environment."
The government has also launched a public consultation to seek views on setting a specific date between 2025 and 2032 for ending the sale of new buses that are not zero-emission.
Consequently, from 2032 at the latest, any new buses sold across the UK would need to be fully zero-emission at the tail pipe.
"We welcome today's announcement, which will complement the significant investment and initiatives by operators as we work together to transition to a zero emission bus fleet and help the country achieve its net zero ambitions. Stagecoach has already started its journey towards our target of a fully zero emission UK bus fleet by 2035, and there is also a major opportunity to deliver cleaner air by people switching to more sustainable public transport, cycling and walking."