Transport for London (TfL) has published its long-term Bus Action Plan, which aims to modernise the bus network to attract more customers and help London become net zero by 2030.
TfL's Bus Action Plan will focus on five areas to ensure that the bus becomes an even more attractive transport option.
"We are excited to set out our bus strategy for the rest of this decade, which is all about creating a bus service reflective of our customers and their evolving needs, supporting a sustainable recovery from the pandemic, making London a net zero city by 2030 and improving people's safety and wellbeing.  Investment in buses is imperative in dealing with the climate crisis and cleaning up the toxic air that is damaging our health. The Bus Action Plan sets out how we will meet the challenges now and into the future, making buses cleaner and greener, more efficient and an option for all our city's diverse communities."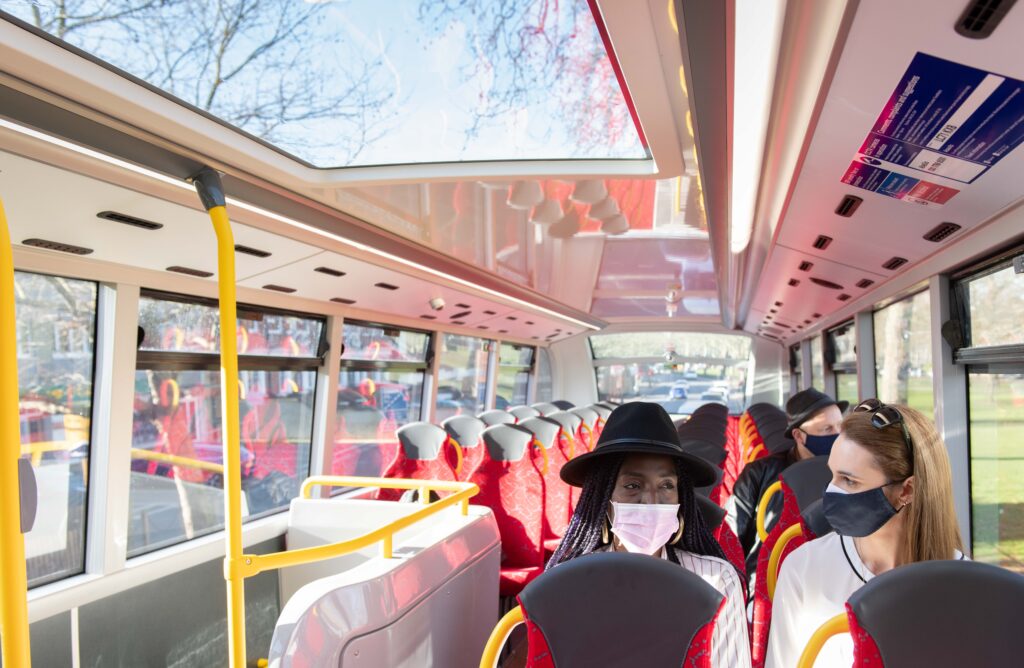 An Inclusive Customer Experience
The Bus Action Plan aims to create an inclusive customer experience that allows for spontaneous, independent travel. The plan therefore includes improved customer information, bus station refurbishment and upgrades to existing bus stops to meet the wheelchair accessible standard.
Safety and Security
TfL hopes to deliver a safe, secure bus network, in which no one is killed on or by a bus by 2030. The Bus Action Plan will ensure that all elements of TfL's Bus Safety Standard are implemented by 2024 and will help all customers and staff feel confident on the bus network.
These improvements will be delivered through advanced surveillance systems and enhanced bus driver training, which includes Destination Zero training to demonstrate road risks with virtual-reality headsets, and training to help drivers provide customers with better support when things go wrong.
Faster Journeys
TfL's Bus Action Plan will help deliver a faster and more efficient bus network, with journeys running 10 percent quicker than in 2015. Initiatives include a plan to introduce 25 kilometres of new and improved bus lanes by 2025.
After trials found that extending bus lane hours on London's busiest roads cut bus journey times and improved service reliability, TfL also announced that they would make their 24 hour bus lanes permanent.
"TfL is spot-on in setting out what needs to be done to get more people using the bus. Making it quicker to get from A to B is key to this, and improving journey times is a win-win as it saves TfL money which can be re-invested in bus routes, particularly in outer London. But getting more people using the bus also requires protecting existing routes, and supporting this and the wider ambitions of the Bus Action Plan can't be done without long-term funding."
Improved Connections
The Bus Action Plan aims to establish a bus network that is better suited to longer trips with better interchanges, especially in outer London. Within the plan, TfL is committing to ensuring all London residents remain close to a bus stop.
Decarbonisation and Climate Resilience
TfL intends to operate a zero-emission bus fleet to tackle climate change and improve air quality. To achieve this, it will work with operators, boroughs and suppliers to reduce the cost and difficulty of necessary infrastructure upgrades to enable the transition of the bus fleet, as well as to safeguard the network from extreme weather conditions.
The Bus Action Plan can be seen in action on route 63 from King's Cross to Honor Oak, where new electric buses are in operation. The buses offer a range of customer-friendly features, including mobile phone holders, a larger wheelchair and buggy area, and better real time travel information. A new bus lane on the New Kent Road section of the route is also improving journey time, while upgraded CCTV enhances safety and security in line with the plan.
"London's buses are relied upon by millions, they keep the capital moving and communities connected. More modern buses, better customer information, additional bus priority lanes and plugging critical gaps in service provision will help improve passengers' experiences and enable more people to make buses part of their everyday journeys. This will support the economic recovery and help tackle congestion, air pollution and carbon emissions."
The bus network is central to life in London, with around two thirds of residents using a bus at least once a week, and 90 percent using one in the last year.
Buses are the quickest and cheapest way to shift trips made by cars to public transport, with buses carrying up to 80 times the number of people as a car. Buses therefore use road space more efficiently and cut emissions by taking polluting private vehicles off the roads and offering a green alternative.