Congratulations! Yutong Internet of Vehicles Won the International Design Award "Red Dot Award"
Recently, Yutong has won the "2021 Red Dot Brand and Communication Design Award" due to the excellent performance of its "IoV Digital Fleet Management System", and has become the first company in China to receive this honor for its digital solutions for buses.
Securing this award once again marks Yutong's international top-notched level in aspects from the vehicle manufacture to the networking software while recognized by the authoritative international design field.
Authoritative Award Recognition: Yutong Products Ascending the World Design Peak
Red Dot Award, born in Germany, boasts one of the world's three major design awards together with IF Award and American IDEA Award, recognized as one of the top global industrial design awards. The award comprises three categories: Product Design Award, Brand and Communication Design Award and Design Concept Award, which can be called the vane in the global design field.
The "Red Dot Award-2021 Brand and Communication Design Award" is judged by a panel of prestigious design experts from all over the world. The evaluation is dedicated to selecting the best products and designs every year, taking into account user experience, creativity, quality, innovation and brand identification. Porsche, Mercedes-Benz, BMW and Volkswagen have all won the Red Dot Brand and Communication Design Award.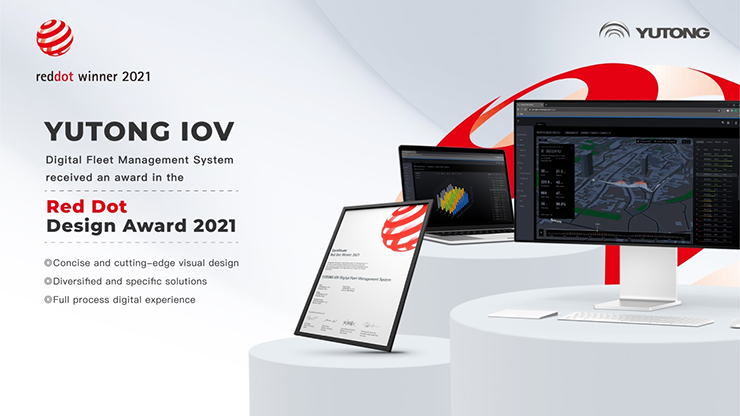 Securing this award is inseparable from Yutong's years of intensive efforts in IoV field. In 2010, Yutong "IoV Project Team" was formally established, becoming one of the few professional IoV R&D teams in the industry. Since 2011, Yutong IoV have made successive achievements in segments such as city buses, long-distance coaches, tourism coaches, commuters and school buses etc.; a range of systems such as "Bus Public Service Platform, Anxin School Bus Intelligent Management, IoV V+, Anruitong, Anxin Intelligent Anti-forgetting" have come into being as demanded with widespread applications.
Over a decade of diligence, Yutong has been blazing a trail to strive for the innovation and upgrading of user experience, based on electrified and intelligent hardware. In 2021, its IoV vigorously promoted the "synchronous advance" in both software and hardware design. Up to now, over 90 patents and software copyrights have been obtained in the fields of safety, energy saving, comfort, assistance and convenience, with more than 300,000 vehicles connected to its products and over 100,000 users enjoying the service.
In this year's Red Dot Award, the evaluation experts expressed candid recognition for the R&D and design of Yutong IoV.
In the award speech, it writes: "Yutong IoV Digital Fleet Management System can transmit various data in real time, realize intelligent fleet management such as remote analysis, monitoring and diagnosis and safety supervision, and achieve diagnosis and early warning through data analysis; meanwhile, through the integrated analysis on energy consumption and operation data, the driver's behavior can be evaluated and the energy efficiency can be improved. Furthermore, flat information architecture and vivid visual interface design as well as highly customizable pages have greatly improved users' operation efficiency and interactive experience."
Simple and Novel Design: Rivalling to the World First-Class While Catering to Diverse Needs from Numerous Customers
Under the context of current global market, the IoV digital fleet management has become the trend of passenger transportation management. For IoV products, overseas customers hold superior international aesthetic demands. The fleet management experience in the mid-to high-end market is relatively mature, for which the IoV demands are stringent and the standards are high, also in a rapid growth stage .
"Initially, through investigation, we found, unlike domestic users, European and other users prefer simple, fast, efficient and visualized style. Specifically, the mainstream request from overwhelming overseas users lies in whether the system is visual and simple, the interface is flat and clear, the operation is smooth, the data is easily available, the page switching is convenient, and the usage scenario differentiation can be satisfied."
In light of that and in combination with the company's overseas IoV strategy, Yutong's design team entertains "targeted" aims. Efforts have been made to achieve visualized presentation through multi-vehicle comparison, quick function screening, multi-dimensional data display, exclusive menu setting, etc. Furthermore, the menu structure has been simplified, the ordering of custom menu functions supported, and the operation efficiency comprehensively improved, so that it has fulfilled the personalized needs of overseas customers, and found itself in the world first-class.
"It can be said that, Yutong IoV Digital Fleet Management System is advanced in that users can enjoy the practical effect of serving numerous customers for diverse needs" by adopting this system, and witness the improvement of operation efficiency and ease of use!"
From outstanding vehicle hardware products to excellence in both hardware and software, Yutong is embracing a promising market with higher added value and broader scenarios as it took the Red Dot Award.
Looking into the future, Yutong will carry on optimizing customer experience, while holding onto the mode of innovation. Efforts and endeavour are also focused on creating differentiated advantages, expanding brand influence, and continuously improving the "integrated digital solution for IoV", so as to bring a new experience of Intelligent Connection Network that is "safer, more efficient, more energy-efficient and more comfortable" to wider users around the world!
This article was originally published by Yutong.