On 5 August, the West Midlands Growth Company (WMGC) hosted a Future Mobility Showcase Day at E.ON UK, which addressed how bus manufacturers can help accelerate the adoption of zero-emission buses.
The Future Mobility Showcase Day took place in the West Midlands in conjunction with the Commonwealth Games to explore efficient and sustainable future transport solutions.
During a panel discussion, Peter Freedman, Chief Marketing and Sustainability Officer at Switch Mobility noted that the UK still needed to convert 40,000 buses to zero-emission powertrains to achieve net-zero by 2050. However, in 2021, just 400 were bought. The UK therefore needed to accelerate its efforts and be more ambitious with adopting zero-emission buses, he said.
Range and Efficiency
Bus manufacturers can assist operators in this transition by ensuring their products meet the operational requirements. The industry's current focus on light-weighting helps boost vehicle range and efficiency, so that zero-emission buses can replace conventional models without raising charging concerns.
The range of an electric bus can also vary greatly depending on how it is driven. Consequently, many manufacturers such as Ebusco and Switch Mobility offer driver training to teach drivers how to operate the buses in the most efficient manner.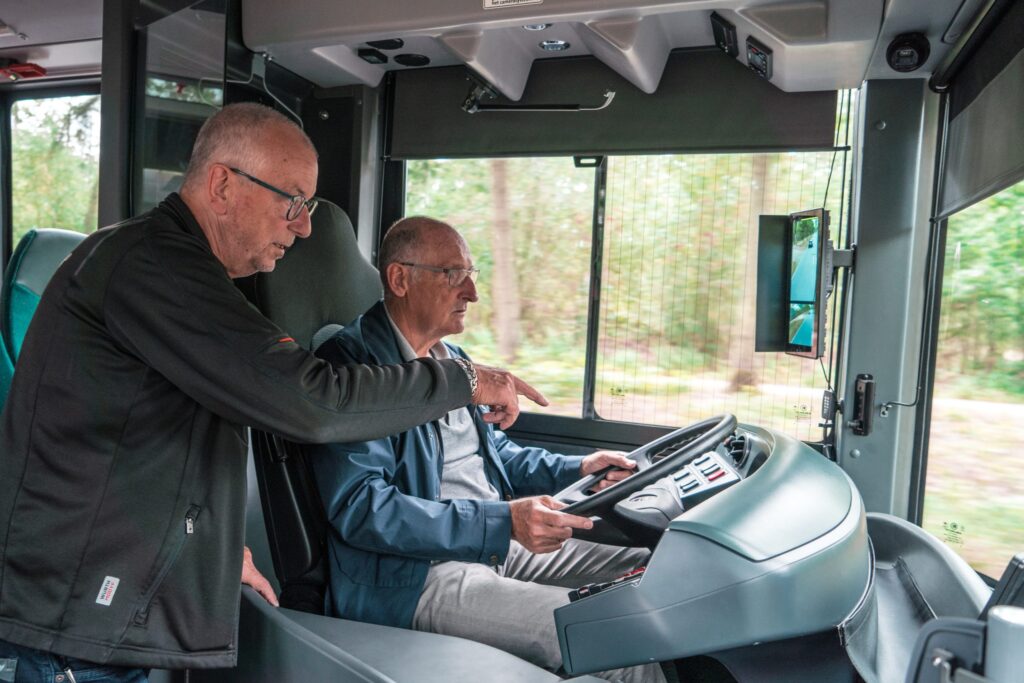 Operator Confidence
Manufacturers can also give operators the confidence to transition to zero-emission buses by providing training in the skills and technology needed to service and maintain the vehicles. For example, Alexander Dennis provides training to help its electric bus customers benefit from a long and reliable lifespan while avoiding unnecessary vehicle downtime.
In addition, when supplying electric buses to international markets, manufacturers can boost operator confidence by addressing each nation's needs and concerns. For instance, Switch Mobility recently unveiled the SWITCH EiV 12 which has been specifically designed for the Indian market.
With this launch, Switch Mobility is responding to concerns regarding battery life and the eventual need to recycle its components by offering the electric buses on a fixed period contract of 12 years. This service removes the risk associated with end-of-life disposal and helps give operators the necessary confidence to adopt zero-emission vehicles.
Intermodality
It is also vital to ensure that electric buses are an attractive transportation option that encourage people to use public transport. Manufacturers can advance this uptake by implementing a range of passenger comforts and amenities into their vehicle designs.
Moreover, to make buses a more popular mode of transport, Colin Knight, Director of Transportation and Highways at Coventry City Council stressed the importance of seamlessly integrating the city's all-electric buses with other transport links. This integration could be optimised using the 5G network, for which the West Midlands is currently the UK's first testbed.
In line with this outlook, bus manufacturers should consider implementing technology such as real-time information boards that are compatible with the 5G network onboard their electric vehicles. Such features could increase the ease at which passengers will transfer between the bus and other transport services.
Indeed, to seamlessly integrate zero-emission buses within intermodal transport networks, governments, local authorities and operators must work closely with vehicle manufacturers to ensure passenger and operational needs are sufficiently met. This public-private collaboration is key to ensuring future mobility is sustainable and efficient.
Consequently, manufacturers should not simply be viewed as vendors of zero-emission vehicles, as they must play an active role in overcoming the barriers that prevent operators from transitioning to zero-emission fleets. This role includes ensuring the vehicles can meet customer demands, are able to overcome concerns from operators, and are compatible with a wider sustainable mobility ecosystem.